Porto Airport traffic growth in negative territory in May-2009, but cargo on the improve
Porto International Airport's latest traffic figures revealed continued negative growth in cargo traffic in May-2009, with declines of 10% year-on-year. However, despite the continued reductions, the May-2009 figures represented the smallest cargo reduction at the airport so far in 2009.
Porto International Airport passenger number growth and cargo volume:
Jan-2009 to May-2009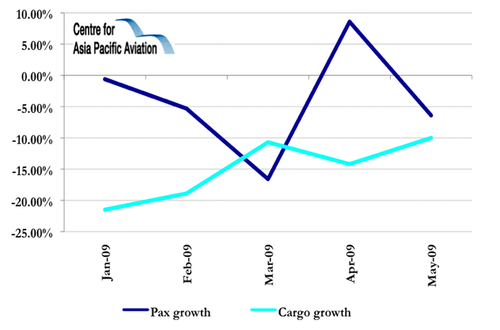 Passenger traffic also contracted in the month, down 6.4% year-on-year, after entering positive territory in April due to increased Easter traffic. The general trend, however, has been for negative passenger traffic growth this year.
Porto International Airport traffic: May-2009
| | | |
| --- | --- | --- |
| Passenger traffic | 374,085 | -6.4% |
| Cargo volume (tonnes) | 2,571 | -10.0% |
| Aircraft movements | 4,499 | -9.9% |
Declines reflect capacity and traffic reductions by major carrier, TAP Air Portugal
TAP Air Portugal controls approximately 44% of capacity and 55% of frequency at Porto International Airport. The national carrier reduced capacity by 8.5% year-on-year 1Q09, as part of cost cutting measures in reaction to the negative effects of the global economic crisis. Despite reducing costs by EUR70 million in 2008, the airline reported a loss of EUR200 million due to high fuel prices and the economic downturn.
Porto International Airport capacity and frequency share: Top 10 airlines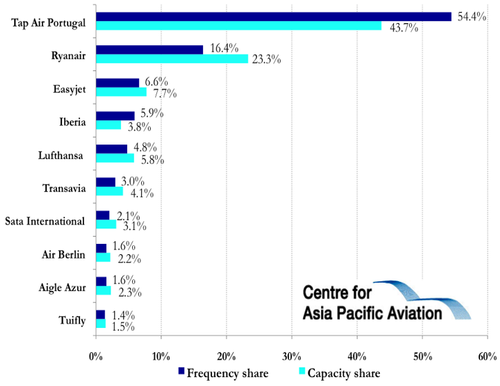 Europe's largest LCC, Ryanair, is the second largest carrier at Porto, with a 23% capacity share and a 16% frequency share. Ryanair offers services from Porto to Paris-Beauvais, Dublin, Girona (Barcelona), Frankfurt-Hahn, Liverpool, Marseille MP2, London-Stansted, Madrid, Milan (Bergamo), Bristol, Pisa (Florence), Brussels (Charleroi) and Birmingham.
Ryanair route network from Porto: Jun-2009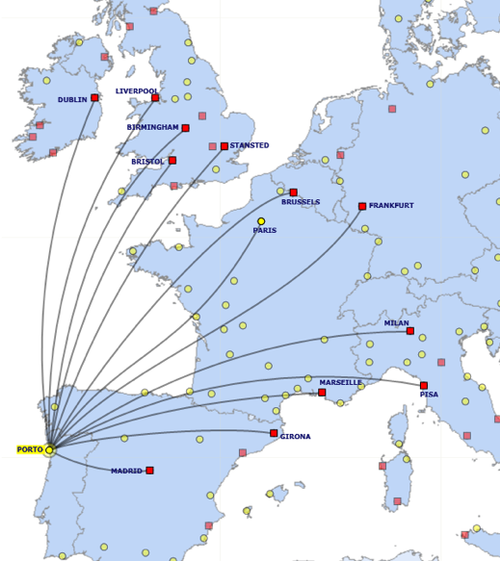 A strongly European-focused airport
The airport's largest international route is to Paris Orly, with a 13.6% capacity share, followed closely by Madrid Barajas with a 13.2% capacity share. Frankfurt, Geneva and London Stansted rounded out the top five largest international routes, with 7.4%, 7.0% and 5.8% capacity shares, respectively.
Top 5 international routes by capacity share (% of total) to/from Porto International Airport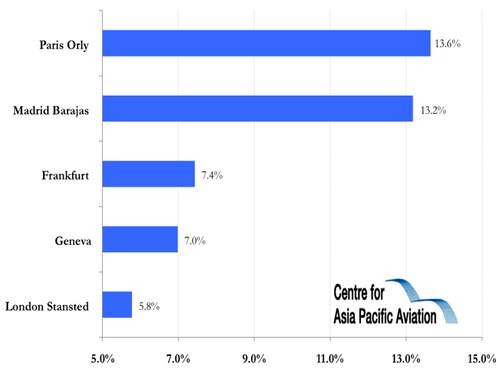 Destinations offered from Porto International Airport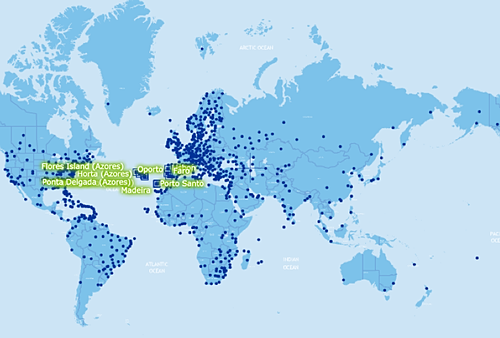 Portugal's neighbour, Spain, is an important market, with the two countries in Mar-2009 signing an MoU to develop a single sky, through the creation of a Functional Airspace Block (FAB) between the two countries. Once completed, the Spain-Portugal FAB will represent more than 25% of European airspace and 11% of European traffic.
Like is the case for all European airports, a recovery in traffic and profit figures at Porto International Airport is highly dependent on the prospects of its airline customers, which is in turn conditional to improved underlying economic conditions.