Pinnacle poised for coming industry contract shifts
Standing pat with solid contracts that do not change for another seven years, Pinnacle, which a market capitalization of about USD144 million as of 01-Feb-2010, is casting about for more opportunities in picking up business, as contracts between other regionals and their major contracts begin to expire. Chair and CEO Phil Trenary noted all the contracts expiring between now and 2017. That, coupled with its low-cost fleet, offer up opportunities to win the competition for new business, he said.
Trenary noted that, for an industry that has been virtually static in recent years, represents a lot of opportunities.
"What about future growth," he asked the analysts attending the Raymond James Growth Airline Conference. "We don't have to worry about our current biz until 2017. There are 468 aircraft coming out of codesharing partnership between now and then. We will get our share."
Pinnacle has transformed itself since 2007 from a carrier with a single major partner to one that now partners with four of the five major carriers. By 2012, its diversification strategy will achieve its goal of having 57% of its operations with Delta, which Trenary said is a pretty good partner to have. More importantly, however, it gives the company flexibility.
Codeshare diversity since 2007
Happy with Saabs, but more Q400s coming
Pinnacle now has 1,000 flights a day, and, Trenary noted, has no ownership position in the 126 CRJ 200s, unlike many of its peers who are heavily weighted in the 50-seat segment. Instead, the carrier opted to purchase the Bombardier CRJ 900, adding 16 to its fleet of 34 Saab 340s. "If there were a Saab being built today, we'd buy the airplane," said Trenary, adding the fleet of Saabs is either owned or on short-term lease. "It is a great airplane and we intend to fly it for some time.
Finally it fleshed out its fleet with 14 Bombardier Q400s, more of which are coming on line in the fall, now fully financed, but necessitating a 15% payment at the time of delivery. This is the reason Pinnacle continues to protect its cash in favour of stock re-purchases. Even so, it ensures that is the best usage for the money in terms of shareholder value by comparing it with other opportunities. It holds 30 options on Q400s.
The Q400 also gives Pinnacle flexibility in that it can offer partners what its partner Continental already has, a lower cost than 50-seat RJs with as many as 28 additional seats. As for 76-seat jets, Trenary said that it consumes about 25% less fuel. Trenary indicated the Q400 was doing better than promised by the manufacturer to the point that it has revised its flight manual to reflect the lower fuel burn. "We may not know what is coming, but we do know that fuel costs will go up and there will be some sort of energy tax," he said intimating his fleet were the best in class for those eventualities.
Benefits of its CRJ 900 and Q400 aircraft include the fact that they are the NextGen variety with increased bin space affording full capability for roller board luggage. Trenary said that while he remains a big fan of Embraer aircraft, the fleet decision rested on the commonality in the cockpit for its Bombardier equipment.
When looking at the Pinnacle Airlines route structure, Trenary noted that its airlines have something no other US regional has – long haul, over water routes across the Gulf of Mexico and the Atlantic. It uses the CRJ 900 on routes to Belize and St Croix, affording additional flexibility to Delta.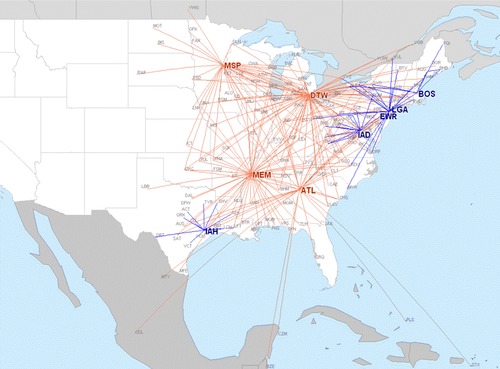 When asked whether Colgan, which operates for US Airways, Continental and United, will have any additional negative impact from the Buffalo accident, Trenary was frank. "It would be nice if they'd get the story right for once," he said, adding that he cannot imagine anything worse coming out of the accident now the National Transportation Safety Board had issued its final report. See related report: Issues NTSB can do little about remain in play
Trenary stated, "Once we came out of the Northwest bankruptcy, we began adopting all the voluntary safety programs recommended before they were in vogue. When we acquired Colgan they began adopting them as well. They were taking the right steps before the crash and they continue to do that. They've done a tremendous job."
Revenue rising as investments pay off
CFO Peter Hunt reported that the investments the company made it aircraft was now beginning to pay off. "With each quarter of 2009 we had significant improvement in revenue," he said. "Both the RJs and the turboprops have over 10% operating margins."
3Q2009 YTD Segment Operating Results
| | Pinnacle | Colgan | consolidated |
| --- | --- | --- | --- |
| Operating revenues | 165,177 | 171,116 | 636,293 |
| Operating expenses | 418,595 | 153,639 | 572,234 |
| Operating income | 46,582 | 17,477 | 64,059 |
| Operating margin | 10.0% | 10.2% | 10.1% |
He also noted that the company was able to rebuild its balance sheet without any dilution unlike most other airlines. In addition, Hunt said its work also resulted in deleveraging the balance sheet.
"Total net debt is down USD158 million as of 30-Sep-2009, while our liquidity is USD80 million in cash," he said, adding that the operating income improvements, deleveraging produced year on year strong earnings per share growth of almost 50% at a time when the regional airline industry is not growing.
"Our competitors SkyWest and Republic have both experienced declines in earnings per share while Mesa and Express Jet are in a loss position," said Hunt. "We will continue that strong performance going forward. We feel very good about our position in the industry and we see a lot of opportunities in the coming years. We have no exposure on the ownership side of the CRJ 200s so our competitive cost structure has positioned us well when it comes time to win some of the business. With our fleet of Saabs, CRJ 900s and Q400s we can offer a full spectrum of aircraft to our partners from small turboprops to large RJs."