Peter Hill leaving Oman Air – but not quite yet
Analysis
Oman Air's CEO, Peter Hill, is on the way out. The CEO was planning to retire during Sep-2011 but has agreed to delay his retirement for several months to allow the carrier to find and hire a replacement. In his three years at Oman Air, Mr Hill has shepherded the carrier though the difficult middle period of its five-year transformation strategy.
He will leave an airline that is far removed from the small regional player he joined in July-2008. Oman Air's identity, network, fleet, product and long-term strategy have all developed dramatically over the period of his leadership.
Mr Hill stepped into a carrier undergoing the first stages of a deep transition. In mid-2007, Oman Air launched an ambitious new strategy to step up the scale and breadth of its operations, filling the void left by the departure of Gulf Air. The airline changed its business model from that of a short-haul regional carrier into a fully-fledged flag carrier with international aspirations.
By late 2007, it had commenced its long-haul international expansion, adding services to Bangkok and London late in the year and inducting widebody aircraft into its fleet for the first time. Since then, it has continued to expand and diversify its network and fleet. As more A330s came on board, the carrier added more destinations in Asia and Europe, additionally capitalising on the growing Middle East-Indian subcontinent market by adding destinations in India, Pakistan, Nepal, Bangladesh and Sri Lanka.
Oman Air: Situation as of year-end 2008 vs year-end 2010
| | Year-end 2008 | Year-end 2010 | % Change |
| --- | --- | --- | --- |
| Passengers | 1,984,000 | 3,263,000 | +64.5% |
| ASKs | 5,509,000,000 | 9,640,000,000 | +75.0% |
| RPKs | 3,351,000,000 | 6,960,000,000 | +107.7% |
| Load factor | 60.8% | 72.2% | +11.4 ppts |
| Destinations | 27 | 40 | +48.1% |
| Revenue* | 153,248,000 | 230,418,000 | +50.4% |
| Costs* | 195,204,000 | 297,816,000 | +52.6% |
| Losses* | 41,956,000 | 67,398,000 | +60.6% |
| Assets* | 204,846,000 | 476,616,000 | +132.7% |
| Workforce | 4082 | 5095 | +24.8% |
The carrier has also diversified its Middle East regional strategy. In 2008 and 2009, it ordered more B737s for its regional network. Earlier this year, Oman Air inducted its first regional jets into its fleet for use on point-to-point destinations that were too large for its B737s. The carrier has also been looking at various other options for its short-haul fleet, such as converting four to five B737s to an all-economy configuration, a move pursued by Etihad Airways in late 2010 (as well as Gulf Air with its Gulf Traveller brand in 2003).
Oman Air will add another regional jet in 2012 and has another six B737s on order. It has also orders for six B787s, with deliveries due to commence from 2015.
During Mr Hill's tenure as the head of Oman Air, the airline has added 15 routes and developed itself into a luxury-focussed "niche player" offering point-to-point service and high-frequency operations. While acknowledging the carrier cannot hope to compete with the likes of Emirates or Qatar Airways in terms of the breadth of its network, it has taken these carriers on in terms of on-board product and quality of service.
The carrier has introduced improved seats and better services and amenities in all cabins, but its premium cabins have seen special attention. The carrier has added lie-flat seats featuring new in-flight entertainment systems, as well as offering internet connectivity and mobile services. On the ground, its has added business and first class lounges at Muscat International Airport and some other airports, as well as other features such as complimentary chauffeur services and exclusive amenity kits for premium passengers.
The bottom line
While 2007 might have been a year of real strategic change for the carrier, it was also a disastrous one for its bottom line. Mr Hill inherited an airline that was headed for losses due to the extra costs associated with its ambitious expansion strategy, but these ballooned as the carrier suffered through the global financial crisis and record high oil prices.
Rebuilding Oman Air into a national carrier has been an expensive exercise. As the carrier's fleet and network expanded, so did its costs. It went from four years of modest – but building – profits to three years of massive losses. Between 2008 and 2010, the carrier lost OMR185.1 million, around USD480 million at current exchange rates.
Oman Air net results: 2001-2010 (OMR)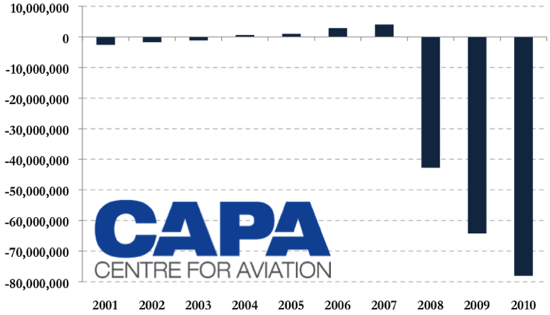 There is little end in sight for the losses. Earlier this year, Philippe Georgiou, the carrier's chief officer of corporate affairs, stated that continued oil price volatility, ongoing costs associated with Oman Air's network expansion and higher operating expense – tied to higher wages – would result in losses continuing until 2014.
Losses per passenger have barely stabilised over the past few years, but there is a long way to go before the airline can be a sustainably profitable entity, despite the groundwork laid during Mr Hills' time.
Oman Air profits/losses per passenger: 2001 to 2010 (OMR)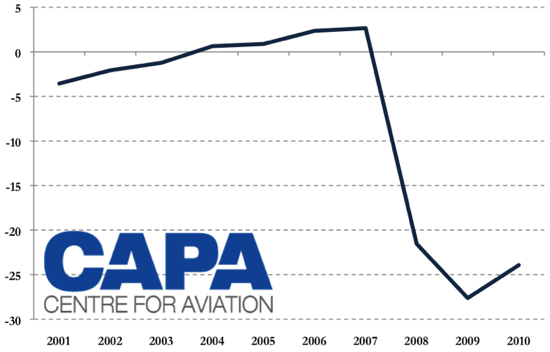 According to Mr Hill, the airline is taking a long-term approach to its growth and bottom line, building its network and fleet for "five to 15 years down the line".
The Omani Government appears willing to bear these losses as the carrier forms one of the centrepieces of its tourism strategy. It put OMR75 million into the airline in 2010 to shore up its financial stability, pledging to continue its support of the airline. The Omani Government plans to double the contribution of tourism to GDP from 3% to 6% by 2020, and desires a strong national carrier to match its ambitions.
In line with the national tourism strategy, Oman Air has sought to build not only its long-haul and regional transit traffic through Muscat, but also inbound tourism. Tourism data for 2010 and 2011 reveals that there has been solid growth from all of Bahrain's major tourism source markets, with the exception of the UK. The carrier is also capitalising on Oman's small, if growing, outbound tourism market.
To this end, the carrier has been busy diversifying its tourism operations. Earlier this month, it announced a new joint venture with Bahwan Travels. The deal will see Oman Air Holidays integrate with Bahwan Tours for inbound holidays and with Bahwan Holidays for outbound holidays, sharing markets, personnel and systems as well as working closely with the tourism ministry. It will be Bahrain's largest travel and tourism business, as well as its first ever public-private partnership.
Exceptional growth continues
Whoever takes over the top of Oman Air from Mr Hill will join one of the fastest growing carriers in the Middle East. Passenger traffic at Oman Air has more than doubled between 2007 and 2010, while RPKs have nearly tripled, thanks to the addition of its new long haul destinations.
Oman Air passenger traffic: 2001 to 2010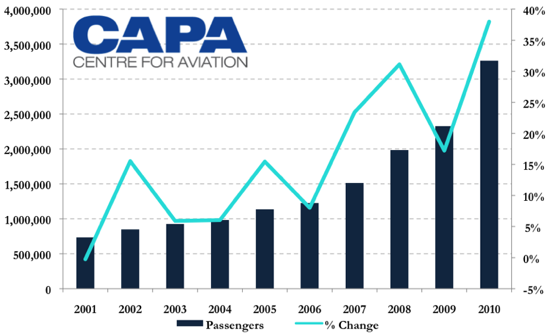 Even though the CEO insists Oman Air is taking a measured approach to its growth, the expansion of Oman Air continues at a pace that few carriers of a similar size can match. Over 1H2011, passenger numbers increased 24% year-on-year to 1.9 million, while cargo tonnage increased 99%. Revenue over the same period is 40% up on 2010, with Oman Air reporting better yields as the year progresses.
When a new CEO is appointed at the carrier, much of the groundwork towards building a sustainable national carrier will have been done. The new CEO's priority must be to not only continue the development of Oman Air as a strong niche player in the Gulf, but to ensure the airline becomes a sustainably profitable venture as well.