oneworld vs Skyteam in the battle for JAL; Air China takeover of Shenzhen Airlines?: SHARE WRAP
Analysis
Meanwhile, Delta Air Lines stated it, in conjunction with its other SkyTeam members, is ready to offer JAL a financial aid package of approximately USD1 billion, including a USD500 million equity investment, with the carrier considering teaming up with a third party investor, such as a private equity fund or venture capital firm, to support the carrier.
See related article: American and oneworld offers USD1.1 billion in Japan Airlines bid; Delta seeks another partner
Rival ANA's shares rose 3.9% yesterday, as the carrier reportedly plans to integrate its Japan-US passenger operations with Star Alliance partners, United Airlines and Continental Airlines, according to the Nikkei.
The carriers plan to establish sections within one another's' companies that would work together as a single entity, to strengthen and expand the existing ANA-United codeshare agreement.
Air China's shares rose to a 19-month high on Thursday, before closing up 0.8% for the day and up 11% over three days, on continuing speculation that it could take over Shenzhen Airlines, further enhancing Air China's competitive position in the Chinese domestic market and crucial Pearl River Delta.
Air China Vice President, Fan Cheng, has been named Communist Party Secretary of Shenzhen Airlines, in which Air China holds a 25% stake. Air China's Board Secretary, Huang Bin, added that the carrier is "paying close attention" to developments at Shenzhen Airlines.
Earlier this week, the CAAC reportedly assigned Air China, the second largest shareholder of Shenzhen Airlines, to oversee Shenzhen Airlines, while the major shareholder (with a 65% take) and senior adviser of Shenzhen Airlines, Li Zeyuan, is being investigated by police for alleged economic crimes.
Jet Airways' shares surged 11.3% on Thursday, with SpiceJet gaining 10.1% and Kingfisher jumping 5.5%.
All three carriers have seen renewed investor interest in the past month. The Bombay Stock Exchange's 30-share Sensex has risen by 11.6% over the past month, while Jet Airways, Kingfisher Airlines and SpiceJet have experienced gains of 51%, 36% and 62%, respectively.
Spicejet, Jet Airways & Kingfisher share price index: Jan-2009 to Dec-2009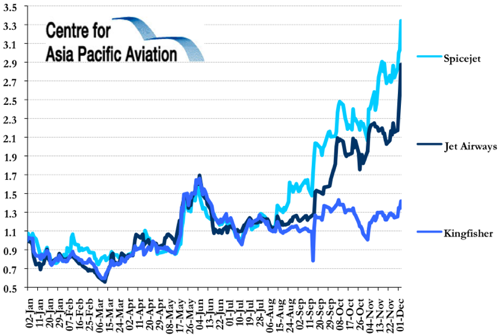 Contributing to the gains is the reduction in ATF this week, increased load factors and optimism of a potential turnaround in the current quarter.
Kingfisher has stated that it expects "higher guest numbers and much stronger yields" in 3QFY2010, with SpiceJet CCO, Samyukth Sridharan, earlier this week stating that "demand is back" and the carrier is "optimistic" about its financial performance of the next two quarters.
Jet Airways, upon the release of its 2QFY2010 financial results, added that it "expects yield improvements with the peak season, as well as a premium demand revival in the next few quarters", following positive signs of increased demand and stablisation in the business environment in recent months.
Thai Airways targeting EBIT of USD130 million in 2010
Thai Airways' shares gained 5.7% yesterday following the previous day's 3.8% reduction.
On 01-Dec-2009, Thai Airways, in its Strategic TG 100 Plan, stated it plans to increase revenues by 21% to USD5.8 billion in 2010, with EBIT of approximately USD130 million and an EBITDA target of approximately USD965 million.
Thai Airways Strategic TG 100 Plan for 2010
| Financial/traffic targets | Target |
| --- | --- |
| Revenue | USD5.8 billion, + 20.7% year-on-year |
| EBIT | USD129.7 million |
| EBITDAR | USD965 million |
| Capacity (ASKs) | +10.7% |
| Traffic (RPKs) | +13.2% |
| Average load factor (%) | 74% |
| Freight production (ADTK) | +11.4% |
| Freight revenue | +14% |
Asia Pacific selected airlines daily share price movements (% change): 03-Dec-09