oneworld carriers revamp trans-Atlantic routes
While short-haul shuttle-like services have been around for a long time, American and British Airways will soon move to a shuttle-like service to London, and are finally seeing the benefits of their alliance's potential.
Since being granted antitrust immunity in 2010, AA, BA and Iberia have been working to coordinate and streamline their schedules as a means of increasing oneworld's clout across the Atlantic.
Competitive timings eliminated

Labelling the new schedule the London Express Service, BA and AA have rationalised their schedules and eliminated competitive timings, substituting a shuttle-like service with uniform timings. With ATI in place, the airlines can now operate as a single entity on the London routes and strengthen their competitive position.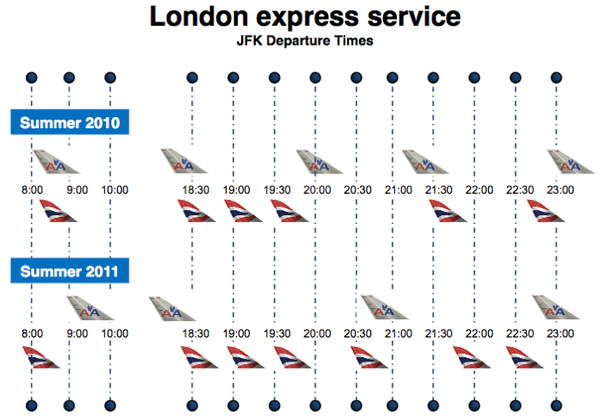 The new schedule will offer hourly departures between 08:00 and 10:00 and in the evening, flights depart every half hour from 18:30 to 23:00. All of the flights will operate between New York JFK and London Heathrow with the exception of two BA A318 services to London City. British Airways will also continue to operate to Newark despite the fact that as a Star hub, there are few feeder services.
The airlines have also announced that connecting schedules have been retimed making for better feed on both sides of the Atlantic.
In Chicago a similar, though reduced, schedule will also be implemented. Again, the carriers have established regular departures on the hour, creating a schedule that is easily remembered by frequent travellers, with plenty of options if plans change.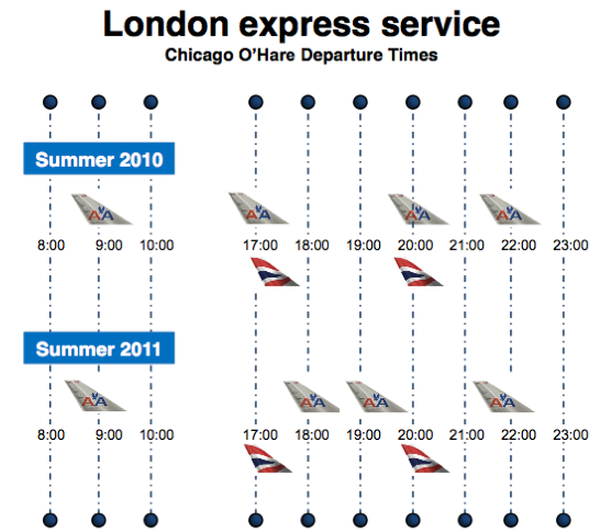 One of the objections to granting ATI was that the oneworld carriers would dominate the key services between the US and the UK, which form a large percentage of the total Atlantic traffic.
The ascendancy of oneworld
With the introduction of these schedule revisions, some of that angst may be seen as valid. In the New York market, Star has no London presence from JFK and Continental operates only four daily flights from Newark.
And, with three daily flights from JFK to LHR on Delta, SkyTeam holds the weakest market position of the three.
In Chicago, despite being a prime United hub, Star is again outgunned by oneworld with United offering only three daily London departures. SkyTeam has no non-stop presence between the cities.
Of course, flights to London are not in short supply and for passengers from interior points needing to connect, all three alliances offer connections over a plethora of hubs. So while the AA/BA team may have an advantage with O&D passengers in both cities, people in Kansas City or Tucson do not lack for options.
The other two airports at which American dominates, Miami and Dallas, will see "schedule improvements", along with Boston, though the same kind of comprehensive service overhaul will not be present. There will now be three, instead of two daily flights between Miami and London so that with the exception of Washington and Philadelphia, oneworld will have a dominant presence on the US East Coast.
Delta has the LHR slots shed by AA/BA as a condition of ATI and will offer flights to Boston and Miami but these will likely not endanger the dominance of AA/BA.
Also as part of the new cooperation, Iberia is adding service from Madrid to Los Angeles and from Barcelona to Miami, further enriching the oneworld offer. And American is strengthening the alliance by adding Chicago-Helsinki and JFK-Budapest in support of Finnair and Malev's hubs.
Flight pattern may improve Heathrow's position

After a decade of operating at a disadvantage, oneworld is using its newly granted authority to finally realise the potential that was envisioned at the alliance's inception. While the UK will continue to have a lion's share of the trans-Atlantic market, it remains to be seen whether or not this new flight pattern can help to reverse the slow decline of Heathrow's global importance as a point of connection.