Norwegian's yields slip in Oct-2009; Two more LCCs for Japan?
Analysis
Norwegian Air Shuttle's shares slipped 4.1%, after the carrier reported a worsened yield estimate of NOK0.63 (EUR 7.52 cents) for Oct-2009, an 11% reduction, following a 4% reduction in Sep-2009. Oct-2009's year-on-year yield reduction marks only the fourth month of yield contractions at the carrier since Jun-2008.
Dart Group rated as an attractive company by ADIF-investment Analytics
Also in Europe, Dart Group's (parent of LCC, Jet2.com) shares gained 6.0% yesterday, after ADIF-Investment Analytics applied its StockMarks stock-rating system to Dart Group PLC and produced a report rating the company's attractiveness to long-term investors and stating that "Dart Group PLC is an average quality company with a neutral outlook".
Selected LCCs daily share price movements (% change): 08-Nov-09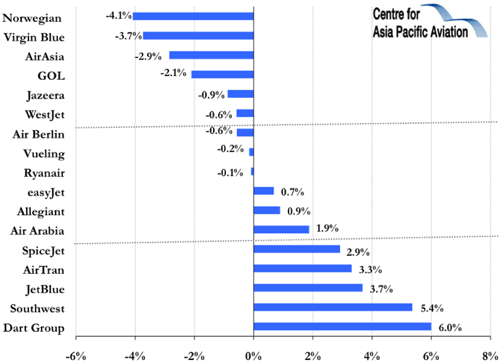 Two more LCCs for Japan?
In the Asia Pacific, Qantas CEO, Alan Joyce, stated Qantas Airways may advise Japan Airlines on establishing a LCC, as it attempts to keep the struggling Japanese airline in the oneworld alliance.
ANA President and CEO, Shunichiro Ito, also confirmed that the airline has resumed preparations to establish a low cost airline subsidiary. Previous planning to set up a Hong Kong based subsidiary was put on hold in Apr-2009, when economic conditions made it impossible.