Norwegian yields fall slightly while unit revenue remains stable, Frontier reports reductions
Analysis
Norwegian Air Shuttle's shares gained 6.5% (following the previous day's 13.0% jump), following the release of its Aug-2009 traffic results.
The LCC reported a slight yield reduction in the month, of 2%, with unit revenue remaining stable. The carrier carried 18% more passengers in the month (to 1.0 million), while load factor improved 2.0 ppts to 81%.
The carrier was also boosted by a recent upgrade by Pareto Securites, which lifted is share price target for the carrier by 92%, from NOK76 (EUR8.84) to NOK146 (EUR16.98), after lowering its cost estimates.
NB: DAILY LCC SECTOR strategic updates from around the world are NOW AVAILABLE! Sign up today for your free trial subscription to Peanuts! Daily.
Selected LCCs daily share price movements (% change): 08-Sep-09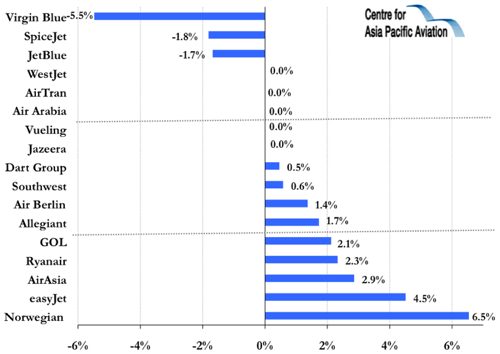 Meanwhile, Deutsche Bank initiated coverage on Ryanair with a 'Hold' rating and a target share price of EUR3.5 (compared to a last trade price of EUR3.30, up 2.3%).
According to Deutsche Bank, "we have made a thorough review of Ryanair's strategy because we do not think the market appreciates the fact that the airport strategy has changed considerably over the past few years whilst the ROCE has deteriorated. The worry for investors is that if this implies a permanent reduction in ROCE, then the valuation premium of the company could decline. We are also wary of Ryanair's next move with Aer Lingus. A third bid would be unpopular with investors, in our view."
Air Berlin reports approval in Germany for Tuifly city flight takeover
Air Berlin shares, meanwhile, gained 1.4% yesterday, after the carrier received approval from the German Federal Cartel Office to take over the city flights network of the Hapag-Lloyd Fluggesellschaft (TUIfly) airline, starting with the 2009/10 Winter flight schedule. Through its takeover of the TUIfly city routes, Air Berlin is strengthening its presence in the Cologne, Stuttgart and Italy markets.
Whether TUI can acquire a 9.9% stake in Air Berlin or whether a company belonging to the TUI Travel Group will pay the sum of EUR15 million to Air Berlin depends on the outcome of further talks with the German Federal Cartel Office. In recent weeks the cartel authorities in Italy, Austria and Portugal had already agreed to the Air Berlin takeover of TUIfly's inter-city flights. The approval of the Spanish cartel office is still awaited.
Frontier reports 11-13% unit revenue reduction in Aug-2009
In the US, Frontier Airlines (currently unlisted while in Bankruptcy Protection) stated it estimates mainline passenger unit revenue decreased by 11-13% year-on-year in Aug-2009. The carrier transported just short of 916,000 mainline passengers in the month, a 9.5% year-on-year reduction (although this represented the smallest passenger decline since Jan-2009), while load factor gained 2.7 ppts to 88.7%.