No near team recovery in air cargo demand likely - Cathay Pacific & Hactl
Latest monthly cargo reports from Cathay Pacific and Hong Kong Air Cargo Terminals (Hactl) for May-2009 confirm that while a bottom of the cargo slump may have passed, the recovery will be painfully slow, requiring even further capacity discipline by airlines.
For more information and updates on the Chinese aviation market, view the Monthly Essential China.
Hactl handled a total of 177,980 tonnes of cargo last month, down 18.6% year-on-year - a slight improvement from April. Cumulative tonnage for the first five months of the year was 815,803 tonnes, down 23.0% compared with the same period last year.
Import volume for May fell 16.4% year-on-year to 49,597 tonnes. Hactl stated, "market outlook for western countries continues to be gloomy: the import volume from Europe and the US decreased 19.7% and 16.5% year-on-year, respectively"
Export volume for May fell 23.3% to 90,637 tonnes, although the regional figures were mixed. The handler added, "despite the sharp decline of over 30% of export tonnage throughput to Europe, export cargoes to Middle East and Africa registered a 21.0% and 21.5% year-on-year growth respectively".
HACTL traffic growth: Jun-2008 to May-2009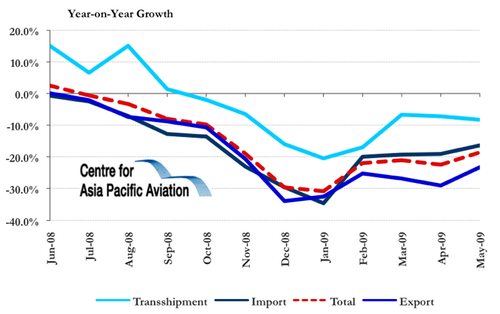 Cathay cuts more cargo capacity
Reviewing May-2009's cargo throughput, Cathay Pacific observed, "there are signs that the bottom of the slump has been reached, though visibility remains poor and there is no indication of any significant upswing in demand arriving soon". The Cathay Pacific Group (including Dragonair) carried a total of 121,966 tonnes of cargo and mail last month, down 13.3% year-on-year
The group's cargo and mail load factor rose by 1.2 ptts to 68.2%, as capacity for the month fell by 15.7%. For the year to date, tonnage has fallen by 16.5% compared to a capacity drop of 14.0%
A spokesman stated, "the story in May was very much in line with the first four months of 2009, with an overall weakness in the global airfreight business and continued soft demand out of Hong Kong and Mainland China. We introduced further capacity reductions in May in response to the sustained downturn".
Cathay Pacific cargo volume growth and AFTK growth: Jun-2008 to May-2009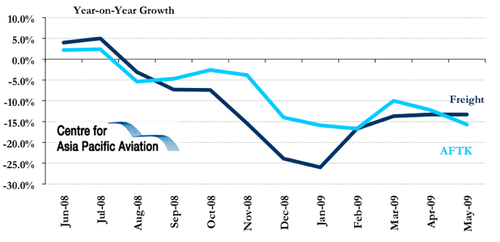 On a global scale, IATA this week observed that air freight is an early indicator of a turning point in the economic cycle. The industry body added, "the stabilisation of FTKs reflects only a topping out of the massive rise in business inventory-sales ratios. Business inventories remain far too high. Warehouses are still full. Until inventories fall to more comfortable levels, shipments by air of components and finished products will not rebound substantially".
With Hong Kong and the Pearl River Delta at the epicentre of the global air freight sector, this is not encouraging news.
Air freight volumes and manufacturers inventory-sales ratio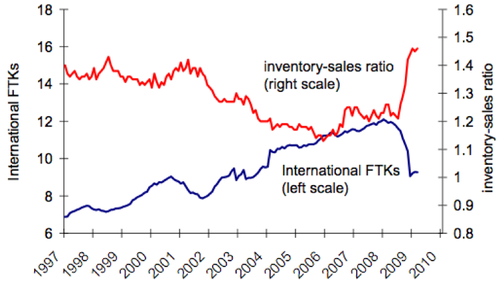 Cathay's passenger volumes also weak
Turning to the passenger segment, Cathay Pacific and Dragonair traffic figures for May 2009 showed a "significant fall", with a total of just under 2 million passengers handled, down 7.5% year-on-year. Cathay's load factor dropped by 1.6 ppts to 75.8% as capacity fell by 4.7%.
Cathay Pacific total RPK growth and ASK growth: Jun-2008 to May-2009
Japan hit hard by swine flu, Hong Kong residents "reluctant" to travel
A spokesman said, "May is traditionally one of the weaker months for our passenger business, but this year demand was dampened further by a combination of factors. The global economic downturn continued to impact on our business, with lower numbers in the Economy cabins, while the big slump in premium traffic continued unabated. We also saw the [swine flu] outbreak lead to a sharp falloff in traffic to and from Japan, with passengers in Hong Kong and other key markets showing an increased reluctance to travel. We pared back our capacity in May to better balance supply and demand".
Cathay Pacific passenger load factor growth by region: Jun-2008 to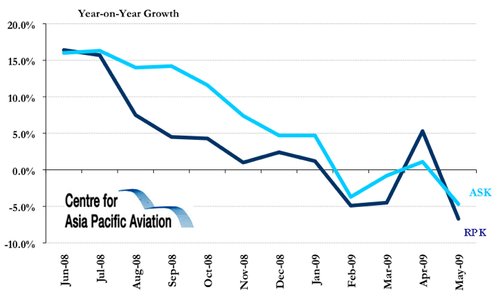 Outlook: Recovery "faces headwinds"
The latest reports paint a depressing picture for Hong Kong's cargo and passenger markets. Cathay Pacific CEO, Tony Tyler, stated this week that the global economic meltdown is hitting the aviation industry hard, with a "toxic combination of low fares, a large drop in premium travel, and weak cargo loads".
Mr Tyler added, "let's not forget when we recover, we are recovering from a very bad base, and it will be some time before we are back to where we were. I'm afraid we are in for a long haul. We are not going to see instant recovery".
IATA stated that any future recovery, particularly for passenger markets, "faces severe headwinds from consumer indebtedness and high business inventories, pointing to revenue weakness persisting well into 2010".