No impact of swine flu on global airline schedules, yet – OAG
Globally, the year-on-year decline in airline capacity has not accelerated for May-2009 compared to figures for Apr-2009, suggesting the swine flu outbreak is not yet hitting worldwide airline schedules. The world's airlines have scheduled 5% (127,000) fewer flights for May-2009 year-on-year, with a 2.7% reduction in seat capacity of 8.3 million fewer seats, according to OAG.
In Apr-2009, the year-on-year global frequency and capacity figures were down by 5.5% and 3%, respectively. The total number of flights scheduled to operate worldwide in May-2009 is 2.43 million, offering 298.6 million seats.

The swine flu outbreak gained considerable media attention from late April. A total of 43 countries have officially reported 12,022 cases of influenza A(H1N1) infection as at 23-May-09.
Rate of Global Airline Frequency & Capacity Shifts: Monthly year-on-year comparisons May 2008 to May 2009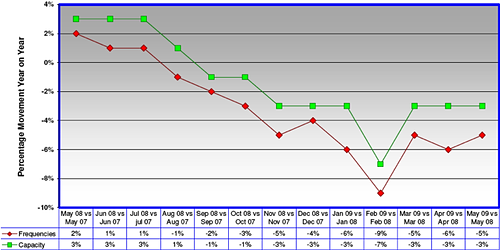 Figures for 2009 to date (January-May) shows a global decline of 6% in frequencies and 4% in capacity compared to the first five months of 2008, according to OAG. North America is showing a 10% downturn in the volume of flights within the region with a 9% drop in the number of seats. Figures for flight services within Europe are down by 8% with 7% fewer seats, while Asia has a marginal 0.3% downturn in the number of flights within the region and a 2% increase in year-to-date capacity compared to 2008. Airline activity within the Middle East shows healthy growth in frequencies and capacity of 9% and 7% respectively.

OAG spokesman, David Beckerman, stated, "the airline community is understandably cautious, especially with memories of the devastating effect which the SARS virus had on the airline industry in 2003. So far, our figures are not showing a dramatic downturn in seat capacity; however that's not to say that airlines and passengers are complacent – far from it. We will need to wait a while until we can see some clear trends and gain some perspective on the situation."