No bottom yet - Association of Asia Pacific Airlines
Asia Pacific airlines are still searching for the bottom of the current economic downturn, as the swine flu scare provides yet another challenge. Association of Asia Pacific Airlines (AAPA) Director General, Andrew Herdman, stated, "the trading environment for Asia Pacific airlines remains extremely challenging, with further recent declines in passenger demand reflecting ongoing economic weakness as well as public anxieties over government initiatives related to the widening swine flu pandemic. As a result, we still haven't seen a floor in terms of overall passenger demand."
AAPA members carried a total of 9.9 million international passengers in Jun-2009, down 16.5% year-on-year, while RPKs declined 16.0% and the average international passenger load factor for the month deteriorated by 5.7 ppts, to 70.5%, despite a 9.2% reduction in available seat capacity.
AAPA RPK growth and ASK growth: Jul-08 to Jun-09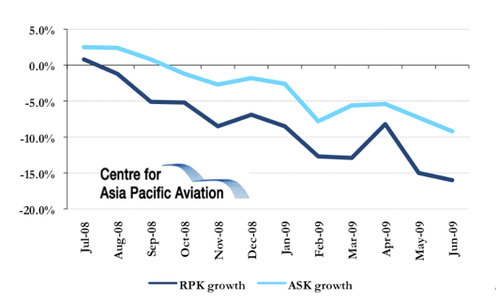 AAPA PAX growth and PLF: Jul-08 Jun-09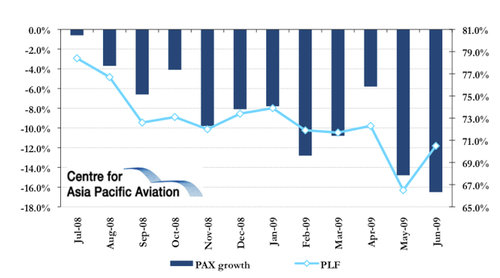 Air cargo only slowly improving
Air cargo traffic volumes also remained depressed in Jun-2009, with AAPA international freight tonne kilometers (FTKs) 17.4% below the levels seen in the same month last year. Coupled with a 15.4% reduction in cargo capacity, the average international cargo load factor for the month fell 1.6 percentage points to 66.8%. AAPA stated the air cargo market remains depressed, "as a result of the sharp slowdown in international trade".
AAPA FTK growth and FATK growth: Jul-08 to Jun-09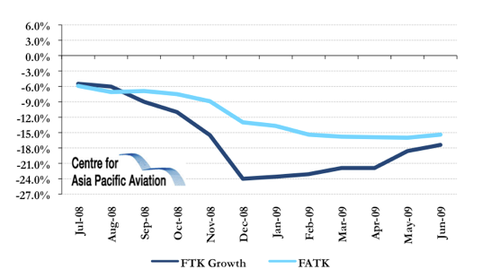 Outlook: Airlines cutting networks and topping up balance sheets to ride out storm
Airlines have been "responding to the sharp falls in demand by progressively reducing capacity, although not quickly enough to prevent falls in average load factors", according to AAPA.
The airline body added, "efforts to stimulate demand through highly competitive fares and discounted travel packages are having some effect, but lower yields are further undermining revenues".
As a result, a number of AAPA carriers have taken steps to "strengthen their balance sheets through a variety of new financing initiatives, in order to ride out the prolonged economic storm", according to Mr Herdman. Virgin Blue (not an AAPA member) has today announced Sir Richard Branson's Virgin Group will support a planned AUD231 million capital raising and India's Jet Airways (also not an AAPA Member) plans to raise USD400 million in fresh equity.
Mr Herdman concluded, "unlike the passenger business, there has been a slow but steady recovery in air cargo demand from the lows seen at the end of 2008, and we are hopeful that this trend will continue in the second half of the year."