'New' Vueling shares slip on day of clickair merger; SkyEurope also slumps, Ryanair and easyJet gain
Worldwide LCC share prices were generally mixed yesterday, on a day which saw oil prices fall briefly below USD60/barrel, as traders and investors acknowledged that a global economic recovery would take longer than previously anticipated.
Oil prices rose to USD72.68/barrel in Jun-2009, its highest trading close of 2009, on optimism of a fast economic recovery, but those 'green shoots' hopes are fading.
According to the IMF, in an update of its World Economic Outlook, global activity is forecast to contract by 1.4% in 2009 and to expand by 2.5% in 2010, with advanced economies predicted to decline by 3.8% in 2009 before growing by 0.6% in 2010. According to IMF Chief Economist, Olivier Blanchard, "the good news is that the forces pulling the economy down are decreasing in intensity. The bad news is that the forces pulling the economy up are still weak. The balance is slowly shifting, and this leads us to predict that, while the world economy is still in recession, the recovery is coming. But it is likely to be a weak recovery".

Returning to equities markets, leading the LCCs reporting share price reductions yesterday was Vueling, which formally combined with clickair on 09-Jul-09, operating under the Vueling brand, in what new Vueling CEO, Alex Cruz, called a "merger of equals".

Shares of SkyEurope, which late last month was granted 'creditor protection', were also down, by 5.3%, after the carrier reported a 37.7% year-on-year reduction in passengers last month, to just shy of 215,000 passengers, due to the carrier's "strategic" reduction in capacity during the economic downturn. Load factor was also down, by 2.5 ppts to 74.6%.
easyJet and Ryanair were both up marginally, by 0.6% and 0.2%, respectively.
Selected LCCs daily share price movements (% change): 09-Jul-09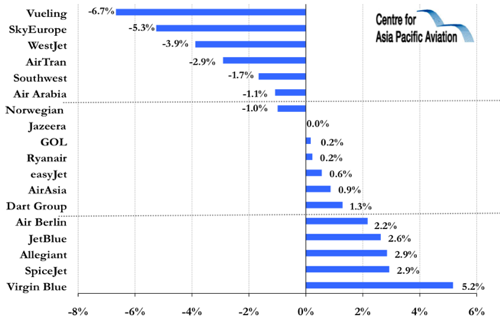 Elsewhere, Virgin Blue shares gained 5.2% yesterday after it announced a JV with Delta Air Lines, with AirAsia up, by 0.9%.