New terminal and runway projects at Chongqing Jiangbei Airport progressing well
Analysis
Chongqing Jiangbei International Airport stated the CNY3.6 billion third phase development of the airport is progressing well. The project, scheduled for completion by the end of 2010, involves the construction of the new Terminal 2A, a second (3,200 x 60 m) runway, a parallel taxiway and connection way. Construction of the 75,000 sqm terminal facility commenced earlier this year.
The western apron area will also be upgraded and expanded to 340,000 sqm, providing 41 parking stands. Other facilities include a new 9,000 sqm bus transfer centre, a new 20,000 sqm cargo facility, 58,000 sqm car parking area and ATM upgrades.

Overall, the facilities will raise passenger capacity to 15 million p/a in 2010. However, passenger numbers turned negative at Chongqing in Jul-08, although freight demand has continued to grow this year.
Chongqing Jiangbei International Airport passenger numbers vs cargo
volume growth (% year-on-year): Oct-07 to Sep-08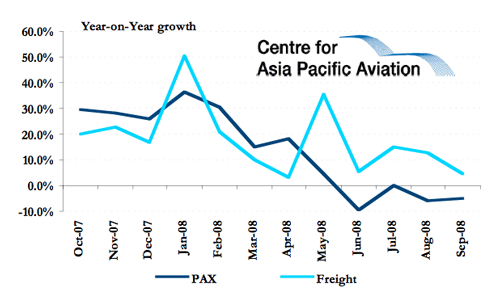 The airport's 30-year Master Plan calls for the eventual development of four runways an additional 600,000 sqm central terminal, and an airport expressway to link the central airport terminal to the downtown city. Further expansion will raise capacity to 45 million passengers p/a by 2020 and 70 million by 2040.
Background information: