Middle Eastern LCCs driving growth into Eastern Europe, Russia and CIS
Russia, the CIS nations and Central and Eastern Europe have been receiving a great deal of attention from Middle East-based carriers in recent months. Full service and low-cost carriers have announced or added a flurry of routes into Eastern European destinations over the past few weeks. Airlines in the Middle East are looking to tap into the underserved region, which is still showing strong economic growth despite troubles in several European markets and strong growth in business and tourism traffic.
Homegrown LCCs Air Arabia and flydubai are leading a push into the regions, but so too is Qatar Airways. Additionally, Oman Air plans to launch services to Moscow. While Middle Eastern carriers have long dominated traffic into western Europe, they now comprise the majority of traffic between the Middle East and central Europe, eastern Europe, Russia and CIS.
Air Arabia has launched two new routes to the Ukrainian cities of Kharkov (Kharkiv) and Donetsk, from 07-Oct-2011 and 12-Oct-2011 respectively. Air Arabia already operates to Kiev, making the new routes its second and third destinations in Ukraine.
Fellow regional low-cost carrier flydubai has also added a slew of Eastern European destinations. This month it launched services to Kiev, Kharkov and Donetsk, pipping Air Arabia's new route launches and setting up stronger competition between the Ukranie and the UAE, with four carriers operating routes. Middle Eastern carriers will account for the majority of the traffic.
UAE-Ukraine seats per week by carrier: Sep-2011 to Mar-2012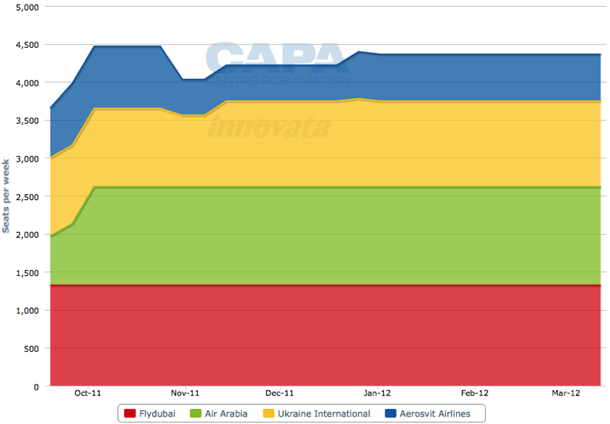 flydubai has also announced plans to launch services to Tbilisi and Belgrade. Both services will be launched during Nov-2011 – Tbilisi from 04-Nov-2011 and Belgrade from 10-Nov-2011.
flydubai already operates a significant route network linking the Gulf and Eastern Europe, flying around 7500 seats per week between the two regions. In addition to the new route launches, the carrier currently serves five routes to former Soviet states: Yerevan (Armenia), Baku (Azerbaijan), Yekaterinburg and Samara (Russia), and Ashgabat (Turkmenistan).
flydubai seats by region: week commencing 22-Sep-2011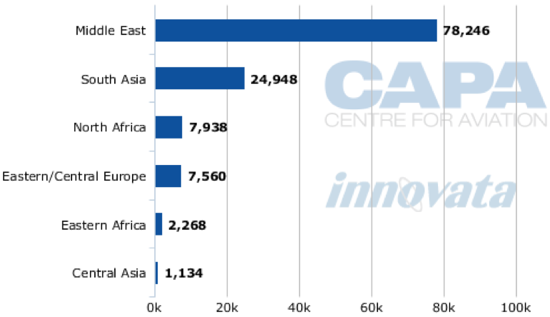 In addition, flydubai launched two new Russian routes in September, with flights to Kazan commencing 14-Sep-2011, and flights to Ufa beginning 17-Sep-2011. Competition between the UAE and Russia has been intensifying over the past few years – by the end of the year, there will be nine carriers operating services between the two countries. Capacity is dominated by Emirates, which operates around 50% of total weekly seats.
UAE-Ukraine seats per week by carrier: Sep-2011 to Mar-2012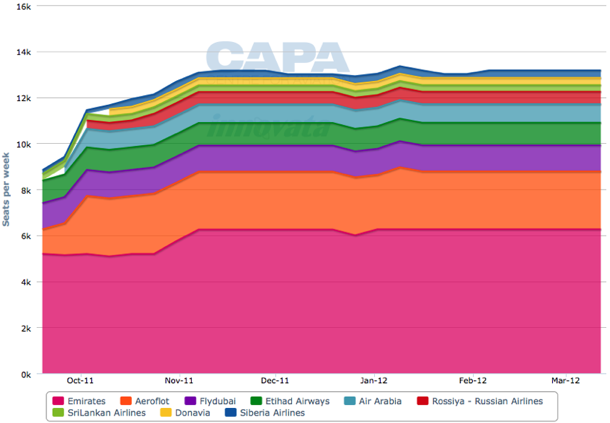 Full service carriers have also been involved in the Eastern European expansion, with Oman Air also planning to enter the Russian market. The carrier will launch services to Moscow from mid-Nov-2011, the only airline on the route. Oman Air was to have launched four times weekly Moscow service in Jun-2011, but pushed the launch back by almost six months. Oman Air already operates to London Heathrow, Frankfurt, Milan, Munich and Paris in Europe, and also plans a new service to Zurich in late-Oct-2011.
Qatar Airways has also been involved in the expansion, launching four-times weekly service to Sofia on 14-Sep-2011, operating via Bucharest in Romania. In conjunction with the new route, Qatar Airways de-linked its existing Doha-Bucharest-Budapest service, switching the route to direct Doha-Budapest service. Qatar Airways is the first Gulf carrier to serve Sofia, which becomes the fifth European route launched by the carrier this year. The Bucharest and Budapest service was launched in Jan-2011, with Stuttgart and Venice following.
Eastern Europe also offers opportunities for premium travel for Qatar Airways. In late Sep-2011 Qatar Executive, the carrier's corporate jet unit, participated in the Moscow Jet Expo business aviation show. Qatar Airways describes Russia as a highly lucrative premium travel market and has made achieving growth in the Russian market a part of its long-term expansion strategy.
Qatar Airways' CEO Akbar Al Baker said the airline is witnessing strong regional demand for private flying, describing Russia as a "key market where economic activity is strong and growing, fuelling demand for corporate jet services".