Middle East airlines benefiting from premium air travel recovery
IATA reports premium passenger numbers on international routes fell 9.3% in Oct-2009, following September's 13.9% reduction, with Middle East carriers scooping up a larger share of the (still declining) international premium traveler market.
IATA premium demand growth (% change year-on-year) by region: Nov-2009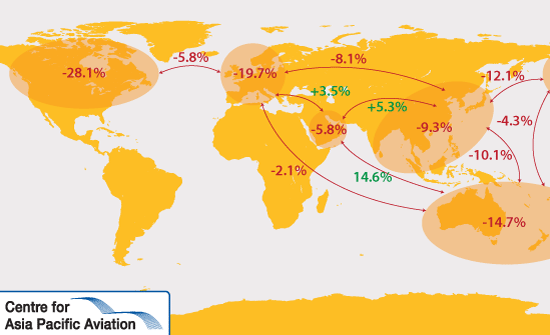 IATA stated a "stronger rise in world trade in recent months appears to be associated with a modest rise in business travel", but warned the leveling off in consumer confidence trends is a concern for travel markets.
IATA premium traffic growth: Jul-07 to Oct-09
IATA added premium and economy passenger numbers are now around 6% points above their respective low points, but are "still well below early 2008 levels". The following chart shows year-to-date premium traffic falls, with sizable losses in most markets.
IATA premium demand growth (% change year-on-year) by region: Year to Nov-2009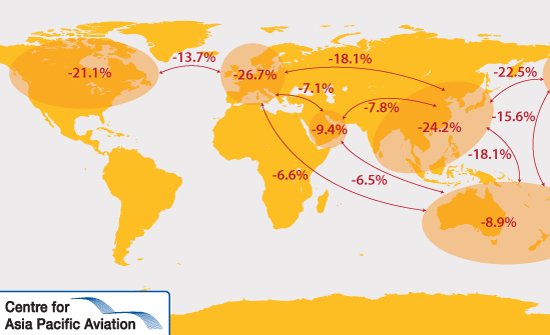 "Little improvement" in premium revenues
The industry body estimates that revenue from premium traffic was around 20% lower year-on-year in Oct-2009, after a 27% decline in Sep-2009, "but since revenues fell a similar amount between September and October last year, there was little underlying premium revenue improvement during this October".
The carriers that seem to be benefiting most from the mild recovery are based in the Middle East, driven by long-haul connections over Middle Eastern hubs, according to IATA. Their shares of global premium revenues and traffic bounced back in Oct-2009 to higher levels seen since the onset of the global financial crisis.
Middle East premium revenue and traffic shares (%): Jan-08 to Oct-09
Premium demand on Middle East to Far East markets was up 14.8% in Oct-2009, while all the larger markets, between Europe, Far East and North America were down between 1.7-2.6%, with the exception of Within Far East travel which was up 3.6%, "reflecting the stronger economic recovery in this region", according to IATA.
IATA premium traffic growth to/from Middle East region: Jan-08 to Oct-09
One of the weakest premium markets remained within-Europe, with a 19.7% decline, part of which is likely to be a "further structural decline on this short and medium haul market area", according to IATA. Long-haul markets across the North Atlantic and Pacific were down 5.8% and 12.1% respectively, a modest improvement on June lows. Europe to Far East was down 8.1%.
IATA provided no outlook for premium travel markets in 2010. Separately, ICAO has released traffic estimates for 2009 and forecast for 2010, containing a significantly lower outlook – albeit positive - for the recovery in world air travel demand than its 2010 forecast of this time last year.