Miami passenger traffic positive in April, but can the recovery survive swine flu?
Miami International Airport, one of the key gateways into Latin America and Europe from America's South, reported a traffic increase of 5.1% year-on-year for Apr-2009. After traffic levels remained virtually static through 2008 and had declined through the first months of 2009, the return to positive traffic was a welcome sign for the airport. However, the April data also reflects the later Easter holiday, moving from March last year to April this year.
Miami International Airport passenger number growth and cargo volume:
May-2008 to Apr-2009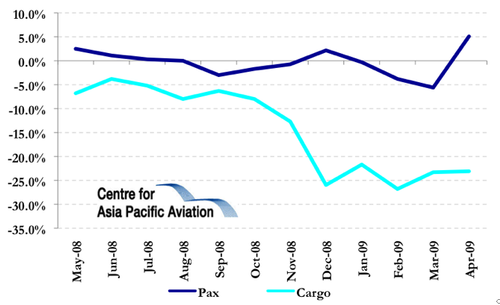 Domestic traffic was weaker than international, with passenger volumes to US destinations rising 3.3% in April, while international traffic was up 7.4%. Domestic and international traffic passenger volumes are roughly even, although the decline in passenger traffic during the recession has been more significant for domestic destinations. The shift of capacity from domestic to international markets by US carriers, including American Airlines, has reinforced this trend.
Miami International Airport domestic & international passenger traffic: Year to Apr-2009
Commercial aircraft movements fell 7.6% in Apr-2009, while total seating capacity at MIA fell 0.8%, indicating that carriers are operating fewer and larger aircraft at the airport and/or achieving higher passenger load factors.

The resurrection in passenger traffic at Miami was not shared by the cargo segment, which has continued its dismal performance, with volumes down 23.1% in Apr-2009. IATA suggested last month that international air cargo has found a floor, stabilising at around -20% and offering a "glimmer of hope" that there may be a recovery period around the corner.

Overall, passenger traffic is still down on 2009 levels, declining 1.2% over the first four months of the year. Cargo has declined 23.7% over the same period.
American Airlines uses MIA as one of its five major hubs, focusing its Central and South American networks at the airport. The carrier dominates approximately 70% of capacity/frequencies at MIA, operating to more than 50 Latin American and Caribbean destinations.
Miami International Airport capacity and frequency share: Top 10 airlines
MIA is also a major destination for European carriers, with Air France, British Airways, Virgin Atlantic, Air Berlin, Lufthansa, Finnair, SWISS and Iberia Airlines operating to the airport. The strongest European route is London Heathrow, the major gateway into Europe, which has three competitors on the route (BA, AA and Virgin).
Top 5 international routes by capacity share (% of total) to/from Miami
Swine flu to offset recent gains in international traffic
The outlook for the May-2009 is less rosy than the Apr-2009 results. Miami is a major entry point for traffic to/from Mexico. Apart from American Airlines' operations into Mexico, which were cut by approximately 25%, several Mexican airlines also temporarily curtailed their operations to Miami, including Mexicana and AeroMexico. Airport officials, airlines and service providers will have to wait longer for a sustained passenger recovery, while cargo remains depressed.