Mexico's airlines remain cautious about a domestic rebound while expanding internationally
Analysis
Cautious optimism remains the underlying theme in the Mexican domestic market as conditions, while improving, remain fragile. After battling depressed yields for a good portion of 2014, Mexico's two publicly traded airlines Aeromexico and Volaris are posting gains in yield growth, albeit from a fairly low base.

The improving conditions in Mexico's domestic market are reflected in 12% passenger growth for the first four months of 2015 to a respectable 11 million, with each of the country's largest airlines maintaining their respective market share year-on-year.

International passenger growth among Mexican airlines jumped 18% during the first four months of the year as Aeromexico and Volaris in particular direct the bulk of their planned 2015 capacity growth to international markets to offset some of the pricing weakness that remains in Mexico's domestic market.
Volaris and Aeromexico achieve some yield traction in the tenuous Mexican market
Aeromexico recently highlighted that Mexico's economy, while showing signs of recovery, is still fragile. The airline stated that Mexico's general economic activity indicator grew by 2.4% from Jan-2015 to Feb-2015 compared with growth of 1.3% the year prior.

Volaris CEO Enrique Beltranena also recently described consumer sentiment as fragile, and the airline estimated that consumer confidence increased 7.8% in Jan-2015, 6.8% in Feb-2015 and 4.8% in Mar-2015. Offering his view of 2Q2015 market conditions, Mr Beltranena concluded that industry capacity growth seemed rational. However, the industry pricing environment also remained fragile, and that the airline sees better travel demand in Northern Mexico and in US cross-border traffic. Volaris plans 10% to 12% total capacity growth in 2015, with 33% to 36% pegged for international markets.

Both Volaris and Aeromexico recorded gains in yields during 1Q2015, with Volaris posting a gain of 17.5%. Its average fare increased 11.3% to USD77 and passenger unit revenues increased by 16.5%.

Aeromexico's yields increased by 2.8% during 1Q2015 and passenger unit revenues were flat. The airline stressed that its unit revenue strategy is optimising both fares and passenger volume, so it was pleased with the flat result on a 10.7% increase in system capacity during the quarter. The airline's system load factor for the first four months of 2015 dropped 2.3ppt to 77.%. International loads fells 3ppt to 77.7% and domestic load factors dropped 1ppt to 76%. The fall in loads shows that Aeromexico is likely working to shore up yields even as the pricing environment remains weak. Volaris' load factor during the first four months of 2015 was roughly flat at 80%.

Both airlines are facing some currency pressure as Volaris estimated the MXP depreciated 12.8% against the USD in 1Q2015. But the airline believes it holds some natural hedge against currency pressure as USD denominated revenue from its international operations (which for now are all deployed to the US) represented roughly 31% of its total revenue during 1Q2015. The airline estimates that its transborder flights are approximately a 50-50 mix of US and Mexico point of sale.
Market share among Mexico's domestic airlines remains stable
Despite some lingering pricing pressure in the Mexican domestic market, the country's large airlines basically maintained their market share position during the first four months of 2015, which shows that there is still solid room for stimulation within the domestic market given the 12% passenger traffic growth for that time period.
Aeromexico's market share fell 1ppt year-on-year to 15% and Aeromexico connect's share dropped by the same amount to 21%. Interjet's share increased 1ppt to 24% and VivaAerobus maintained its 11% share. Volaris' recorded a 1ppt increase in share to 24%.
Mexican airline domestic traffic passenger market share: Jan-2015 to Apr-2015 vs Jan-2014 to Apr-2014
| | |
| --- | --- |
| 2015 | 2014 |
Mexico's airlines work to exploit untapped international expansion opportunities
International passenger growth among Mexico's airlines continues to surpass domestic passenger growth. Foreign airlines still dominate Mexico's international market, which means there are ample growth opportunities for Mexican airlines, and most of the country's airlines have opted to pursue international growth during the last year.

International passenger levels among Mexico's airlines jumped 18% year-on-year during the first four months of 2015 to nearly 3 million.

Aeromexico mainline posted a 3ppt decline in international passenger share to 54% and Aeromexico Connect grew its share by 1ppt to 10%. Interjet's share increased from 11% to 12% and VivaAerobus grew its share from about 1% to 1.7%. Volaris' share grew 1ppt to 22% .
Mexican airline international traffic passenger market share: Jan-2015 to Apr-2015 vs Jan-2014 to Apr-2014
| | |
| --- | --- |
| 2015 | 2014 |
Volaris has been undertaking US transborder expansion for quite some time. But during 2014 Interjet and VivaAerobus also started making a push into US transborder markets. VivaAerobus returned to the US transborder market with the launch of flights from Monterrey to San Antonio and Las Vegas and from Guadalajara and Cancun to Houston Intercontinental. It also has added service from Guadalajara to Dallas/Fort Worth during the last year.

Interjet launched flights between Monterrey and Houston Intercontinental in 2014, and has added flights from Mexico City Juarez to Houston in 2015. It also serves Miami, New York JFK and San Antonio from Juarez and Las Vegas and San Antonio from Monterrey.
Volaris adds Central America, but remains focused on transborder expansion
Volaris also added numerous new US markets in 2014 including Ontario, California; Portland, Oregon; Denver, Colorado; Reno, Nevada; and Fort Lauderdale, Florida.

One key development for Volaris' international network in 2015 is the launch of flights outside the US transborder market. New service to Guatemala from Guadalajara and Cancun begin in Jun-2015, and new service to San Jose, Costa Rica from Cancun and Guadalajara begin in Sep-2015.

Volaris faces no direct competitors in its new markets; but both Aeromexico and Interjet serve Guatemala and San Jose from Mexico City Juarez (which is slot constrained).

See related report: Volaris expands its international scope beyond the US transborder with new flights to Guatemala

Volaris seems to be leveraging its leading positions in Guadalajara and Cancun for its expansion into Central America. Guadalajara and Cancun are Volaris' second and fourth largest bases measured by both seat and ASM deployment. Volaris for the week of 25-May-2015 to 31-May-2015 represents roughly 40% of the seats on offer from Guadalajara. It accounts for nearly 11% of the system wide seats deployed from Cancun and holds a 33% share of the airport's domestic seats.
Volaris global top 10 hubs/bases/stations by seats: 25-May-2015 to 31-May-2015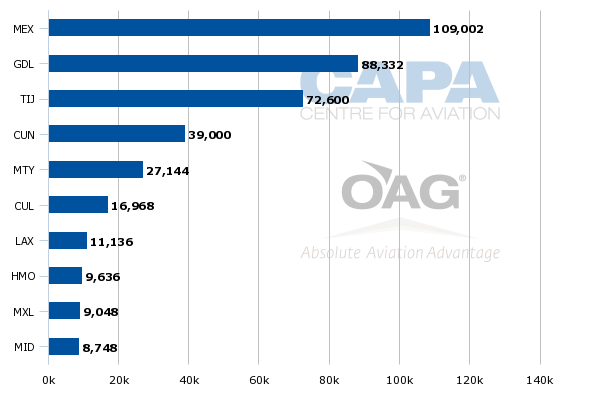 Volaris global top 10 hubs/bases/stations by ASMs: 25-May-2015 to 31-May-2015
The diversification by Volaris into Central America is a logical step as the US transborder market becomes more crowded by both US and Mexican airlines. JetBlue just revealed plans to launch service to Mexico City from its bases in Orlando and Fort Lauderdale beginning in Oct-2015.

JetBlue's new flights to Mexico City add another layer of competition in the Florida-Mexico market. American, Interjet and Aeromexico all serve Mexico City from Miami (38 km from Fort Lauderdale). Spirit Airlines operates to Mexico City Toluca (64km from Mexico City) and both Volaris and Aeromexico operate service from Orlando to Mexico City.
Given that Volaris generally concludes the sales mix on its transborder flights is roughly 50-50, it could face some point of sale pressure from JetBlue in the new Florida-Mexico market. JetBlue is the largest airline in Fort Lauderdale – representing 22% of the airport's seats and 24% of its ASMs – and 13% of Orlando's seats and roughly 12% of ASMs (all data from CAPA and OAG for the week of 25-May-2015 to 31-May-2015).

But despite the new competition, Volaris remains bullish on prospects for continued growth to the US. "As we move forward we do see opportunities in Central America and we continue to analyze the most attractive new markets in Central America but our focus will continue to remain in the transporter traffic to the US," Mr Beltranena concluded.
Aeromexico is joining Volaris in adding new service to Central America, introducing service from Mexico City to Panama City after debuting flights to Managua in 2014. Other new international destinations Aeromexico is adding in 2015 include Boston and Vancouver and the resumption of Montreal and Toronto.

The airline's international diversification is reflected in its 2015 capacity projections. Aeromexico is forecasting 8.5% to 10.5% capacity growth for the year, with an 11% to 13% rise in international capacity.

See related report: Aeromexico works to strengthen its global network as Mexico's economy starts a slow path to recovery
Volaris and Aeromexico are acting rationally. Will their competitors do the same?
Aeromexico and Volaris are making interesting international network moves that should prove to be successful exercises in overall network diversification.

Mexico's two publicly traded airlines are wise to approach the domestic market with caution as any slight imbalance of supply would likely freeze what it already a slow recovery in yields.
If their competitors show the same rationality with regards to capacity and pricing, then perhaps all of Mexico's airlines will start to enjoy the benefits of a healthy Mexican domestic market place in the medium term.