Mexicana bankruptcy protection stalls; decline opens opportunities for others
Analysis
Mexicana de Aviacion's bankruptcy protection moves are faltering as the carrier seeks to maintain its cash flow, and service cutbacks to London and Madrid services reduce its contribution to alliance partners. Mexicana's rapid decline into restructuring or oblivion, while certainly a negative for the airline, its shareholders and employees, presents opportunities to others in the industry. In today's interconnected world, the effects of a possible collapse have added impact because of the alliance affiliations and complex codeshare patterns that underpin schedules and flight patterns.
Mexicana not yet protected from seizure of assets
Mexicana's future still hangs in the balance as the carrier fights to keep its assets - notably aircraft in the US - available to continue its cash flow. As with any company threatened with financial difficulties, creditors generally have become generally very cautious about extending credit or even honouring existing contracts, in some cases requiring prepayments. This creates a vicious spiral which makes it hard for the airline to continue to use its remaining assets to generate income. When the serious difficulties first emerged two weeks ago, the airline was temporarily forced to cease selling international tickets - the vital source of cash - until some certainty about its future was reached. The priority was to ensure that potentially stranded holidaymakers were returned home; but as a result, CEO Manuel Borja last week was reported in the Wall Street Journal as saying that the company had burnt nearly USD50 million, while operating without any cash coming in.
With most of its European passengers accounted for, Mexicana over the weekend added to its list of suspended flights MX 1586/87 to Madrid and MX1994/95 to London.
In Chapter 15 bankruptcy court proceedings in the US, objections by aircraft lessors GE Capital Aviation Services, Wells Fargo and ILFC had been resolved by yesterday, 16-Aug-2010. This involved the return of three leased aircraft to Wells Fargo, along with another five to other lessors. However, a further dispute, with CIT Leasing, has reportedly been adjourned for one week. Other major creditors, including bank lenders have challenged Mexicana's ability to deliver sufficient cash flow to cover continued operations, a key consideration in the decision.
Chapter 15 protection, which would prevent US creditors seizing Mexicana's assets, has therefore not yet been granted, as the carrier has not been able to offer "cash flow projections, debtor-in-possession financing or any evidence demonstrating how it expects to be able to pay for post-petition services," according to Bankruptcy Judge Martin Glenn.
Mexicana's main destinations and the possible impacts of downsizing
It is still too early to talk of Mexicana as an ex-airline - and even if it is not successful in gaining sufficient protection from its creditors to keep operating, there is the possibility of new investors picking up some of the pieces. But from here on, it is inevitable that Mexicana's past profile will not continue; whatever emerges will be a smaller operation for some time to come.
As a result of these problems, Mexicana's woes are passed on to its oneworld partners, particularly those which have grown to rely on connections and feed traffic that Mexican have delivered and which now become unreliable or disappear altogether. But oneworld, as well as its competitors, have the possibility to make corrections in order to fill the void.
(1) Competitive routes
The following chart shows the top 5 international destinations from Mexico City and chronicles the nonstop services provided by the carriers currently operating the route.
Schedules are complex and variable. One Continental flight between Houston and Mexico City requires 18 entries to fully display varying days of operations and changing effective from and to dates (and code-shares). But the table is a reasonable representation of the scheduled service in August and September 2010. Each of the city pairs produced over 300,000 passengers in 2009.
For Star Alliance, Continental (CO) competes on the New York and Houston routes.
For SkyTeam, Aeromexico (AM) operates Los Angeles, New York, Miami, Houston and Madrid, while Delta (DL) flies its own metal only on New York; and
For oneworld: American Airlines (AA) connects only to its Miami hub, Mexicana (MX) flies to Los Angeles, New York, Miami and Madrid, and Iberia (IB) flies to Madrid, codesharing with Mexicana.
Mexico City city pairs with 300,000+ pax in 2009
| LAX | NYC* | MIA | IAH | MAD |
| --- | --- | --- | --- | --- |
| MX 320 | AM 738 | AA 738 | CO 738 | IB 340 |
| AM 737 | CO 738 | MX 319 | CO ERJ | MX 332 |
| MX 318 | AM 738 | AM 737 | CO 738 | AM 777 |
| AM 737 | MX 319 | AA738 | AM ERJ | IB 346 |
| MX 320x4 | AM 738 | AM 737 | CO ERJ | |
| AS 737 | CO 738 | AA 738 | CO ERJ | |
| MX 320x2 | DL 757 | MX 320 | CO 738 | |
| MX 320 | MX 319 | AM 737 | CO ERJ | |
| AM 737 | AM 738 | | CO 735 | |
| MX 319 | | | AM 737 | |
| AM 737 | | | CO 738 | |
| | | | CO ERJ | |
| | | | AM ERJ | |
Mexico-Los Angeles is most at risk - and thus offers the most opportunities
Among these 5 top destinations, Los Angeles produces the greatest volume and may see greatest loss of capacity should MX fail - and the greatest opportunities for competitors.
Mexicana operates 34 weekly non-stops on the route and Aeromexico 28; Alaska has 7. Given oneworld's longheld dominance in Latin America, this would be problematic both for the carrier and for the alliance, perhaps pushing American Airlines in to plug the gap - but would probably be loath to bypass its Miami hub.
Even if Mexicana continues to operate many of its existing frequencies, travellers dislike uncertainty and are already buying away from Mexicana. By any measure, the demise or downsizing of MX will bring changes to the Los Angeles basin. The carrier also operates numerous services from Los Angeles to other Mexican cities and resort areas.
New York JFK is a SkyTeam-dominated route, but an important oneworld hub
New York is dominated by SkyTeam, with 35 services on Delta and Aeromexico; Mexicana is significantly outgunned at New York's JFK.
Star Alliance's Continental operates only from Newark.
Given oneworld's strong international presence at JFK (AA, BA, IB, and Finnair [AY]), the loss of Mexicana would need to be replaced (probably by American) in order to keep the connecting structure in place.
Despite American's dominance at Miami, Aeromexico and SkyTeam are well represented. Star has no representation in the market. American will certainly offset a perceived service deficit presented by a Mexicana decline but the balance between the two alliances represented will likely remain status quo.
Houston is a Star route, with no oneworld operator
Houston belongs to Continental and Star. While Aeromexico has a presence, any changes at Mexicana will not affect the airport or its travellers.
Madrid predictably a oneworld-dominated route
And finally Madrid, which, with two Iberia flights, would continue to be dominated by oneworld. However, the support provided by Mexicana's operation would have to be borne by the Spanish carrier.
Aeromexico may carry point-to-point traffic to Madrid, but given that it is a oneworld hub, AM has limited options for onwards European traffic. SkyTeam leaders, Air France and KLM, both operate direct to Mexico City, so that any onward connecting passengers would generally prefer to use those direct feed SkyTeam gateways.
In short, with the exception of Los Angeles, Mexicana's top five city pairs would probably remain relatively stable throughout any substantive change at the airline, without causing major dislocation.
2. City pairs where Mexicana is the only Mexican operator
There is however a list of cities where Mexicana is the only Mexican carrier operating the city pairs. In those locations opportunities arise for other carriers and alliances to intervene, should Mexicana falter.
These include Calgary, Caracas, Dallas, Denver, Guatemala City, London, Montreal, Panama, San Francisco, San Salvador and Vancouver.
This list reveals two obvious openings for competitors:
(1) Canada: In Canada, with the exception of Toronto, Mexicana has no competition on routes to Mexico City - and the onward connections available. WestJet provides ample service to resort destinations but has thus far has avoided commercial centres such as Mexico City.
This provides an opportunity for Air Canada and/or WestJet to move aggressively into the market
(2) Central America: The other opportunity is in central America, where COPA, TACA and LACSA may seize the moment and further solidify their growing connecting networks over Panama and San Salvador.
Mexicana is necessarily a substantial operator at its capital city airport. With a market share (capacity) of 34% prior to its recent troubles, a substantial downsizing of the carrier brings with it a financial impact for the airport's short term revenue - even if the gap is eventually closed in the medium term. Mexicana's problems are just one more setback in a difficult period; the airport's passenger throughput shrank by almost 1% in the first half of 2010.
Mexico City capacity breakdown (seats per week as % of total): Week commencing 12-Jul-2010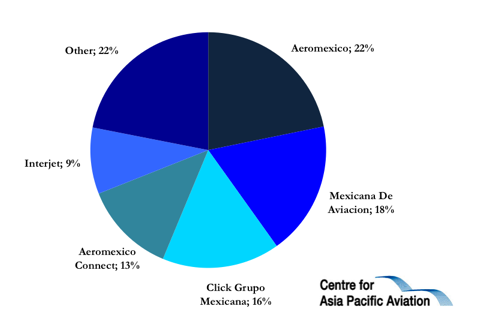 With Mexicana's inevitable downsizing or possible collapse, the second half promises to be even worse for Mexico City, barring a substantial upturn. It is of course not the only Mexican airport affected - and with 34 weekly frequencies into Los Angeles, even that major gateway will see some erosion of revenue streams.
Preparing for the post-crisis recovery
Mexicana attributes its demise to a number of internal and external factors, including the rash of violence widely reported by world media, last year's H1N1 scare and the global economic malaise. Until the effects of those events subside, Aeromexico continues to attempt to provide sufficient capacity in many markets, forestalling new entrants. But the already intense competition from foreign operators, notably low cost airlines, will not quickly go away.
Other operators, including alliance partners, will be preparing contingency plans for a time when Mexicana's future, either way, becomes clearer. Some will be eager to take advantage of the carrier's current weakness and intervene in the short term to establish a better foothold. Aeromexico is likely to be the main beneficiary in this, but there will be others keen to capitalise - or merely to secure connectivity positions.