MAp, Mexican and European airport shares slump, Chinese prosper - 1Q2009 wrap
Macquarie Airports (MAp), whose shares have slumped a further 21.1% since the start of 2009 (to 31-Mar-09), has a strategic interest in ASUR and a majority stake in another airport operator facing challenging times, Copenhagen Airports (CPH). CPH's shares fell 27.7% in the first quarter, as traffic levels were affected by Sterling's failure late last year and the ongoing challenges SAS is facing to turn around its struggling business.
Other European airports also struggled, including Vienna (-31.6%), Fraport (-23.9%), Ferrovial (BAA's owner) (-22.0%), Zurich (-20.5%), Hochtief (-19.9%) and Aeroports de Paris (-18.7%).
With the exception of Beijing Capital Airport (-13.8% in the first quarter), China's listed airport operators performed well, with Hainan Meilan, Shanghai, Guangzhou and Xiamen surging 17.9%, 24.0%, 24.5% and 27.1%, respectively, as the domestic passenger traffic outlook begins to show some signs of improvement.
Other risers in the quarter were Korea Airports (+10.6%), Auckland Airport (+1.8%) and Malaysia Airports (+10.2%), which has benefited from the long-awaited conclusion to its financial restructuring plan with the Malaysian Government, and AirAsia's continued rapid expansion.
For daily updates on American aviation stock prices and a complete wrap of the day's breaking news, sign up now for a complimentary subscription to America Airline Daily.
Airports share price movements 1Q09 ended 31-Mar-09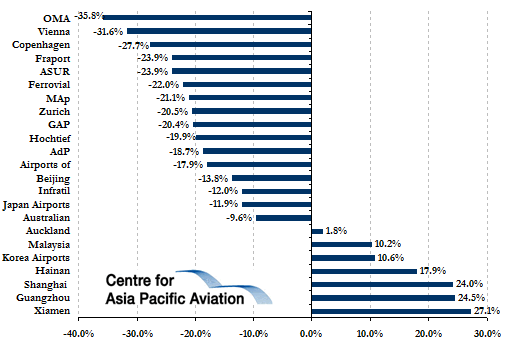 MAp down again
Yesterday was another bad day for MAp, after a strong session on Tuesday. Parent, Macquarie Bank is rumoured to be selling a stake in another satellite fund, Macquarie Communications Group - a move that could help bolster the valuations of the other Macquarie funds. Macquarie Bank is expecting big write downs on the value of its funds, including MAp, for the first half (which ended on 31-Mar-09), after steep share price reductions in the past six months.
Selected airports daily share price movements (% change): 01-Apr-09