MAp Airports reports pax increase; Auckland Airport prices USD150m refinancing transaction
Analysis
Australia's MAp Airports (+0.3%) reported pax traffic had increased across all three airports in Oct-2010. Highlights include:
Sydney Airport: 3.2 million, +3.7%;

Domestic: 2.2 million, +4.1%;
International: 1.0 million, +2.9%;

Copenhagen Airport: 2.1 million, +13.4%;

Domestic: 160,000, +16.9%;
International: 1.4 million, +13.6%;

Brussels Airport: 1.6 million, +8.1%;
See related CAPA profile: Financial results
New Zealand's Auckland Airport (-1.4%) priced a USD150 million refinancing transaction in the United States Private Placement market. The financing has been sourced to fund bank debt maturing in Mar-2011 and fixed and floating rate notes maturing in Jul-2011. The new funding is made up of three tranches of USD50 million each. The tranches are a 4.42% coupon 10-year note and a 4.57% coupon 12-year note which will be drawn on Feb-2011 as well as a 4.67% coupon 10-year note to be drawn on Jul-2011.
Hainan Meilan shares gained the most on Thursday (18-Nov-2010) with a 3.7% increase while GVK Power and Infrastructure shares dropped by -1.9%.
Selected airport operators/investors daily share price movements (% change): 18-Nov-2010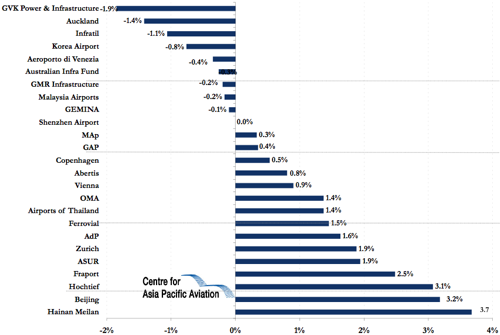 Hellenic Duty Free Stores sharply rose by 6% on Thursday while Athens Stock Exchange ended significantly higher at 1502.83 points, a 2.6% increase, recovering much of the losses posted in the previous two sessions.
Selected airport suppliers daily share price movements (% change): 18-Nov-2010