Mandala Airlines - Indonesia's fast-growing LCC says the "name of the game is flexibility"
"The market is changing very fast, so the name of the game is flexibility in seizing the opportunities and changes in the industry". That is the view of Mandala Airlines CEO, Warwick Brady, who talks exclusively to the Centre for Asia Pacific Aviation.
CAPA: How is the Indonesian market performing amid the global economic slowdown - domestically/internationally?
WB: The market in 2007 grew around 10% to approx 39 million pax (Department of Transport Numbers) and is expected to grow 8-10% in 2008. Over the past five years, the growth has been over 25%. The growth is a factor of GDP growth as well as the shift of GDP distribution to around 30% Jakarta and 70% outside of Jakarta.
There is very little alternative to air travel and we believe that the Indonesian market will be more resilient than, say, the Indian market, where the market has contracted to significantly less than the Indonesian market.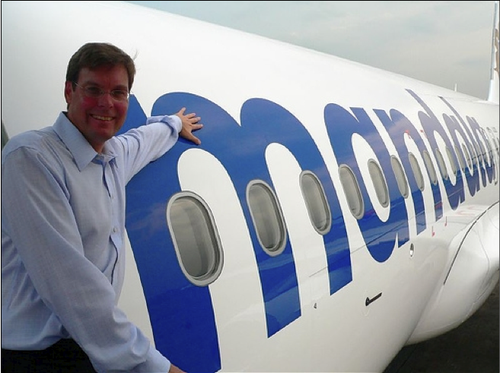 Mandala has not witnessed any slowdown in demand, although this is in part in the positive restructuring of the business. The Mandala brand was very strong in Indonesia as it's 40 years old and with our new fleet, new brand, new management we have turned Mandala into an airline for of choice for Corporates, SME and mass consumer market.
The shift in people choosing to fly Mandala is visible in our load factor, which is excess of 85% year-to-date. The airline is very active in communicating the brand as quality airline at affordable prices with a product for each segment of our customer base.
The main challenge over the past 60 days is the depreciating IDR [Indonesian rupiah] against the USD.
The global economic slowdown is likely to impact the airline industry and we may see more consolidation and a shake out if there is softening in demand. However, the domestic demand is strong and compared to the 1997 Asian Financial Crisis. GDP has grown fourfold whilst exports as a percentage of GDP has dropped considerably, so the economy is less dependent.
It is difficult to tell how Indonesia will perform, but the fact remains that there is very little alternative to airline travel, so the impact will be less than other countries in a similar position.
International outbound traffic is expected to slow down considerably due to the IDR. There are mixed reports from the various agencies forecasting the IDR/USD for 2009 from 10,500 to 12,500.
Mandala Air Profile
Area

Details

Business Focus

Passenger and cargo transportation on domestic routes

Owners

51% Cardig International Aviation, 49% Indigo Partners

Current Fleet

11 x Airbus (mix A319s and A320)s

2 x B737-400s

4 x 737-200

Operational lines of flying subject to market conditions, maintenance etc.

Fleet Plans

Bases

Jakarta, Surabaya

Network

16 cities in Indonesia

Website

Online Sales

Visa and Mastercard accepted

Possibility to pay through Bank BNI, BRI, Mandiri ATM

Call Centre

0804-1234567

Other distribution

Travel agents and local sales offices

Loyalty Programme

none

Airport Facilities

30 kg baggage allowance to all passengers

Business Class

none
Mandala Route Network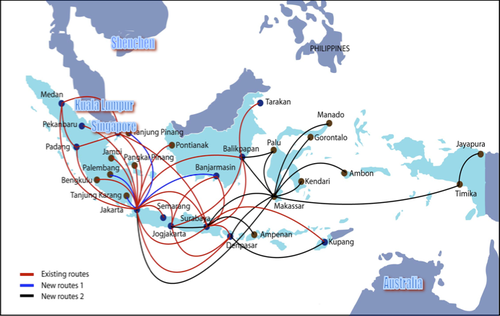 Indigo Partners airline investments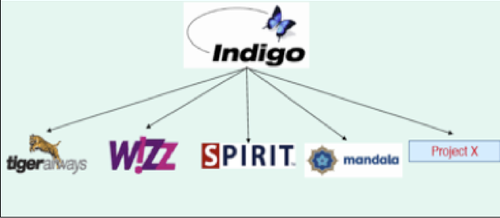 CAPA: How are your new routes performing? Did Adam Air's exit create much of a vacuum for Mandala to fill?
WB: Mandala routes are performing well. Despite having all the rights to grow regionally, we have focused on our domestic routes, as the Mandala brand is extremely strong in the markets that we serve. We recently were voted by the National Marketing/PR society the company in 2008 that has been most successful in turnaround the brand and the company.
We recently launched four new destinations in Kalimantan and Sumatra and the routes are performing very well.
The most positive issue about Adam's demise was it removed an airline that was pricing irrationally and causing serious market turmoil. Despite being a very badly run company, the pricing concepts of heavy discounting led to irrational market behaviour. The bottom line is the airline could not sustain fares well below the costs and collapsed.
Whilst the demand reduction did prove to be positive for the other airlines, including Mandala, we believe that many of those passengers could not afford to travel after Adam collapsed.
CAPA: How much is Mandala planning to grow its capacity in 2009?
WB: Our business plan calls for an increase in fleet which will translate into 25%+ growth in seat capacity, however, the world is changing so fast that all of our plans are being reviewed on a weekly basis. With aircraft availability as it is there is no reason for the airline to commit to more capacity until such time as there is better visibility about what is to come in 2009.
What we can tell you is that we have delivered 300% increase in revenues, increased our market share to no3 position, and are in a good position to continue with our business plan but need to be very receptive and flexible to the changing market conditions.
CAPA: How is the new A320 fleet performing in terms of cost/reliability/route expansion? Is finance an issue for future deliveries?
WB: The A320 fleet reliability has been excellent and has been the back-bone to the operational turnaround of the company. The on-time performance is a remarkable 90% within 15min against schedule and cancellations less than 1% . With this operational performance our expansion into new routes has been an easy sell when competing against 737-200s and MD80s.
Our deliveries do not commence in 2009 but of course the world of banking has changed and getting finance is a challenge for everybody including AAA companies.
CAPA: How are you tracking in terms of your financial (profitability/revenue) targets and forward bookings?
WB: Mandala is on-track for financial targets. We are private company and therefore do not provide our financials for public consumption. Forward bookings are strong, but please note, the market is traditionally a relatively late booker.
CAPA: What other revenue initiatives are you engaged in at present?
WB: Over the past year, the airline has completely overhauled the commercial side of the business with the following initiatives:
Distribution Channels - Strong agent driven community mean the airline must work with the agents so to that effect we have increase our penetration of the agents from 2,000 to 4,000 agents.
Given the poor IT infrastructure, low level of credit card penetration we have had to be innovative in the way we deal with agents and our direct consumers and have developed:
Call Centre - This channel has grown rapidly in line with our expanding passenger base;
Web - Over 60% of our users now book using our web site directly;
Ticketing offices - Our ticketing officers are very cost effective and important channel of distribution
WAP Bookings - small but growing;
Agents - expanding;
Modern Channel - post office, and other business sites such as hotel business centres.
Payment Channels - All transactions are based on a "pre-paid system including agents. Key to doing business is making it easy for customers to book and pay:
40% of our payments are through ATM where customers and agents can pay and print an e-ticket;
Direct Debit Cards, Credit Cards, Internet Transfer;
E-top system for agents links agents "pre-paid" accounts to the Mandala system. Development of virtual accounts, sms payments etc now under trial;
Micro Payment system using WAP and Mobile Technology under test with Indosat;
Cash.
Three Products - The Airline has developed three products to support the customers in Indonesia:
Ultra Saver - unbundled product where ticket is not refundable and all changes are charged;
Ultra Flex - unbundled flexi ticket;
Mandala Priority - Corporate/Business ticket bundled.
The airline has one of the lowest cost bases as it operates strictly to an LCC Back-office on costs.