Malaysia Airlines vs AirAsia - two very different fourth quarters
Analysis
Malaysia Airlines (MAS) and AirAsia released contrasting financial results for the fourth quarter and full year ended 31-Dec-08. The full service carrier shrunk its operation to record its tenth consecutive quarterly net profit, while the LCC continued its aggressive expansion, but notched up its second consecutive quarterly net loss. However, AirAsia's quarterly operating result was outstanding. Free of the hedging contracts that weighed down the second half of 2008, AirAsia appears set to soar.
MAS cut its capacity by 1.3% in 4Q08, while AirAsia grew its ASKs by 17% (its slowest pace all year).
Malaysia Airlines and AirAsia passenger capacity (ASK) comparison: 1Q08 to 4Q08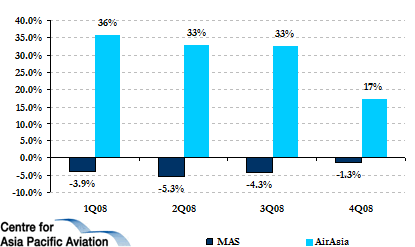 MAS however suffered a 15.6% reduction in passenger numbers, resulting in a 5.5 ppts reduction in load factor to just 65.3%. AirAsia reported a 21% surge in demand and a 0.8 ppts increase in load factor to 78.4%.
Malaysia Airlines and AirAsia passenger numbers growth comparison: 1Q08 to 4Q08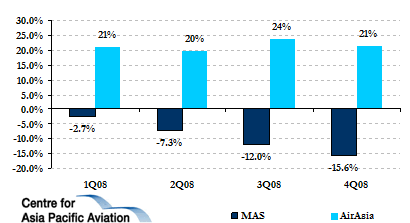 MAS reported a 5% increase in RASK (including fuel surcharges and admin fees) to MYR 21.5 sen, which was outdone by AirAsia's 13% increase in RASK to MYR 16.75 sen.
While MAS has been eking out small net profits, AirAsia lost heavily in the final two quarters of 2008, as it unwound its fuel hedging programme and some of its interest rate swaps.
Malaysia Airlines and AirAsia passenger net profit margin comparison: 1Q08 to 4Q08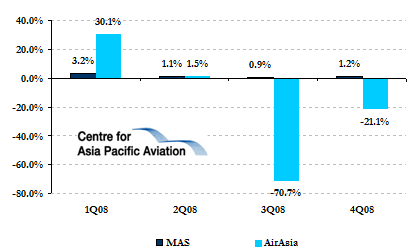 But the core operating margins are a better guide of the relative strengths of the two businesses, and AirAsia's margins exploded in the final quarter. The carrier's fourth quarter operating profit of MYR194 million was three times higher than Malaysia Airlines' result for the same period and double AirAsia's result for the same time last year.
Malaysia Airlines Profit/(loss) before tax margin and AirAsia operating profit margin: 1Q08 to 4Q08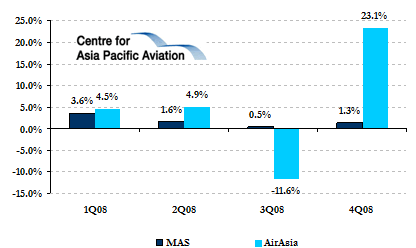 AirAsia is forecasting a 15-20% increase in passenger numbers this year. MAS meanwhile will continue to cut capacity and has unveiled a programme to cut costs by a further 7%.
AirAsia shares fell 0.5% on Friday, while Malaysia Airlines dipped 0.7%. Today's closing prices should provide a better guide of the market's assessment of the latest results and prospects for both carriers.
See the upcoming Peanuts! Weekly for a full analysis of AirAsia's fourth quarter financial results and outlook.