Malaysia Airlines better equipped to weather "perfect storm"
Analysis
Malaysia Airlines (MAS) continues to perform better in this crisis than any before it, thanks to the steps taken to reform and simplify its business under Managing Director & CEO, Idris Jala. MAS notched up its eighth consecutive quarterly profit in the traditionally weakest second quarter (three months ended 30-Jun-08) – a good performance in a period when many of its Asia Pacific rivals incurred significant operating losses. Honed by competing day to day with the world's lowest cost airline operator, AirAsia, MAS has significantly enhanced its "survivability".
Malaysia Airlines net profit margin: 2005 to 1H08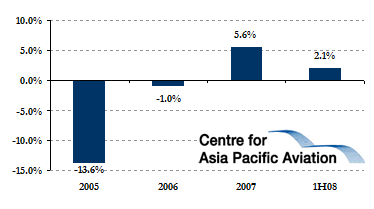 Since 1Q06, MAS has achieved a remarkable 39% increase in yield, reflecting higher fuel surcharges and fares, but also a focus on premium markets and product upgrades pitched at corporate travelers.
Malaysia Airlines' yield and RASK performance*: 1Q06 to 2Q08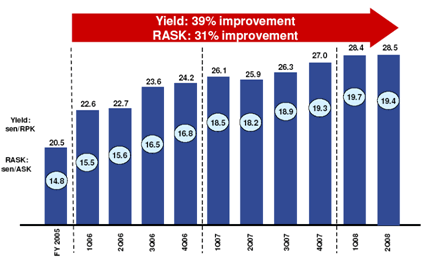 The yield focus could not have been better timed. Jala stated, "the perfect storm has landed, with the high price of oil taking a heavy toll on the industry". He added, "it's an extremely tough environment, and with overcapacity and global downturn, the situation is going to get even more challenging".
Revenue increased 8% in the second quarter, revenue per available seat kilometre (RASK) rose 7% and yield (revenue per RPK) increased a creditable 11% year-on-year, despite a 3.1 ppts reduction in load factor in the period - the opposite effect that expected with its 'Everyday Low Fares' (ELF) initiative. However MAS stated the ELF, which aims to sell up to 30% of surplus seats cheaply, has proven to be "very successful", citing "increased sales from our normal priced tickets during the ELF period".
Overall costs outpaced revenues, rising 10% year-on-year, mainly due to a 56% increase in fuel costs. But the headline cost figure masked an exceptional 13% reduction in non-fuel expenses by MAS, aided by a 3% contraction in capacity. MASKargo also reported a better quarter, as cargo revenue rose 9% and cargo yield rose 4%.
MAS is employing "four tactical pillars" to navigate the current environment, namely "dynamic pricing, cost reduction, capacity reduction and innovative measures". Jala added that MAS is continuously reviewing all aspects of its operations to boost revenue and ensure leaner operations, without compromising on the quality of its services, and identified the MRO segment as a revenue opportunity holding "significant potential".
Jala concluded in such a volatile environment, "there will be winners and losers", with the winners incurring minimal losses or making profits. He added, "survivability is crucial" and the survivors "will emerge champions". Honed by competing day to day with the world's lowest cost airline operator, AirAsia, MAS has significantly enhanced its "survivability", although the earnings outlook remains extremely challenging.