Macquarie Airports falls on exit from JAT, Ferrovial down on mixed 1H2009 results from BAA
Analysis
Worldwide airport shares were generally lower yesterday, led by Chinese airports, including Shenzhen, Xiamen, Beijing and Shanghai airports, which dropped 6.3%, 5.9%, 5.8% and 5.1%, respectively on profit taking after recent gains. Macquarie Airports' (MAp) shares followed closely behind, down 4.2%, following the closing of Japan Airport Terminal's (JAT) buy back offer for up to 22% of its shares, including MAp's entire 14.9% stake (see below). Shares in JAT gained 0.2% yesterday.
Positive performers in the Asia Pacific region included Airports of Thailand and Australian Infrastructure Fund, which gained 4.0% and 2.2%, respectively.
In Europe, BAA parent, Ferrovial's shares fell 1.1% following BAA's release of its 1H2009 results. BAA reported widening pre-tax loss of GBP545.7 million, despite a 12.8% year-on-year increase in revenues. Shares in other European airports also lost ground yesterday, despite stronger performance from European stock markets. Copenhagen Airport, Fraport and Aeroports de Paris closed down 2.9%, 1.9% and 1.6%, respectively.
Selected airports daily share price movements (% change): 29-Jul-2009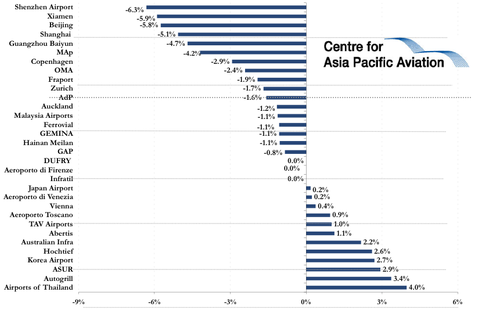 Japan Airport Terminal (JAT) stated that its off-market tender buy-back offer for up to 22% of its securities has closed.
On 20-May-2009, Macquarie Airports tendered its entire 14.9% interest in JAT into the offer and therefore expects that it will exit its entire interest. Gross sale proceeds of approximately AUD260 million (including the benefit of hedging arrangements that were previously entered into) are expected to be received upon financial completion, which is scheduled for early Aug-2009.