Macquarie Airports and Grupo Aeroportuario del Pacifico lead the market down
A severe cold economic wind sweeping through the Mexican market, with excessive - and probably unsustainable - airline competition is hurting GAP, Grupo Aeroportuario del Pacifico, losing 5.9% of share value on 6-Mar-09.
And Macquarie Airports, MAp, stocks also fell a similar level on Friday, as its various airport investments suffer from the threat of declining traffic - although in early trading today, shares have regained much of the previous trading day's losses.
Ferrovial, owner of the BAA airports, meanwhile experienced a welcome rise in share price, of 2.4% on the day. According to Bloomberg, the infrastructure group is sweetening the pill to the creditors who helped finance its purchase of BAA, as it seeks to complete a takeover of toll group Cintra.
Selected airports daily share price movements (% change): 06-Mar-09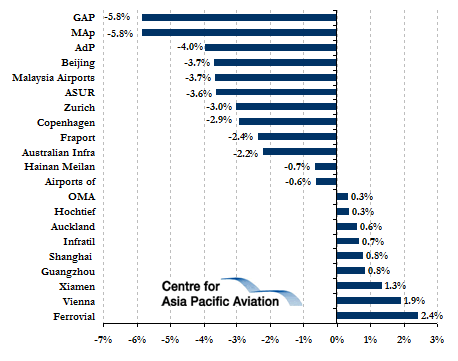 Predictions of 5-6% falls in inbound tourism to Australia this year - with MAp's Sydney Airport the main beneficiary, are painful, at the same time as the peripatetic Australian traveller is staying home are weighing heavily on Macquarie's outlook.
MAp shares have fallen almost AUD1.00, from a recent high of nearly AUD2.40 in mid-Jan-09
MAp Share price: 02-Jan-09 to 06-Mar-09