Lufthansa May traffic disappoints: Middle East/Africa capacity increases 15.4%, but Europe pax down
Analysis
"The weak demand experienced in recent months continued unchanged in May." This tune resounds around most airlines today. And Lufthansa is proving to be no exception. Despite capacity reductions, may-09's 5.1% year on year decline in passenger numbers (to 4.9 million) was still too steep, generating substantial load factor declines (-4.4ppts) against a background of diminishing yields (although not reported yet).
ASKs for the mainline carrier's Europe services were down overall by 1.2% year on year. This was against a reduction in flights of over three times that number, 4.1%, illustrating the re-allocation of capacity onto longer stage length medium-haul routes, notably the Middle East, even as the long haul Americas routes were cut back. Capacity into this market was up a remarkable 15.4% - although load factors here were down by 7.5ppts.
This expansion is presumably partly attracted by the stronger market conditions there and higher yields, but also to combat the hub expansion of the Gulf carriers, which are eating away at Lufthansa's own hub traffic flows.
Lufthansa ASK growth by region: Jan-09 to May-09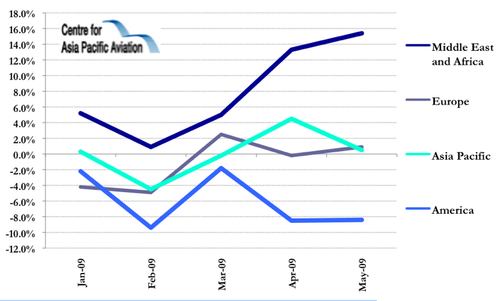 This trend of reducing short haul however actually slowed a little in May-09, as the year's cumulative ASK-flight number figures were 2.6% and 5.2% respectively.
Swiss International figures were nowhere near as stark as its parent. Passenger numbers were down 0.8% and flight numbers actually increased by 0.3%, although it too lost 4.1ppts on its load factor.
RPKs in decline
After a brief uptick in Apr-09, revenue passenger kilometres declined across all markets, with the steepest downturn in the Middle East. Although nowhere near as large as the others (roughly a tenth of total ASKs and a twentieth of passenger numbers), this had been the one market which has until now delivered some refuge from slowing traffic and slumping yields.
Its apparent demise means that this last haven is now history.
Lufthansa Group RPK growth by region: Jan-2009 to May-2009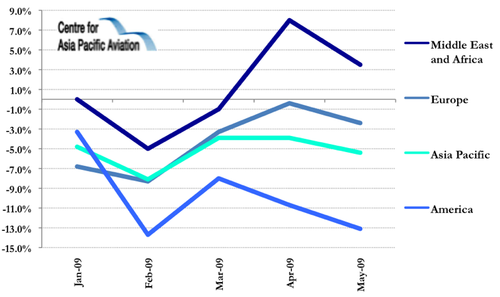 Cargo best forgotten
In the cargo market the currency tends rather to be double digits. For May-09, ATKs were reduced by 9.1%, while RTKS fell a heady 15.7%, for a load factor reduction of 4.8ppts. Here too, the accent continues on longer stage lengths, as flight numbers were reduced by 22.8% (although again lower than the year to date figure of 27.8%, against a 21.4% fall in tones uplifted).
Load factors still outstripping capacity reductions
Only Asia Pacific load factors moved towards the light in May. But this was largely due to reconfiguration of Lufthansa's long haul aircraft, taking out business class and focusing more on the economy markets.
There are no signs yet of further capacity cuts by the Lufthansa Group, as the difficult decisions have to be taken about whether to prepare for the long haul - and simply exit the more difficult markets until they recover - or continue to try to adjust stage lengths and keep aircraft flying, hoping that yields will hold up.
Neither is a nice option.
Lufthansa passenger load factor growth by region: Jan-09 to May-09