Low Cost Airports - Copenhagen Airport hit hard by Sterling Airlines demise
Analysis
Many airports continue to announce plans to provide dedicated LCC infrastructure, but some LCC-focused airports are beginning to feel the negative effect of the economic slowdown, and the associated bankruptcies and capacity reductions by LCCs.
So far, the hardest hit airports have been Copenhagen Airport (with the collapse of Sterling), Coventry Airport (with the withdrawal of Thomsonfly/TUI) and Bangkok Don Mueang (with the suspension of operations by One-Two-Go and the reduced operations of Nok Air).
Europe - The bad news...
Copenhagen Airport hit hard by Sterling Airlines demise
Iceland's financial services sector collapse is having ramifications well beyond the country's shores. The parent of Danish LCC, Sterling Airlines, has succumbed to the financial pressures and withdrew its support for the airline. Subsequent meetings with other potential investors failed and Sterling filed for bankruptcy on 29-Oct-08, suspending all services. It is one of the highest profile airline failures in Europe to date, with over 1,000 staff losing their jobs. The airline served 39 routes with a fleet of 27 aircraft.
Copenhagen Airports A/S (CPH), controlled by Macquarie Airports, is at the epicentre of Sterling's demise. Copenhagen was Sterling's main base, with the airline accounting for over a tenth of the airport's total weekly capacity.
Copenhagen Airport capacity share (%) prior to Sterling collapse*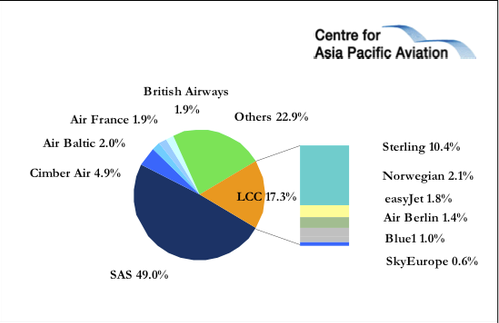 Even prior to Sterling's collapse, the number of departing passengers at Copenhagen Airport had fallen 1.1% in 3Q08, and EBITDA growth declined significantly between 2Q08 and 3Q08 (excluding one-off items). The airport stated earlier last month that it had decided to revise its 2008 outlook for profit before tax to be slightly below that achieved in 2007
Copenhagen Airport financial performance indicators per passenger (% change year-on-year): 3Q08 and YTD3Q08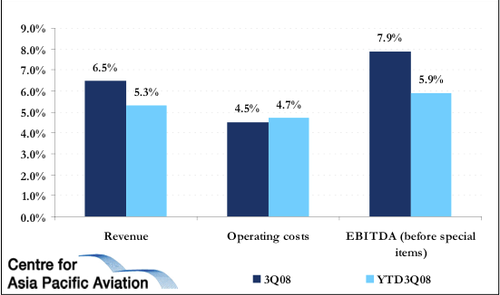 CPH also stated 2008 traffic growth would be at the "low end" of its target 2-4% range.
Copenhagen Airport revenue, EBITDA and passenger growth (% change year-on-year): 1Q07 to 3Q08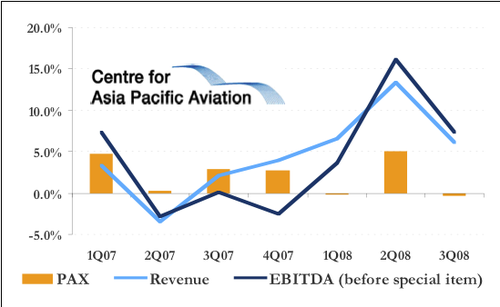 Some airlines are looking to take advantage of Sterling's demise, with another LCC, Norwegian Air Shuttle, stating the collapse represented a "huge opportunity" for the carrier. The rapidly expanding Norwegian Air Shuttle plans to open a new operating base at Copenhagen Airport on 06-Nov-08, initially basing two aircraft which will operate services to Alborg, Oslo, Stockholm, Alicante, Malaga and Nice. The carrier also plans to base more aircraft in Copenhagen in the future, and is considering launching services to London, Amsterdam, Rome, Krakow, Prague, Barcelona and Pisa. But even with Norwegian Air Shuttle's entry, Copenhagen Airport's low end of its target growth range is under threat as economic conditions worsen in Europe
The troubles come as CPH continues to invest heavily in new and improved infrastructure. This includes a recently announced plan to develop a low cost carrier terminal, CPH SWIFT, which is estimated to cost EUR27 million and will open by Summer 2010. CPH has yet to make any announcement about the future of CPH SWIFT in light of Sterling's failure.
TUI quits Coventry Airport - bad portents for low cost airports
The news that German airline and travel group TUI is to end flights from Coventry Airport in the English Midlands may not appear to be earth-shattering. But the withdrawal of TUI's flights will leave Coventry without any commercial services at all. An airport that had been the torchbearer for ultra low cost airport services may have to revert to its previous life as a small cargo airport and general aviation base.
It is part of a worldwide trend, with OAG expecting some 219 airports to lose all scheduled services this Winter as airlines cut back their schedules. Of these, 94 airports in Asia are expected to lose all scheduled airline services, with 45 in Europe and 33 in the US also losing scheduled flights altogether.
Less than 15 miles from Birmingham, Britain's sixth busiest airport, there was no evident reason to develop the facilities at Coventry, which also called itself West Midlands International Airport and 'the best located airport in Britain', as it lies close to Meriden, the geographical centre of England and to the motorway network. But that is what TUI did in Feb-04 when it acquired the lease for EUR10 million including projected investment costs.
TUI then began a rapid expansion of flights under its Thomsonfly brand, supported by stable mate HapagFly, until both were merged into TUIfly in Jan-07, only to be de-merged later and the Thomsonfly name reinstated.
Initial results were good. There was a latent demand for LCC services as there was insufficient supply at Birmingham Airport. From virtually no scheduled passenger services in 2003, Coventry's route structure, all operated by the same company, quickly grew to include Shannon, Cork, Faro, Malaga, Alicante, Valencia, Barcelona, Palma, Ibiza, Lyon, Paris, Pisa, Naples, Venice, Salzburg, Cologne and Amsterdam. The majority of the routes were leisure travel oriented and Coventry quickly overtook much longer-established airports like Exeter, Humberside and Norwich in passenger throughput. TUI carried 500,000 passengers in 2004.
However, there was a difficulty right from the start with the infrastructure. The existing terminal building was hopelessly insufficient for this level of activity and a series of temporary arrangements, including converted builders' huts, were employed without planning permission while a protracted public enquiry considered and finally rejected an application for a new 10,000 sq m terminal to handle two million p.p.a.
Not all the local councils affected by the plans were in favour, and the final, negative, decision was made on 15-Jun-07. During the proceedings the airport had changed hands, from TUI to Cafco-C, a joint venture company constituting Howard Holdings plc, an Anglo Irish property development group, and Convergence-AFCO Holdings Ltd. (CAFCOHL) an Anglo American airport management and development company.
With no possibility for further expansion, and with Birmingham Airport kick-started into offering some serious competition in the LCC sector (Ryanair is setting up a base there) the end was only a question of time.
It came on 15-Oct-08 when TUI announced a cessation of all services from 03-Nov-08. The airport management is trying to find an alternative carrier, which suggests that TUI will not return for the Summer season in 2009. The decision followed the rejection by the High Court of the airport's final appeal against the rejection of the planning application.
Interestingly, since the merger of TUI with First Choice last year there has been an increasing focus on charter operations, sometimes at the expense of low cost scheduled services. This trend is noticeable throughout Europe as the financial 'uncertainty' of LCC travel following the collapse of several carriers begins to affect consumer judgment. It is not impossible that TUI might return to Coventry with limited charter flights, but that sector of the business has three main bases in England (unlike LCCs, which are at almost every airport) - London Gatwick, Luton, and Manchester.
For now, the message to low cost airport operators is that it is essential to have the fundamental infrastructure in place before attempting to attract airlines. Coventry simply did not and came up against the influential environmental movement. Now it seems its only future is to return to its roots or find another niche.
....and the good news
Bratislava MR Stefanik Airport, home to SkyEurope and Ryanair, stated it has received three bids to construct a new terminal and the reconstruction of its current departures hall.
Slovak construction companies, ZIPP and Trnavska Stavebna Spolecnost, and Czech company, Metrostav, have submitted bids ranging from USD109 million to USD128 million. A winning bidder is expected to be announced by the end of the year.
The project, scheduled to be completed by Feb-12, is expected to increase the airport's capacity from 2.6 million to 5.0 million passengers p/a.
Currently the two largest carriers at MR Stefanik Airport are SkyEurope and Ryanair, with 41.2% and 39.1% of total capacity (seats), respectively.
Low-cost airports could help turnaround aviation industry in India
Low cost airports could help turnaround the Indian aviation industry despite the global economic crisis, according to a report released by KPMG, entitled 'Indian Airports - Global Landing Ground'. Emphasising the need for more investment in LCCTs, the report stated that LCC airports have the potential to provide the next step for growth of the Indian aviation industry.
According to the report, "the current downturn provides an opportunity to bridge the supply gap in the aviation infrastructure requirement and make India ready for the next wave of growth. These airports would further the no-frills experience being offered by low cost carriers (LCCs) currently".
At present, India has approximately 454 airfields, of which 138 are operated by the military, 158 by the State governments, 61 are owned and maintained by private owners or estates, and the rest are managed and operated by the public sector Airport Authority of India (AAI). Of the total airports, only 24 airports account for 94% of the current air traffic in the country and the balance is spread over 36 smaller or regional airports.
Discussing the outcomes of the report, KPMG Executive Director, Rajeev B Batra, stated that besides offering the advantage of enhancing connectivity across the country, low cost airports could help to rationalise the costs incurred by airlines and decongest the traffic at regular airports.
The report further suggests that these airports could also provide much-needed relief to LCCs whose financial position has been negatively impacted by rising aviation fuel prices and operational costs and which currently pay the same charges as full service airlines.
"While maintaining all standards and safety norms, these airports are expected to have no baggage conveyor belts, aerobridges and buses for the passengers. These airports shall further the no-frills experience being offered by the low-cost carriers," the report outlined.
The report also suggested that cities that already have an operational runway could construct a new LCCT. Several Indian airports in recent months have proposed plans to construct dedicated LCCT facilities, including, Hyderabad, Bangalore and Mumbai airports.
Upcoming Indian low cost carrier terminal (LCCT)
| Airport | Date | Details |
| --- | --- | --- |
| | 2009 | Bangalore International Airport Ltd (BIAL) plans to construct dedicated LCCT adjacent to existing passenger terminal, subject to Board approval. According to CEO, Albert Brunner, 30% of domestic passengers at the airport travel on LCCs. |
| | 2010 | GMR Group considering developing an LCCT once it completes construction of proposed T3 project in 2010. Further details were not disclosed. |
| | 2011-2012 | GMR Group to construct LCCT by 2011-2012, by which time it expects passenger numbers would have reached 12 million passengers p/a. |
| | 2012 | Mumbai International Airport Limited (MIAL) plans to shift the existing domestic terminal to make way for USD63.5 million LCCT, which would include 150 check-in counters, 15 rapid taxi-bays, 60 slot aircraft parking and 5,000 space car parking facility. |
| | n/a | Cochin International Airport Ltd (CIAL) proposed plans in 2007 to establish a separate dedicated LCCT.. LCCs have stated operational costs at airports in Kerala State are high compared to several other airports in the country due to higher ground handling charges and sales tax on aviation turbine fuel. Further details of the proposed LCCT were not disclosed. |
The study also noted that LCCs have underpinned the growth story of aviation. With less than 5% of the Indian population currently travelling by air, there is a large untapped market, which could continue to fuel growth in the sector. The report outlined that "to capitalise on this opportunity the key stakeholders in the airport industry need to focus on enabling regulations and infrastructure for low-cost carriers".
Mr Batra added that "airports in India are future potential areas not just from an aviation perspective, but also from a real estate point of view. While this might be a new phenomenon in India, globally, airports have embraced the concept of developing the surrounding commercial areas".
Abu Dhabi Airports Company (ADAC) stated Al Ain International Airport is emerging as a strategic LCC hub, providing up to USD1 million p/a in savings to carriers compared to neighbouring airports and features streamlined terminal designs to ensure good passenger flow and allow quick aircraft turnaround times.
According to Abu Dhabi Airports Company CEO, Rudy Vercelli, "aircraft arriving into Al Ain Airport experience no holding patterns and taxi times of less than three minutes, thus potentially saving more than USD1 million in fuel consumption compared to other UAE airports... Being a non-congested airport and having an efficient ground handling agent, Al Ain Airport is able to offer carriers very fast aircraft turnaround time".
ADAC has been promoting Al Ain International Airport as a "low-cost based" airport to LCCs, with Mr Vercelli stating ADAC has "pitched Al Ain to low-cost airlines over the past several months", adding that ADAC continues to "place emphasis on the fact it is open for business today and we are encouraging airlines to come in and talk to us about it".
The airport, located in the UAE, is currently used by EgyptAir, Pakistan International Airlines, Shaheen Air International, Royal Jordanian and Air India Express.
JetBlue launches dedicated Terminal 5 at New York JFK
JetBlue opened its much-anticipated Terminal 5 at New York JFK International Airport on 22-Oct-08. A shrinking network is perhaps not what management had envisioned when it commissioned the massive new facility. JetBlue has invested USD80 million of the USD743 million terminal, with the Port Authority of New York & New Jersey (PANYNJ) providing the remaining funding. The 635,000 sq ft building will have capacity to accommodate 20 million passengers p/a, 30% of New York JFK's total annual number, from 26 gates. Key features include:
26 gates distributed throughout three concourses;
55,000 sq ft retail and concession 'Marketplace', featuring 22 concessions and 25 specialty retail outlets, increasing concession space by over 50% from JetBlue's current Terminal 6;
Two check-in areas with a total of 65 e-ticket kiosks and 40 traditional check-in counters;
Large central security checkpoint (the largest single checkpoint in the USA) capable of accommodating 20 screening lanes;
Fully automated bag screening;
1,500 space parking structure;
Wi-Fi throughout the terminal.
JetBlue Airways is currently the largest carrier at New York JFK International Airport, with 24% capacity (seats) share, followed by recently-merged Delta Air Lines.
New York JF Kennedy International Airport capacity breakdown by carrier (seats per week as % of total) Week commencing 03-Nov-08