LOT pursues new 'east meets west' strategy ahead of 1H2012 privatisation
Analysis
LOT Polish Airlines is accelerating its restructuring as part of an attempt to improve its financial position ahead of privatisation, which is now expected in 1H2012. The next phase of LOT's restructuring will see the carrier increase its focus on connections, using its Warsaw hub to bridge the east and west, and improve its product, including a new premium economy offering.
New LOT CEO Marcin Pirog told CAPA at the IATA AGM last week that he has been tasked to further restructure LOT and make the carrier a more attractive target for its long-planned privatisation. The Polish government doesn't want to see LOT to simply be absorbed by a larger European carrier. LOT is now banking on an "east meets west strategy," hoping this differentiates the carrier and adds enough value to make LOT a viable independent player over the long term despite its relatively small size.
The Polish government last year initiated the privatisation process, setting a 3Q2011 target to sell a stake in LOT and hiring JP Morgan as an advisor to help determine if it should pursue an IPO or strategic sale. The IPO route has since been ruled out. Mr Pirog says the Polish government is now hoping to find a strategic investor as part of a recapitalisation. He says privatisation is now unlikely to take place this year but could happen early next year. "We believe we can do it within 12 months," Mr Pirog says.
The privatisation could come just as LOT takes delivery of its first B787, a major milestone in the carrier's rebirth. LOT has always been in line to be an early B787 operator, ordering seven of the type in 2005 and one more in 2007. Initially LOT's B787s were to be delivered from 2008 but the deliveries have been delayed multiple times. In the latest revision to its B787 delivery schedule, LOT announced in Mar-2011 that first delivery was pushed back from Nov-2011 to Apr-2012. LOT remains in line to become the first European operator of the type and will host a B787 event late this month, when Boeing will fly a B787 to Warsaw following a stop at the Paris air show.
LOT plans to use B787s to open routes to China and/or Japan
Mr Pirog says LOT still expects the carrier's first B787 to be delivered Apr-2012. He says the initial batch of aircraft will be used to launch a new Asian route, in line with its new network strategy which began in Nov-2010 with the launch of B767 services to Hanoi, LOT's first destination in Asia. "We're thinking about China and Japan," Mr Pirog says.
He says LOT is already talking to Star Alliance partner All Nippon Airways about helping LOT secure "nice slots" at Tokyo Narita. ANA is the launch customer of the B787 but has no interest in launching service to Warsaw. As a result LOT has an opportunity to launch the route itself with ANA's code, opening up connection opportunities between Japan and Central/Eastern Europe.
Mr Pirog says LOT will also consider using some of its B787s to launch service to China. He says LOT is currently analysing three Chinese markets – Beijing, Shanghai and Shenzhen.
The new Hanoi-Warsaw service has been operating at load factors above 90%, according to Mr Pirog. The route has been a good test of LOT's new model of focussing more on transfers. Mr Pirog says 75% of the tickets on the Hanoi service are sold in Europe but outside Poland, primarily in France and Scandinavia.
LOT's selection of Hanoi as its first Asian destination surprised many observers because most foreign carriers serving Vietnam fly to larger Ho Chi Minh City. But Mr Pirog says this is exactly why LOT chose Hanoi – to become the only European carrier (excluding Aeroflot) in the fast-growing northern Vietnamese market, giving LOT a unique one-stop product from many European cities.
LOT's B787s to be configured with premium economy cabin
Mr Pirog concedes LOT's traffic on the Hanoi route has so far been almost entirely leisure. But he says this is partly because LOT has an old premium product in the B767s which are used on the route. He says LOT aims to improve its premium offering significantly with its new B787s as they will feature flat beds in business class and a premium economy section in addition to normal economy. This will be the first time LOT will offer a premium economy product. The total seat capacity of LOT's B787s will be 250 – similar to its B767s.
LOT will use its eight B787s to replace five B767s, the last of which is due to come off lease in 2015. LOT expects to receive five of its eight B787s in 2012, providing capacity to potentially launch at least one new Asian route next year.
In addition to Hanoi, LOT currently uses its B767s to operate to four North American destinations – Chicago, New York JFK, Newark and Toronto. It is has chartered a sixth B767 from Air Italy to boost capacity on the North Atlantic for the current peak summer season. Mr Pirog says a new destination in North America will be considered once the B787s are delivered but the focus is mainly on growing its network to the east. "The growth is basically in Asia," he says.
LOT aims to have transfers account for over 50% of total traffic
Donetesk in the Ukraine, which was launched at the beginning of this month, is the most recent example of LOT's new eastern focus. Mr Pirog says the restructured network has already significantly increased LOT's transit business. He says 45% of LOT's passengers are now transit passengers and the carrier's target is above 50% as it continues to build up its network with an eye towards east-west connections. "Our strategy is east meets west," he says, pointing out LOT has traditionally been strong in the west but not has not had much of a presence in the east.
According to Innovata data, routes to the Eastern/Central Europe, the Middle East and Asia now only account for one-quarter of LOT's total capacity. But this figure will surely increase as LOT directs almost all of its expansion to the east.
LOT's international capacity by region (seats per week), 13-Jun-2011 to 19-Jun-2011
L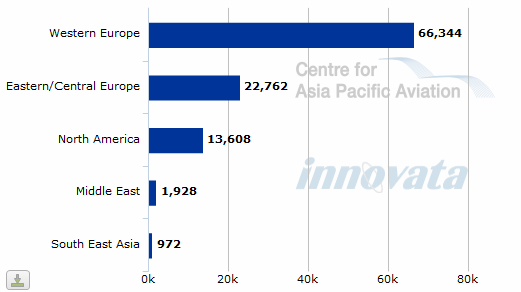 LOT's short and medium-haul network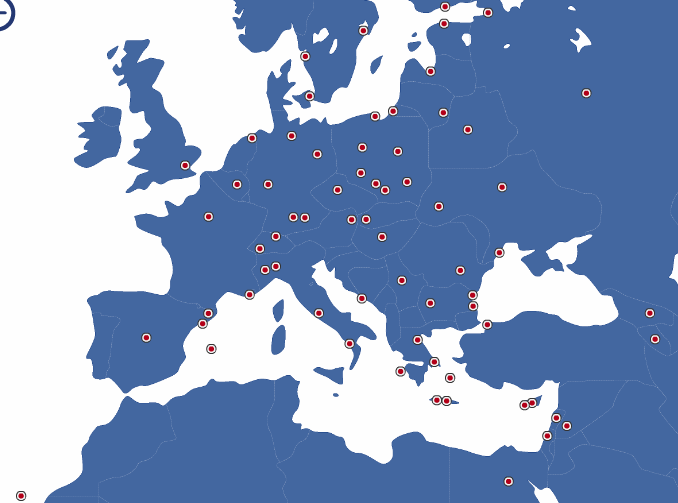 The shift in strategy to focus more on transit traffic has already driven an increase in revenues and total traffic. Mr Pirog says LOT's revenues were up 15% through the first four months of this year. Mr Pirog expects LOT will carry 5 million passengers in 2011, up from 4.5 million in 2010 and 4 million in 2009.
LOT's monthly passenger traffic, Jan-2009 to Mar-2011

The increase in passenger traffic and revenues is being achieved despite a reduction in the total fleet size. Mr Pirog says two B737s are exiting the fleet this year and LOT recently retired its last five ERJ-145s. LOT, however, is adding four E-195s in 2011. LOT, which already operates 10 E-170s and eight E-175s, took its first E-195 in Mar-2011. The other three E-195s will be delivered in 2H2011.
LOT currently has 52 aircraft in its fleet, according to Ascend data. Click here for the full details on LOT's fleet.
Mr Pirog says LOT, which has incurred losses the last three years, would also be back in the black this year if it weren't for the unexpected rise in fuel prices. LOT incurred an operating loss of EUR160 million in 2010 and Mr Pirog now expects a much smaller loss in 2011 despite the higher fuel prices. "We are dramatically improving our results," he says.
Besides adjusting the network, Mr Pirog says he has been working at reducing LOT's cost structure. Projects have also been initiated that are aimed at improving revenues. "This organisation wasn't ready to face competition," he says, saying the LOT he inherited was still very much a "legacy" company.
Low-cost carriers currently account for 47% of all capacity in the Polish market, according to Innovata data. LOT in particular faces intense competiton from Central European budget carrier Wizz Air as well as Ryanair. The two low-cost carriers are the second and third largest carriers in Poland, not far behind LOT.
Poland capacity (seats per week, to/from) for 13-Jun-2010 to 19-Jun-2010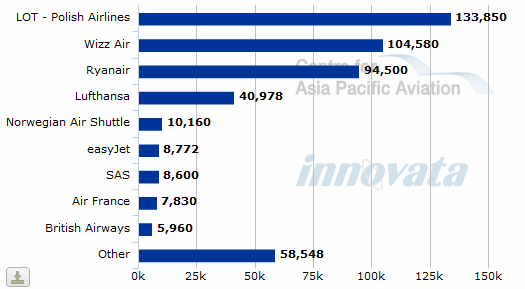 The new leaner LOT should be better placed to compete against low-cost carriers. But its new network strategy of focussing on east-west connections will also allow LOT to offer more city pairs where it doesn't have such intense competition.
Mr Pirog has only been at the helm of LOT since Nov-2010, when he became the eighth CEO at LOT in only five years. New to the airline industry but with extensive experience in business (including CEO of Carlsberg's Polish unit), Mr Pirog is not concerned his stint at LOT may also be relatively short. "My task is to restructure and privatise and get a good price," he says. "After that we'll see what happens."