"Long period of hardship" ahead for China Southern
Analysis
China Southern Airlines has had a very difficult first half of 2008 and the outlook is not much better, according to Chairman, Liu Shaoyong. Mr Liu stated, airlines are "generally saddled with three major burdens, including insufficient market demand, fierce competition and high oil prices…As such, the group expects to undergo a long period of hardship". Investors seem to have accepted the inevitable, having sent China Southern's shares 81% lower this year, making it the worst performing company in the benchmark Shanghai CSI 300 Index, including a 9.9% plunge yesterday.
The carrier's operating margin sank to -4.3% in 1H08, compared with +0.3% in 1H07.
China Southern Airlines' operating profit margin and net profit margins (%): 2006 to 1H08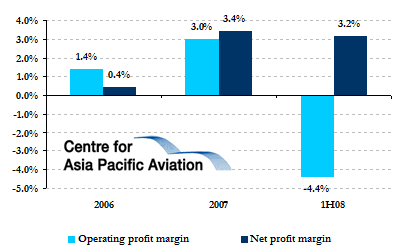 Were it not for a 6.6% appreciation of the yuan against the US dollar in the first half of this year (around the same amount of yuan appreciation for the whole of 2007), the carrier would have been deeply in the red at the net level. The yuan's appreciation delivered China Southern a USD384 million foreign currency gain - more than a doubling of its gain from the same period last year.
China Southern's total operating revenue rose 9.1%, while yields rose slightly (they should gain more in the second half following a 50% increase in domestic levies from 01-Jul-08) and load factors also improved 1.2 ppts to 73.1%. But fuel costs are surging and China Southern is most exposed to the sharp increases in domestic fuel costs pushed through by the government in late Jun-08.
A big concern is that the recent depreciation of the yuan (that started in Aug-08) becomes entrenched. Much will depend on the strength of the underlying Chinese economy. If growth does falter and the yuan continues to sink, the last pillar of support for airline earnings in China will fall.
Chinese Yuan appreciation vs US dollar: Aug-07 to Aug-08 (as at 15 Aug-08)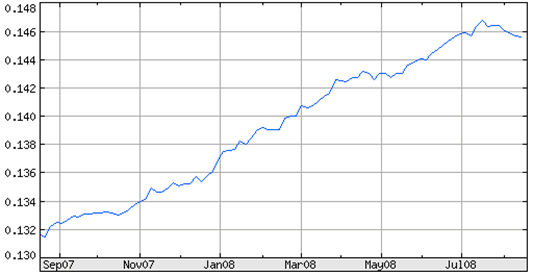 The outlook for air travel demand is the other big question. Passenger numbers rose 5.7% in the first half, but growth has been negative since May-08.
China Southern Airlines' passenger traffic (RPKs) growth (% change year-on-year): Domestic vs International: Jan-07 to Jul-08
Chinese airlines are pinning their hopes on a post-Olympics up-tick in traffic as security measures ease.
If a reinvigoration of demand fails to eventuate, policy makers in Beijing will need to take some urgent steps to support the sector. Whether that involves more cash for the struggling airlines (as suggested by China Southern), another round of consolidation, or the opening of the sector to greater foreign investment - or some combination - remains to be seen. Overall, the second half of 2008 will be pivotal in determining how long the "period of hardship" in Chinese aviation will run.
In the meantime, China Southern stated it would continue to redeploy capacity away from weak markets and seek to raise more revenue from premium cabins to boost its performance, although the slowing global economy could make this task challenging.