LCC traffic and profits to boom in 2009 as legacy airlines suffer
Low cost carriers (LCCs) will outpace their full service rivals in terms of traffic growth and earnings in 2009, according to IATA and ICAO projections. Storm conditions in 2008 have already helped the LCC segment gain a larger slice of global aviation. Now predicted tougher economic conditions and lower fuel prices will give the LCC sector a major advantage in 2009.
These conclusions emerge from an analysis of the respective forecasts from the world's airline association, IATA (whose members are almost all full service airlines) and the world government body, ICAO, whose forecasts cover all airlines of all shapes, sizes and models from 190 Contracting states.
Falling premium demand and pressure on revenues will drive further merger and acquisition activity in the full service sector in 2009. The LCC sector meanwhile will focus on organic growth via fleet and network expansion. The result: a shift in the balance of world aviation.
The world's efficient and focused LCCs will successfully press home their cost advantages in 2009 against their retreating full service counterparts in short-haul and some medium-haul markets. New-generation long-haul LCCs, such as AirAsia X and Jetstar, will be emboldened by lower fuel prices, but the extent to which they can grow in long-haul markets depends on their fleet choices. For those that have ordered A330s, growth is virtually assured. For the B787 customers, further headaches are ahead. The leasing market however is easing up for widebodies, as several carriers, particularly in Asia, have over-ordered aircraft for delivery over the next two years.
2008: A year to forget (unless you are an LCC)
2008 will be remembered for many reasons – many of them negative. The subprime financial disaster spilled into the wider economy, bursting the commodity price bubble and taking most leading world economies into recession. Record fuel prices played havoc with airline cost structures, while rapidly slowing world economies bit into airline demand in the second half of 2008. The emerging markets of China, India, Brazil and Russia all stumbled in 2008.
The mid-year conjecture (mainly by IATA members) that the LCC model was vulnerable under extreme fuel prices was quickly silenced as plummeting premium demand quickly put the full service carriers under the blow torch
International passenger and freight tonne-kilometres: Jul-05 to Oct-08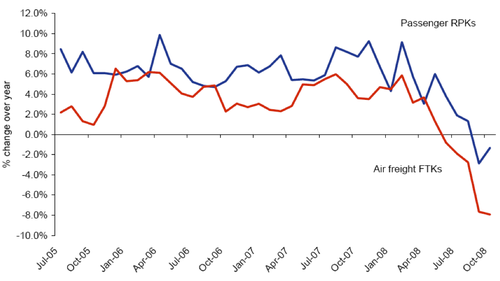 LCCs continue to gain market share, eroding IATA's influence
LCCs meanwhile had a good year, significantly growing their market presence, as they have done in previous downturns.
Preliminary traffic figures for 2008, released by the International Civil Aviation Organization (ICAO), show that while overall demand slowed, growth was "shared unequally" between IATA airline members and other types of carriers, notably low cost carriers (LCCs). According to ICAO's annual traffic review, the non-IATA market share increased significantly, reaching a significant 33% of domestic scheduled traffic and around 20% of total scheduled traffic – or one in five seats worldwide.
IATA represents some 230 airlines comprising 93% of scheduled international air traffic. But key non-members, including Ryanair, easyJet, Vueling, SkyEurope, Norwegian, Clickair, Southwest Airlines, Allegiant, WestJet, AirTran, JetBlue, AirAsia, Virgin Blue, Jetstar and Tiger Airways are continuing to grow much faster than their IATA counterparts. As we enter 2009, many of the world's leading LCCs are still growing their capacity at double-digit rates
Non-IATA members could account for one quarter of total worldwide scheduled traffic by the end of 2010, shifting the balance of airport-airline relationships, government policy and global regulatory and environmental affairs. LCCs have – and should deserve – a bigger seat at the negotiating table
For IATA, the latest ICAO figures suggest its influence on global aviation continues to erode. As IATA continues to hammer on about the financial crisis affecting its members with ever more strident calls for governments to get out of the way and service providers to cut their fees, the LCC sector has an opportunity to drive an alternative agenda stressing cooperation and mutual development
Traffic growth slows in 2008: Global and regional round-up
IATA members' total traffic (domestic and international RPKs) grew 2.0% in 2008, broadly in line with ICAO's estimated 1.8% increase – a marked slowdown on recent years.
ICAO worldwide traffic performance: 2008
| | |
| --- | --- |
| Total passenger numbers | 2.29 billion |
| Total passenger numbers growth | +0.8% |
| Total passenger traffic (RPK) growth | 1.8%* |
| International passenger traffic (RPKs) growth | +4.1% |
| Freight tonnes | 41.9 million |
| Freight tonnes growth | +1.1 |
The European region, which accounts for nearly 41% of international traffic, grew by 5.2% in 2008, thanks mainly to the performance of its fast-growing LCC segment. The Middle East region, with 8% of traffic, grew by 8.9%, while Latin America and Africa, which together represent around 7% of international traffic, grew by 7.2% and 2.1% respectively. The Asia Pacific region, which accounts for a sizeable 27% of international traffic, achieved only near zero growth while the North American region, representing 17% of international traffic, registered a substantial growth of 5.3%.
ICAO international passenger traffic (RPKs) growth by region (% change year-on-year): 2008
| Region | % of worldwide int'l traffic | Int'l growth % | % of worldwide dom traffic | Dom growth % |
| --- | --- | --- | --- | --- |
| | 41% | +5.2% | 8% | -1.1% |
| | 27% | +0.1% | 27% | +0.1% |
| | 17% | +5.3% | 58% | -3.1% |
| | 8% | +8.9% | - | - |
| | 4% | +7.2% | - | - |
| | 3% | +2.1% | - | - |
The traffic slowdown was most pronounced on domestic routes, with a decline of 1.6% in 2008, compared to a growth of 6.2% in 2007. The major dampener was the North American market – with nearly 58% of domestic traffic, it posted a 3.1% decrease. The Asia Pacific market, with nearly 27% of domestic traffic, grew by only 0.1%, while the European sector, with around 8% of total domestic traffic, decreased by 1.1% in 2008.
Seat capacity offered in 2008 grew 3%, compared to 5.8% in 2007. This was nevertheless higher than the overall traffic increase of 1.8%, which resulted in a decline in average passenger load factor on total (domestic and international) and international services, from 76.7% in 2007 to around 75.7% in 2008
LCCs to widen growth gap over full service rival
Next year, IATA sees a 3% reduction in its members' worldwide traffic, compared to a 0.9% increase for ICAO (or a 3.9 percentage point gap). That gap widens to 4.2% in 2010, when ICAO member states are expected to report a healthy 5.1% increase in passenger traffic, including an anemic 0.9% increase for IATA members
IATA vs ICAO worldwide total (domestic and international) RPK growth outlook: 2008 to 2010
| | | |
| --- | --- | --- |
| 2008 | +2.0% | +1.8% |
| 2009 | -3.0% | +0.9% |
| 2010 | +0.9% | +5.1% |
Overall, ICAO's traffic outlook is poor for the North American region, while it is more robust for the Middle Eastern, African and Latin American regions.
Regional Growth in Passenger Kilometres Performed (PKPs) percentage (%) change over previous year
| Region | 2008 | 2009 | 2010 |
| --- | --- | --- | --- |
| | Preliminary | Forecast | Forecast |
| | 0.5 | 1.0 | 7.6 |
| | 0.1 | 1.0 | 7.0 |
| | 4.4 | 2.2 | 4.9 |
| | 7.6 | 5.3 | 7.5 |
| | -0.5 | -1.2 | 2.8 |
| | 8.5 | 3.1 | 7.0 |
| World | 1.8 | 0.9 | 5.1 |
According to ICAO, average passenger load factors are expected to decline from 76.6% in 2007 to around 76% in 2008 and 2009, before returning to 2007 levels in 2010. This medium-term traffic forecast reflects the projected growth performance of the world economy over the next two years, with a slowdown to 3.6% and 1.8% respectively in 2008 and 2009, and a recovery in 2010 at 3.4% (as measured in terms of Real GDP at PPP by Global Insight)
IATA stated that the last major downturn in air traffic, driven by recession rather than terrorist attack, was in 1991 when global passenger traffic (RPKs) fell 2.6%
IATA's revised forecasts for global air transport volumes (Dec-08)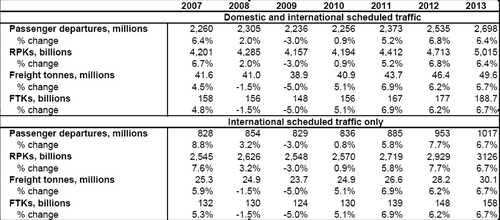 Longer-term damage
IATA added that weakness in travel markets has lasted three years in previous recessions and it does not expect a return to traffic growth above 4% until 2011. The current downturn will have damaging ramifications for the medium to long term. IATA stated that economic forecasts imply that airline traffic will remain below the previous trend over the medium-term, with passenger travel forecast to be 9% lower by 2016 than pre-crisis industry forecasts.
Global RPKs (billions): 1980 to 2016F
ICAO.png" alt="" />
Bet on LCCs for volume growth
The message for airports, tourism bodies and policy makers is clear; an exposure to full service network (IATA) member airlines will – in general – result in significantly slower traffic growth over the next two years. Conversely, exposure to non-IATA members (ie LCCs) should see passenger growth rates bubbling along.
Growth comes at a cost
What does this mean for the aviation industry financially?

IATA has been quick out of the blocks with its assessment of the financial outlook for its airlines, predicting further losses (though not as bad as previously expected as the price of oil fell through the floor, and even a profit in North America). But the industry body is nevertheless painting the current revenue environment as the "worst in 50 years".

IATA members are predicted to report a net loss of USD2.5 billion, with all regions, except the US, expected to report larger losses in 2009 than in 2008. Industry revenues are expected to decline to USD501 billion – a fall of USD35 billion from 2007, as yields decline by 3% - the same amount as traffic. (IATA updated its forecast for 2008 to a loss of USD5.0 billion - a slight improvement from the USD5.2 billion loss projected in the Association's Sep-08 forecast, primarily as a result of the rapid decline in fuel prices).
IATA's revised financial forecasts (Dec-08)

In terms of operating profitability, IATA's members experienced a massive reduction in earnings from USD15 billion and USD19.7 billion in 2006 and 2007, respectively, to just USD1.1 billion in 2008 (or an operating margin of just 0.2%). This is expected to rise to USD3.6 billion in 2009 (a 0.8% margin)
Financially, airlines of ICAO Member States are expected to register an operating loss of about USD2.7 billion for 2008, before regaining operating profitability in 2009 and 2010, with estimated operating profits of USD3.8 and USD6.7 billion, respectively.
This suggests that non-IATA members carried more operating losses in 2008 (of approximately USD3.8 billion), which is a proportionately large amount given they are one fifth the size of their IATA counterparts). But they are predicted to perform much better in 2009, earning USD200 million in operating profits (calculated by subtracting the IATA profit outlook from the total ICAO profit outlook)
ICAO vs IATA operating profits: 2008 to 2010
| | | |
| --- | --- | --- |
| 2008 | 1.1 | -2.7 |
| 2009 | 3.6 | 3.8 |
| 2010 | n/a | 6.7 |
Several poor performing flag carriers weigh down the ICAO financial result. The focused LCCs, such as those listed earlier, are expected to perform much more strongly than the overall non-IATA group.