LCC models in Southeast Asia evolve as growth slows, though outlook remains bright
Analysis
Southeast Asia's LCC sector is entering a new phase, after experiencing explosive growth over the last decade. The rate of capacity growth in the short haul segment has slowed, leading to small declines in the LCC penetration rate within the region. Profitability has also remained a concern, with over half the region's LCCs unprofitable during 2015, despite extremely favourable conditions in most markets.
However, growth is accelerating in the less penetrated medium haul segment. Partnership activity is increasing as LCCs seek new growth opportunities outside the point-to-point model, notably culminating in the world's second, but most extensive, LCC alliance – the Value Alliance, with membership across the region and a joint sales platform.
Partnerships are particularly important for LCCs outside the AirAsia and Lion groups. AirAsia and Lion each account for 30% Southeast Asia's LCC market and have a massive order book, with commitments for nearly 900 aircraft.
Southeast Asia expecting modest 10% fleet growth in 2016
There are currently 21 LCCs in Southeast Asia, operating close to 600 aircraft. The combined fleet has expanded by over 50% since the beginning of 2013. However, the rate of growth has slowed and is projected by CAPA to grow by a relatively modest 10% in 2016.
Southeast Asia LCC fleet by airline
Rank

Airline

Country

LCC Group

Fleet as of

May-2016

Fleet

as of

Jan-

2016

Fleet as of

Jan-2015

Fleet

as of

Jan-2014

Fleet as of

1-Jan-2013

1

Lion

113

110

103

94

91

2

81

80

80

72

64

3

Lion

49

48

31

27

27

4

49

47

48

48

41

5

47

45

40

35

27

6

(Garuda)

37

36

32

24

21

7

30

27

18

10

5

8

Nok

29

28

24

17

15

9

23

24

24

25

21

10

23

24

29

30

22

11

22

20

23

18

11

12

Lion

21

18

8

2

0

13

18

18

18

19

18

14

14

13

16

17

17

15

12

12

8

5

5

16

(Singapore Airlines)

11

11

6

6

4

17

8

8

4

5

5

18

6

5

2

0

0

19

Nok

3

3

0

0

0

20

2

2

0

0

0

21

1

1

1

0

0

TOTAL

599

580

515

454

394
The widebody segment is now growing at a much faster rate than the narrowbody fleet, but on a relatively small base. There are currently 55 widebody aircraft operated by seven Southeast Asian LCCs. At the beginning of 2014 there were 38 widebody aircraft operated by five Southeast Asian LCCs.
Southeast Asia's LCC widebody fleet grew by 37% in 2015, while the narrowbody fleet grew by less than 10%. The turboprop fleet also grew rapidly on a small base: by 33% to 77 aircraft.
Southeast Asia capacity growth slows as LCC penetration rate dips
Within Southeast Asia LCC capacity was up only towards 9% in 2016, according to OAG data. FSC seat capacity within Southeast Asia was up by 14% in 2015, outpacing LCC growth for the first time since the first Southeast Asian LCCs launched operations 15 years ago. As a result, the LCC penetration rate within Southeast Asia dipped for the first time, after 15 years of steady gains.
LCC seat capacity between Southeast Asia and other regions continued to grow faster than FSC capacity, but on a much lower base. LCC seat capacity between Southeast Asia and other regions was up 14% in 2015, driven by rapid expansion of Southeast Asia's long haul LCC sector.
Through the first five months of 2016 the LCC penetration rate within Southeast Asia has further declined, while the LCC penetration rate between Southeast Asia and other regions continues to increase. Currently LCCs account for approximately 56% of seat capacity within Southeast Asia and 21% of seat capacity between Southeast Asia and other regions.
Southeast Asia LCC penetration rate (% of seats): 2007 to 5M2016
There are still huge opportunities for Southeast Asian LCCs to expand their market share in North Asia – as well as to grow with the overall Southeast Asia-North Asia market. LCCs currently only account for 25% of seat capacity between Southeast Asia and North Asia. The LCC penetration rate between Southeast Asia and North Asia will inevitably approach – and potentially exceed – the LCC penetration rate between Southeast Asia and Australia, which is already 35%.
Opportunities for market share gains within Southeast Asia are obviously more limited, given the even higher penetration rate approaching 60%. Southeast Asia already has a significantly higher short haul LCC penetration rate than Europe or North America.
Profitability remains a concern with over half the region's LCCs unprofitable in 2015
Several of Southeast Asia's short haul LCCs have slowed their growth over the last couple of years by deferring orders and selling or subleasing aircraft. Slower growth was inevitable after the huge surge in capacity in prior years, which pressured yields and profitability.
Overcapacity was particularly a problem in 2014 as market conditions became relatively unfavourable due to weaker economies or political instability in some of Southeast Asia's key markets. Only four of Southeast Asia's reported operating profits in 2014, while seven incurred losses (financial information is not available on the region's other LCCs).
Profitability improved significantly in 2015, boosted by lower fuel prices and more favourable conditions in some markets. However, overcapacity and irrational competition continue to be a problem in some markets, limiting profitability.
Over half of Southeast Asia's LCCs were still unprofitable in 2015, a year when most airlines globally were able to make money. Profit/loss figures for 2015 are available for 13 of the 21 LCCs, and only six of them generated profits.
Southeast Asian airline sector operating profit/loss (in USD million): 2015 vs 2014
The Southeast Asian LCC sector remains extremely competitive. Significant consolidation is unlikely as several of the region's LCCs are already members of large groups.
AirAsia and Lion each currently account for approximately one third of LCC seat capacity in Southeast Asia. They also account for more than 60% of the region's LCC fleet and more than 80% of the order book.
There are now seven airlines under the AirAsia/AirAsia X groups, including five cross-border joint ventures. The Lion Group consists of three LCCs and two FSCs, including two cross-border joint ventures. Of the 10 other LCCs in Southeast Asia – five are subsidiaries of FSC groups.
Southeast Asia LCC group fleet size and order book: as of May-2016
Partnerships and more transit traffic are critical for growth
The LCC model continues to evolve with the establishment of two 'alliances' in six months – Value Alliance and U-FLY – though both are very loose representations of the term. U-FLY is a collection of HNA Group's respective LCC holdings while Value Alliance's proposition to the consumer is single-ticket connections; there are no immediate plans for closer co-operation in strategy, or procurement for example.
Launched in May-2016, Value Alliance consists of nine LCCs as its initial members, including six from Southeast Asia – Cebu Pacific, Cebgo, Nok, NokScoot, Scoot and Tigerair - covering more than 160 destinations. Some of Southeast Asia's other remaining independent LCCs could potentially join at a later stage.
At time of inception, Value Alliance accounts for 20% of LCC seat capacity in Southeast Asia. AirAsia and Lion will still be bigger but the gap could be closed if Citilink and VietJet choose to join. The Jetstar Group, which has approximately a 6% share of LCC capacity in Southeast Asia, is unlikely to join as it is focused more on partnering with full service airlines and has more alignment with its affiliates in the region.
Southeast Asia capacity share (% of seats) by airline group/alliance: May-2016
The Value Alliance members are hoping that the new tie-up will boost their profile (and hence sales) outside their home markets by generating new interline traffic. In its own respective markets, the AirAsia Group says transfer traffic has grown to comprise of 49% of passengers - 33% using its ancillary 'Fly-Thru' product while the remaining 16% self-connect. Value Alliance members are undoubtably hoping to unlock the same amount of growth for their businesses.
As per outgoing Scoot CEO Campbell Wilson members do not intend to cooperate on purchasing jet fuel or fuel. Mr Wilson added: "We could touch on those matters in the future, subject to regulatory approval. For now, we are more of a sales, distribution, and network augmentation alliance." That is to say, Value Alliance – for now – appears to offer little more than interlining.
Value Alliance fleet size as of 18-May-2016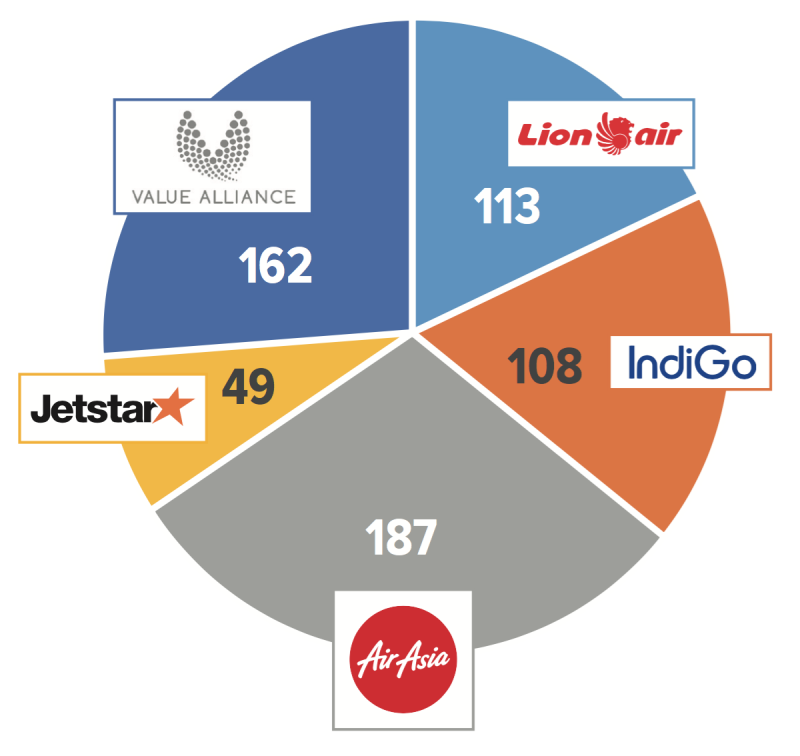 The combined group has a fleet of 162 aircraft, the largest single operator being Cebu Pacific at 49 aircraft followed by Nok at 29, Jeju Air at 24 and Tigerair at 23. The alliance will still operate less aircraft than the combined AirAsia Group, which stands at 187 aircraft.
AirAsia Group CEO Tony Fernandes, speaking to Bloomberg on 30-May-2016, said the alliance is "more an act of desperation from airlines [that are] not doing too well." Mr Fernandes said: "It's good that people see the belief in low-cost and there'll be more low-cost terminals," but added: "Alliances add cost, add complexity...We have a little alliance with AirAsia X but that's self-liquidating through charging."
Cross-border JVs continue to dominate as the growth model of choice
A vital part of the subsidiary/cross-border/JV equation is the way it undermines foreign ownership constraints on operations in multiple jurisdictions. The concept in this region was pioneered by independently owned AirAsia, in turn paving the way for full service airlines to use their separate brands to establish in a similar way. Qantas was an early mover, with Singapore-based Jetstar Asia. The timing of these moves has – as is always the case with innovation – been crucial. Five years earlier it is unlikely the cross-border JVs would have been permitted.
AirAsia Group is confident restrictions on foreign ownership in ASEAN are to soon be lifted, though similar predications have been forthcoming for several years. Mr Fernandes said he is expecting "to make some announcements" shortly about the progress of his goal of a single corporate entity, having held "good meetings" with government officials in Thailand, Indonesia, Malaysia and Singapore: "I do see some light and it's an exciting time."
AirAsia now has five active airlines – one in its home Malaysia and the others in Indonesia, Thailand, India and the Philippines. This is alongside its three international airlines, AirAsia X in Malaysia, Thai AirAsia X and Indonesia AirAsia X. AirAisa Japan will commence operations in 2016.
AirAsia has been ambitious, not always with success, but it provides the best example of the cross-border model in action. The Jetstar Group has deployed its model similarly, with four active airlines – one in Australia (and New Zealand, which share a common aviation market), Singapore, Vietnam and Japan. An adventure into Hong Kong ultimately fizzled in 2015 after enduring a lengthy battle of semantics over compliance with an esoteric and highly subjective definition of the words 'principal place of business'.
As tourism and trade are seen to benefit from liberal access, government policies are being steadily relaxed and building a much more receptive environment for the progressive and more formal deregulation of the ASEAN multilateral agreement. When compared with the internal market created within the European Union, the ASEAN "open skies" agreement still falls short. This is, however, where Asia's proliferation of cross-border joint ventures offers an alternative. Little more than a device to circumvent the bilateral proscription against the right of establishment, these JVs have become almost automatically acceptable to the receiving governments in Asia.
Technically, the JV airline is a local carrier for bilateral agreement purposes; it is 50%+ owned by local interests, so that it can be seen to be "substantially owned" by nationals of the designating state, even though the local interests are usually sleeping partners – and hence the "effective control" requirement in most bilaterals is rarely observed. This status is not entirely satisfactory, as sometimes the sleeping partner awakes – as happened with Jetstar in Singapore – but the importance of the JV approach is that it is evolutionary, progressively undermining the archaic bilateral controls. This is in contrast with global alliances, which merely work within the constraints of the system, only simulating JVs.
Even Japan, once the bastion of letter-ofthe-law ownership and control observance, is now quite relaxed about this form of market establishment. All Nippon Airways will launch a JV LCC with AirAsia, to begin operations in Aug-2012, and is also forming an LCC subsidiary, Peach, with significant minority ownership by Hong Kong interests; Japan Airlines is considering an LCC JV with oneworld partner Jetstar. And Japan's regulators are now promoting more liberalised access generally on a bilateral level with Korea and China.
The cross-border JV is clearly not the perfect solution to access restrictions, but if it becomes a stepping stone in the evolution of deregulation, as appears likely, then it will have served a very useful purpose.
Ownership models shift; but the dual-brand strategy is becoming more favoured
Managing brand overlap has proven difficult strategically for dual-brand adventures; as each airline's executives push their respective strategies, they will often treat the other brand not as a relative but a competitor. The situation can become brutal and counter-productive. It takes a strong group leader to instil a focus on what is best for the group, and this is difficult enough when both brands are fully owned by the group.
Partial ownership brings even more complex discussions - this is of course only where collusion is allowed. A typical mechanism is a steering group, or 'flying committee' as per the Qantas Airways/Jetstar Airways model to coordinate which brand will do what. The flying committee has been extended to JVs: Jetstar Japan and part owner Japan Airlines coordinate as well.
Singapore Airlines Group discovered this the hard way, though its airlines have evolved to become more than just 'dual brand' as it now holds four airlines under its group umbrella. This includes mainline Singapore Airlines and SilkAir, alongside Tigerair and Scoot in the LCC market. SIA originally held a minority stake in Tigerair, before launching a full take-over bid that finalised during early 2016.
Singapore Airlines Group brand matrix
The multi-brand situation was the result of circumstances - and initial strategic timidity - though it ultimately left SIA constrained at controlling or coordinating with Tigerair, which is now being cleaned up.
On 18-May-2016 the SIA Group announced the creation of a new holding company for Scoot and Tigerair under the Budget Aviation Holdings umbrella. This will facilitate further integration between the two, leaving the door open to a merger once rebranding of other affiliates - notably Tigerair Australia and Tigerair Taiwan - is complete.
The new structure essentially ensures that Scoot and Tigerair have common commercial objectives and eliminates the unnecessary overlapping functions. Tigerair completed a transition to Scoot's reservation system in early May-2016 – a key milestone in the integration efforts. Only approximately 5% of Scoot traffic now connects with Tigerair, although the two airlines have had an interline arrangement since Oct-2012.
The current transfer traffic volumes are insufficient, given Scoot's network model and commitment to rapid expansion. Scoot is planning to expand capacity (ASKs) by 51% in its current fiscal year ending Mar-2017 (FY2017), resulting in a much bigger operation that may only be viable with more feed from Tigerair.
As CAPA highlighted in a 26-Apr-2016 report, new routes to the secondary Indian destinations of Amritsar and Jaipur will particularly require a high volume of transit traffic as these are very small local markets from Singapore. Scoot is also relying heavily on transit traffic for its new Singapore-Jeddah route, which it took over from SIA on 2-May-2016.
SIA is now finally able to pursue full integration between Tigerair and Scoot, resulting in an improved outlook for both LCCs and the group overall. However this is not the final chapter in the evolution of SIA's budget airline strategy. A transition to a single LCC brand and full merger are the likely outcome in the medium term.
In the meantime the new combined Tigerair-Scoot executive team will need to manage rapid capacity growth and make sure that an independent LCC culture is maintained, with sufficient separation from SIA.
This has been the cornerstone of Jetstar's success, the model in this region; it created ructions within Qantas when it was established, but the relationship has evolved, with extensive complementarity. For SIA, this degree of separation will not be easy, and any mistakes could quickly erase the achievements that Scoot has made in its highly successful initial four years.
After a long line of failed dual-brand strategies among FSCs, it appears a workable model has been found after the full-service parents pulled some of the walls surrounding their mainline operations. It was long feared cross-contamination would devalue the parent brand, when the sweet spot lies somewhere in between.
Southeast Asian LCC sector outlook is relatively bright, despite recent challenges
AirAsia, Jetstar and Lion are also looking to grow transit traffic, although with AirAsia and Lion so far the focus has been within their groups. All of Southeast Asia's LCCs need to attract more transit passengers and reduce their reliance on point-to-point traffic. Evolution of their business models can unlock a new era of growth and improve profitability.
However, most of Southeast Asia's LCC market will remain point-to-point and the airlines need to be careful not to add too much cost or complexity. Despite the current challenges there are still huge opportunities for growth regionally within Southeast Asia.
Southeast Asia's economy continues to grow rapidly and the region's middle class population is booming. LCCs are generally well placed to benefit from middle class growth because their low fares are able to stimulate demand.