Lacklustre traffic performance at Los Angeles and Miami airports, but redevelopment continues
Analysis
Los Angeles International Airport (LAX) handled 5.0 million passengers last month, down 9% year-on-year, as international volumes remained depressed (down 15.9% to 1.3 million) and domestic volumes fell 6.5% to 3.8 million. In May-2009, international and domestic passenger numbers at LAX were down 20.3% and 8.2%, respectively, so the Jun-2009 results are somewhat of an improvement.
Jun-2009 aircraft movements at LAX were down sharply, falling 20.7% year-on-year to 44,186. Cargo volume was down 12.6% to 137,539 tonnes, as the sector continues to slowly improve off deep start-of-year lows.
Los Angeles Airport passenger number growth and cargo volume growth: Jul-2008 to Jun-2009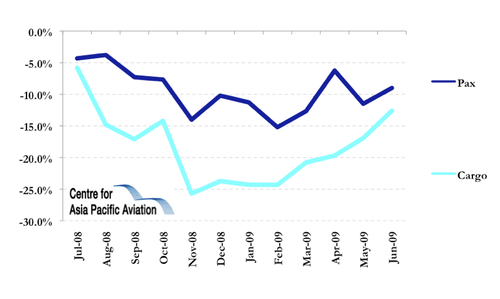 The traffic downturn has not stopped airport officials from strategic acquisitions of land surrounding the airport, while expansions of the Tom Bradley International Terminal are progressing.
Los Angeles World Airports this week completed the purchase of a 20-acre parcel of land just east of Terminal 1 at LAX for USD125 million from West Century, AMB Park One at LAX and AMB Property. Airport officials plan to continue the existing lease of the property to a private operator who operates the property under the name Park One and to receive lease revenues. It was the last piece of property not separated from LAX by a major roadway not owned by LAWA.
Los Angeles City Council meanwhile recently awarded an additional USD51.2 million contract to Fentress Architects for design work related to Federal inspection and shopping areas within the new facility, 'Bradley West'. The architect's contract is now worth a lucrative USD93 million and runs until May-2015.
Miami traffic contracts again
On the other side of the country, Miami International Airport handled 2.8 million passengers last month, down 1.4% year-on-year, including a 3.5% reduction in international traffic (to 1.3 million) and a 0.5% increase in domestic passengers (to 1.5 million).
Aircraft movements at Miami fell 5.8% in Jun-2009 to 28,097, while cargo volumes remained depressed at 128,939 tonnes for the month, down 18.1% year-on-year.
Miami International Airport passenger number growth and cargo volume growth: Jul-2008 to Jun-2009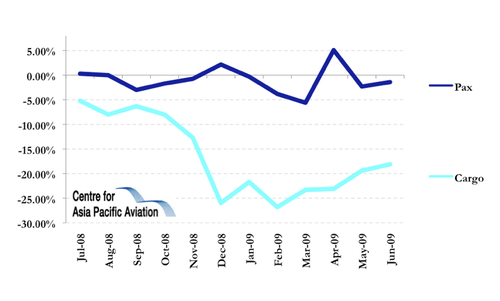 Miami Airport is also progressing with its redevelopment plans. The USD2 billion+ project to renovate the airport's outdated Central Terminal is shaping up as a major development rivaling the ongoing North Terminal project. The airport plans to offer a design, build, finance and operate (or transfer to the County) contract for the Central Terminal, under a long-term concession agreement. Parsons/Odebrecht, UBS Securities and Dragados USA have reportedly expressed interest in the tender.
Miami-Dade Council officials are meanwhile seeking a permit to introduce slot machines beyond security barriers at the airport terminal, subject to regulatory approvals, as a way of raising non-aeronautical revenues.
With passenger and cargo demand struggling as the US economy only slowly recovers, every source of revenue is crucial for the country's airports.