Kuwait Airport achieves record traffic levels for 2008 - outlook solid
Kuwait International Airport (KIA) reported record traffic levels for 2008, with a 5% increase in passenger traffic, an 8% increase in aircraft movements and a 2% increase in air freight year-on-year. The result reflects the growing number of airlines that expanded operations to the airport as a result of rising demand and Kuwait's open skies policy.
Passenger numbers reached 7.2 million in 2008, compared to 6.9 million in 2007. Intra-gulf passengers represented 28.3% of all passengers, followed by passengers from Asian (25%) and Arab countries (14.4%).
Kuwait International Airport passenger numbers (millions) and growth (% change year-on-year): 2005-2008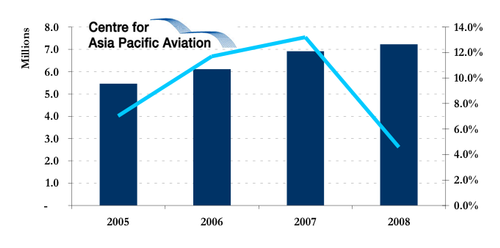 Kuwait Airways accounted for the largest share of passenger traffic at the airport with 30% followed by Jazeera Airways with 15% Kuwait Airways also generated the largest growth share at KIA.
Kuwait international Airport capacity share by carrier (seats per week as % of total): Week commencing 23-Mar-09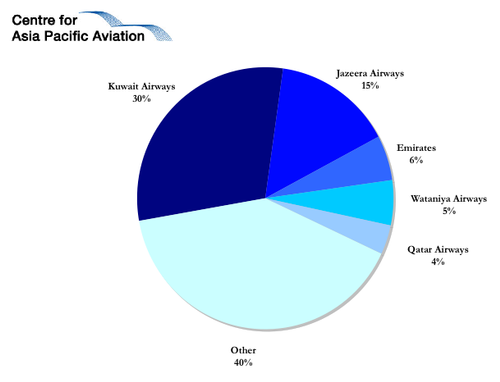 Commercial aircraft movements totalled 61,512 in 2008, while non-commercial aircraft movements fell 1% year-on-year, to 26,408. New services introduced to the airport included Delta Air Lines services to the US, Ariana Afghan Airlines services to Kabul via Dubai and Ethiopian Airlines services to Addis Ababa via Bahrain.
Meanwhile, air cargo traffic totalled 180,089 tonnes. Import volumes increased 1%, while export volumes increased 7% year-on-year.
2009 outlook positive
Kuwait could weather the global economic downturn better than most. Several new routes have been launched in recent months, as demand has held up quite well. The introduction of a third carrier in Kuwait, Wataniya Airways in Jan-2009, should help to ensure local competition remains intense.
Kuwait Airport's new routes: 1Q09
Airline

Origin

Destination

Weekly Frequency

Date

Aircraft

New

Total

7

7

24-Jan-09

4

4

1-Mar-09

B777-200

Istanbul

1

5

1-Mar-09

n/a

7

7

1-Mar-09

7

7

3-Mar-09

7

7

29-Mar-09

B737-800
Premium travel terminal opens
An inauguration ceremony was meanwhile held for the premium travel terminal, Sheik Saad General Aviation Terminal, on 10-Mar-09. The terminal is located next to Kuwait International Airport and is the first of its kind in the country.
The building was completed in May-2008, and is fully equipped to handle all types of private and commercial aircraft. It cost an estimated USD55.4 million, covering an area of 130,000sqm. Royal Aviation Company, a subsidiary of Kuwait National Airways, manages the new terminal.
Kuwait National Airways also owns Wataniya Airways, the first commercial carrier to operate from the terminal. There are currently only a handful of private and business charters also operating from the terminal.
Mubarak Al Mascati, the chairman of Royal Aviation stated, "the aim of establishing the Sheikh Saad General Aviation Terminal is to elevate the level of service in the aviation sector in Kuwait and deliver in accordance with internationally-adopted requirements of quality." Terminal services include valet, concierge and extended hospitality, parking, immigration and security and lounges with wireless Internet access.
Background Information:
Directorate General of Civil Aviation is responsible for the management and operation of Kuwait International Airport;
General Aviation Terminal (GAT) has successfully been completed and the terminal is scheduled to launch operations on 10-Apr-08.