Korean Air slumps to fifth consecutive quarterly loss
Korean Air wrapped up a shocking second half of 2008 with a USD474.4 million net loss in the fourth quarter (to 31-Dec-08) almost three times worse than median analyst projections. As ever, the company remained optimistic about the outlook, projecting a healthy operating profit in 2009 and signing up for two more A380s, for a total of ten.
Korean Air net profit margin: 1Q08 to 4Q08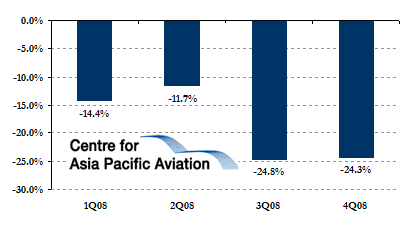 In reality, Korean Air is massively exposed to the country's economic carnage and plummeting exports, which are hurting the airline's passenger and cargo revenues and yields.
KAL's full year result was hit by higher fuel prices and the 26% depreciation of the won against the US dollar over the year, which led to deep currency losses.
Korean Air operating vs net profit margins (%): 2004 to 2008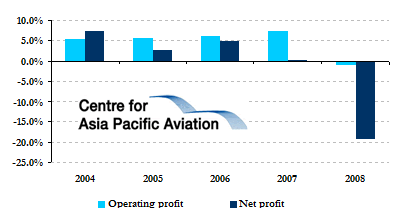 The airline's focus for 2009 will be on rebuilding overseas travel demand, and it will continue to invest heavily in the development of its passenger and cargo business, including constructing a new cargo terminal in Mainland China. Overall capex is currently forecast to rise by 50% this year, although if economic conditions continue to wane, it would not be a surprise if KAL reconsiders some of its investment.