Korean Air profitable, SIA again suffers loss in 3Q2009; EVA Air's yield remain depressed
Korean Air's shares gained 1.3% yesterday, leading the wider market's 0.8% gain yesterday, upon the release of the carrier's 3Q2009 financial results. The carrier's stock has risen 23% so far in 2009, while the broader market has gained 42%.
The South Korean flag carrier reported its second consecutive net profit (after six straight quarterly losses), of USD228 million in the third quarter, a turnaround from the carrier's worst net loss in 14 years of USD590 million in 3Q2008. The carrier was also profitable at an operating level, with an operating profit of USD86 million, a turnaround from a USD22 million loss in the previous corresponding period.
Korean Airlines net profit margins (%): 1Q2007 to 3Q2009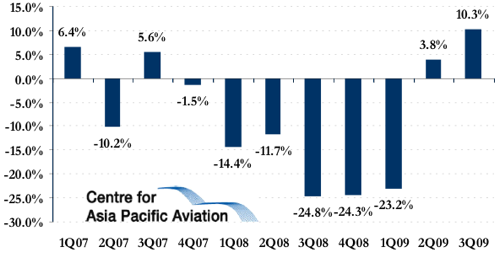 The improved results in 2009 are predominantly attributable to lower fuel costs (-40% year-on-year) and the strengthening Korean won.
Korean Air also remains optimistic looking forward, stating that "as oil prices continue to stabilise and the won strengthens further, the airline expects to deliver better performance in the coming year". However, the carrier's cargo business continues to suffer on falling global demand, although the airline stated a slight recovery has been observed on a month-to-month basis.
Asiana Airlines, the nation's second-largest carrier, is expected to report its 3Q2009 results either later this week or early next week.
Singapore Airlines sees first back-to-back quarterly net loss in at least seven years
Singapore Airlines shares were up marginally (+0.1%) yesterday, despite the carrier posting its first back-to-back quarterly net loss in at least seven years after the global recession caused a slump in passenger numbers.
The carrier reported a net and operating losses in 3Q209, of USD114 million and USD131 million, respectively, compared to profits of USD233 million and USD167 million, respectively, in 3Q2008.
Singapore Airlines added that travel demand is showing signs of a gradual recovery, explaining that "advance bookings indicate that demand for air travel has stopped declining and is gradually recovering".
These improving market conditions may allow the carrier to roll back promotional pricing, which resulted in a 23% reduction in passenger yield in the quarter. However, SIA warned that yields are unlikely to pre-crisis levels within the next six months.
The carrier also reported a 9.2 ppt negative gap between load factors and breakeven load factors in the quarter, with the carrier's load factors up 0.5 ppts to 79.6% and its breakeven load factors soaring 14.6% ppts to 88.8% in the period.
See article: Singapore Airlines loss of SGD157 for 2Q09. Yields still in the doldrums and declining
EVA Air's yield remains depressed in Oct-2009
Also in North Asia, Taiwan's EVA Air (shares up 6.6% yesterday) reported continued double-digit reductions in yields in Oct-2009, with a 15.2% reduction in passenger yields and a 21.8% reduction in cargo yields for the month.
EVA Air passenger and cargo yield growth (%)": Feb-2007 to Oct-2009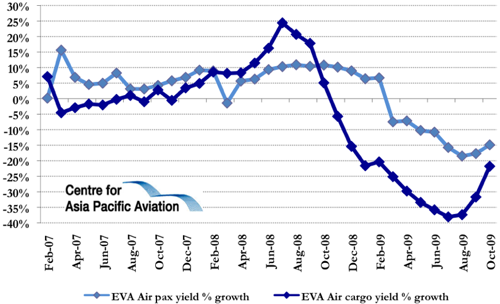 These falls are, however, an improvement from Sep-2009 and Aug-2009 levels, and come off a base of growth in Oct-2008.
Meanwhile, Virgin Blue shares added 5.9% and Spicejet, which previously reported a reduced loss in 2Q2009, ended 30-Sep-2009, lost 7.4% on the day.
Asia Pacific selected airlines daily share price movements (% change): 08-Nov-09