Kenya Airways traffic up as route expansion takes shape
Analysis
Kenya Airways has yet again proven itself as a leading African carrier with a nearly 30% traffic increase in the three months ended 30-Jun-2011 (1QFY2012). The carrier credits the boost in numbers to its aggressive expansion plans, which have been rolling out successfully across Africa and on intercontinental routes. On the back of this success, Kenya Airways is expanding its cargo operations and will take delivery of a new B747-400F in Oct-2011.
See related article – Kenya Airways' operating profit surges in FY2011; in expansion mode
Kenya Airways carried 850,908 passengers in its fiscal first quarter, a 28% increase from the same period last year. The carrier saw passenger growth in both domestic and international markets, with a 26.3% increase on routes to Europe.
Kenya Airways reported a year-on-year increase in capacity (ASKs) of 20.3%. The carrier's weekly ASKs to Europe grew by 26.3% to 108 million ASKs, which it credits to the introduction of its Rome service, as well as a 20% increase in frequency to London, and 12.3% to Amsterdam. It also increased service to Paris CDG from four times weekly to daily in Jan-2011.
Kenya Airways top ten international routes (ASKs, 01-Aug-2011 to 07-Aug-2011)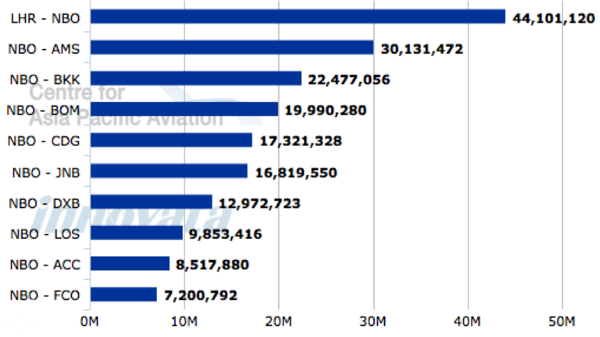 Kenya Airways' London service remains strong and continues to be its top route by ASKs. Kenya Airways offers the highest number of seats per week between the UK and Kenya, at just over 3000. It will be reducing its seasonal capacity for the upcoming winter schedule.
UK to Kenya seats per week (Kenya Airways, British Airways, Virgin Atlantic Airways) one-way, 04-Jul-2011 to 22-Jan-2011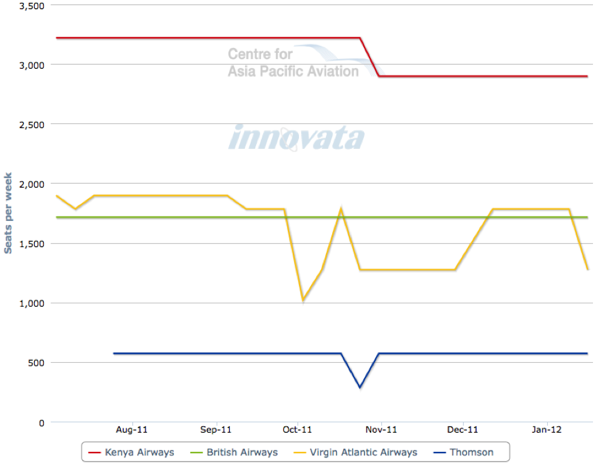 On this route Kenya Airways competes with British Airways, Virgin Atlantic Airways and Thomson.
Beirut and Jeddah service: a work in progress
The Middle East, Far East and Asia regions registered capacity growth of 22.3% as a result of increased frequencies to Dubai via Muscat.
Kenya Airways is working on launching service to Beirut (Lebanon) and Jeddah (Saudi Arabia) to commence later in 2011. Jeddah has been on the carrier's wish list for a while however due to a slots issue this service has been unable to commence. "We are still working on the Jeddah details. There is a problem with slots at the moment. The times that we are being offered don't fit in with our schedule," stated CEO Titus Naikuni. In the Middle East, Kenya Airways serves Dubai (UAE) and Muscat (Oman).
Saudi Arabia is a major trade partner of Kenya. UAE is Kenya's fourth largest trade partner and the planned additional services will help bolster Kenya's trade relations with countries in the Middle East.
Kenya's trade with main partners (2010)

Regional capacity still a strong point despite slow progress with Tripoli and Tunisia service
Kenya Airways is sticking by its previously announced goal of serving Tripoli and Tunis within the next three years but has released little information about progress in this area. The carrier is waiting for political tensions to calm and has admitted that talks between the Kenyan, Libyan and Tunisian governments have been slowed due to unrest associated with the Arab Spring. The African Development Bank's location in Tunisia has played a major role in the decision to consider operations in northern Africa, and when Kenya Airways begins this service, it will be one of the few African airlines to serve northern Africa. For the northern Africa region, Kenya Airways reported 6.4% capacity growth, despite unrest in the region.
The carrier's eastern Africa operations grew 7.5% due to increased utilisation of its Embraer fleet on short haul routes such as to Kigali via Bujumbura. In terms of regions, Kenya Airways deploys its highest capacity (seats per week) to central and western Africa, followed by eastern Africa and then southern Africa.
Kenya Airways international capacity (seats) by region (01-Aug-2011 to 07-Aug-2011)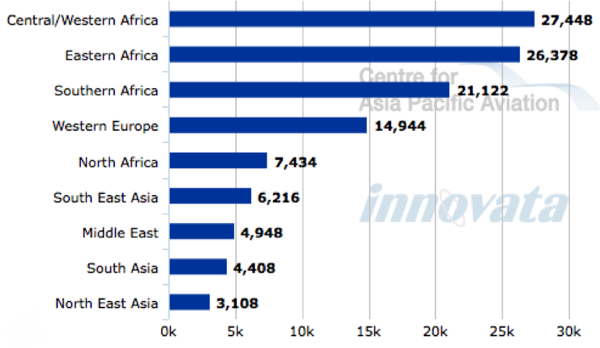 Approval to launch third frequency to Angola
Kenya and Angola signed a bilateral air services agreement on 27-Jul-2011 allowing Kenya Airways to expand operations in Angola and operate a third frequency to Luanda. The agreement allows Kenya Airways to operate its route schedule from Kenya to any point in Angola, with a provision to operate to destinations beyond Angola. It also allows for enhanced codesharing with TAAG and gives Kenya Airways the opportunity to operate to South America from Luanda. TAAG currently serves Rio de Janeiro and Sao Paulo, routes on which it recently deployed its new B777-300ER equipment, and also serves Havana in Cuba. Kenya is currently not connected to Brazil or Cuba through scheduled air service, and codesharing with TAAG would allow Kenya Airways access to the Americas.
Currently air travel between Kenya and Angola is limited, with Kenya Airways offering approx 250 seats per week (Aug-2011) and TAAG offering 120 seats per week. The two countries have no significant trade or investment links.
"Well on track" with Africa expansion plans
Jun-2011 and Jul-2011 saw Kenya Airways launch twice weekly service to its 44th and 45th African destinations: Ouagadougou, Burkina Faso and N'djamena, Chad. Kenya Airways is the only Kenyan operator to serve Ouagadougou and one of two eastern African carriers, the other being Ethiopian Airlines. The carrier's service to N'djamena is its first in Chad and it offers 464 seats per week. Ethiopian Airlines also serves Chad with 2,556 seats per week. Other international operators serving N'djamena Airport include Air France, Camair-Co and Sudan Airways.
Over the past two months, Kenya Airways launched two new services and increased frequencies on three services within its Africa network, which puts it well on track with its expansion plans in the continent. It maintains its goal of launching eight new routes this financial year after opening six new routes in the last financial year.
Kenya Airways service launch/increases for Jun-2011 and Jul-2011
| Origin | Destination | Launch date | Frequency |
| --- | --- | --- | --- |
| Nairobi | Juba | 01-Jul-2011 | Increase from daily to twice daily |
| Nairobi | | 01-Jul-2011 | Increase from twice weekly to three times weekly |
| Nairobi | Malabo | 05-Jul-2011 | Increase from twice weekly to three times weekly |
| Nairobi | | 15-Jul-2011 | Twice weekly |
| Nairobi | Cotonou-N'djamena | 21-Jun-2011 | Twice weekly |
Despite the roll-out of Kenya Airways' Africa expansion, CEO Titus Naikuni stated he would have wanted his company to expand at "three times" that level in terms of connectivity in Africa. Mr Naikuni blamed limitations with pilot recruitment, training and traffic rights as to why expansion has not occurred at his desired speed.
Domestic network performing strongly

Kenya Airways reported passenger increases in its domestic market as well. Capacity grew by 62.5% compared with the same period last year due to additional frequencies to Mombasa and the introduction of a Malindi service. The Nairobi-Mombasa service registers the highest number of ASKs for Kenya Airways' domestic network and has been dubbed "the Mombasa shuttle" because of its 10 daily frequencies.
Kenya Airways top three domestic routes (seats, 01-Aug-2011 to 07-Aug-2011)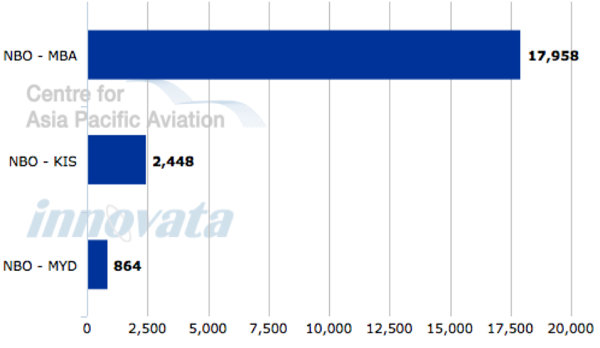 Kenya Airways is facing competition on domestic routes from low cost carrier Fly540, and JetLink Express. Although Kenya Airways holds substantial market share on all the domestic routes it serves, the domestic market has largely been left out of the carrier's expansion plans.
There are many domestic routes not covered by Kenya Airways, such as Malindi-Lamu, Mombasa-Lamu (both operated by Fly540) and Wajir-Nairobi (operated by African Express Airways and Jet Link Express). Air transport in Kenya is centred on southern hubs with passengers required to transit through Nairobi Jomo Kenyatta and Mombasa, while areas in the northwest of the country, such as the Turkana District (Rift Valley Province), are virtually unreachable. The Turkana District is particularly under-served because of the low population (approximately 447,000 people live there) and security issues. Rainfall in the region is low and drought and famine are frequent. Economic opportunities are scarce and agricultural potential is low, so air service to the region is seen to be unprofitable.
Kenya Airways' domestic route map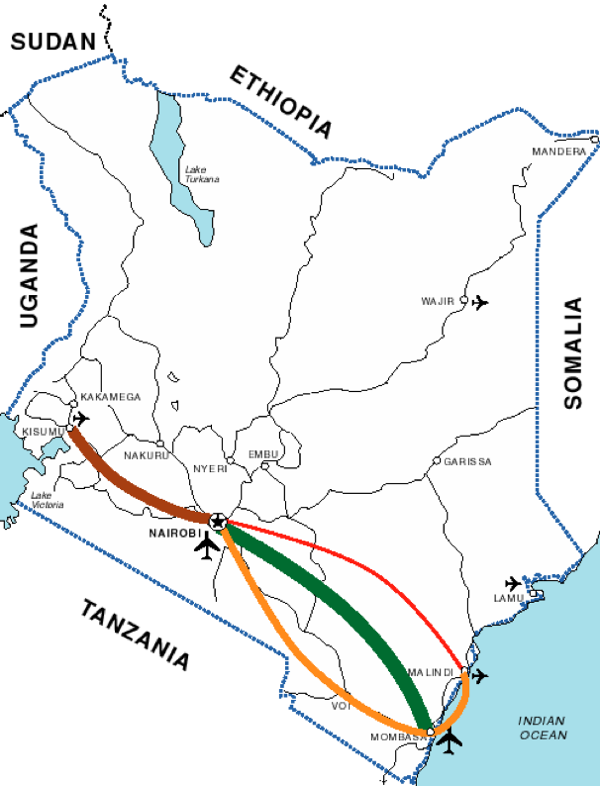 Without a sophisticated air network, Kenya has poor road and rail alternative, and travel can be lengthy and dangerous. The government has announced plans to spend KES409 million to improve Nairobi's transportation system. This includes work on roads and repairs to the rail network. The main goals of the project is to reduce congestion and facilitate better transport to regions outside of the city.
In an attempt to improve its domestic network, Kenya Airways recently announced plans to launch a low cost subsidiary called Jambo Jet. While few details have been released about the LCC, it is likely to replace Kenya Airways on service from Nairobi to Malindi and Kisumu. It may also be used to serve new destinations such as Eldoret in the west.
See related article: Say "hello" to Jambo Jet

Cargo operations set to soar with first dedicated freighter aircraft on the way

Kenya Airways is set to receive its first dedicated freighter, a B747-400F, in Oct-2011, on lease from GECAS. It is also expecting two more B777-300ERs in late 2012 and 2013 from GECAS, which will be used to increase cargo operations through the aircraft's belly capacity. Kenya Airways has purchased two B737Fs as well, and is expecting delivery in late 3Q2011 or 4Q2011.
The impending cargo operations are expected to boost revenue and close the competition gap between it and Ethiopian Airlines, by providing more space to transport Kenya's main exports of tea, horticultural products and coffee. Currently, Ethiopian Airlines dominates cargo operations in eastern Africa. In FY2010, it carried 134,160 tonnes of cargo whereas Kenya Airways carried 56,401 cargo tonnes. Ethiopian Airlines operates four dedicated cargo aircraft while Kenya Airways only uses belly capacity on passenger aircraft. Kenya Airways carried 15,286 tonnes in 2Q2011, up 19.8% from last year's figures.
Regional destinations for the carrier's first dedicated freighter aircraft, the B747-400F, are expected to include Uganda, Tanzania, Rwanda, the Democratic Republic of the Congo, Burundi and South Sudan. Cargo operations outside of Africa are still being considered for this aircraft.
The carrier's cargo arm commenced operations in May-2004 and was confined to belly capacity on passenger aircraft. Later in 2011, Kenya Airways plans to enter into a co-operative cargo agreement with TAAG, subject to the amended air service agreement between the two countries.
Network expansion requires infrastructure expansion
To keep up with Kenya Airways' expansion plans, the Nairobi Jomo Kenyatta International Airport plans to construct a USD500 million terminal in early 2012 to prepare for an expected influx of passengers, brought on by Kenya Airways' new routes. The expansion will give the airport capacity to handle 20 million passengers per year and include 60 check-in counters, 40 boarding gates and a railway terminal. The airport is forecast to handle 6 million passengers in 2011, up 5.5 million from 2010. Reports suggest passenger numbers will increase to 38 million per year by 2030. The new terminal is expected to generate USD111 million in its first year of operation, with an estimated annual growth of 10%.
Aggressive expansion and cargo plans set Kenya Airways up for future profitability
Kenya Airways' aggressive expansion plans are setting it up for future success. As well as expending within Africa, Kenya Airways has been actively chasing more international routes and has applied for approval to operate additional services to India and to launch operations to Saudi Arabia and Malaysia. It has nine B787-8s on order which will support its international expansion and will replace Kenya Airways' old and fuel inefficient fleet of B767s, which should reduce operating costs.
However, Kenya Airways is facing challenges on its domestic network and could soon see start-up LCC Fly540 overtake it in terms of capacity share in the market. But the launch of Jambo Jet may allow it to strengthen its domestic position, while the addition of a new B747-400F will enhance the the carrier's cargo operations which should allow the airline to continue to drive revenue growth.
Background information
Kenya Airways Africa/Middle East route map