Kenya Airways returns to profit; Air Arabia to launch Sharjah-Najaf service
Kenya Airways (-4.4%) fell on Friday (04-Jun-2010) following the announcement of its financial results for the 12 months ended Mar-2010 period. The carrier's total revenue fell 1.5% to USD864 million, while operating profit slumped 54.5% to USD22.5 million.
But the carrier returned to net profitability, earning USD24.9 million compared to a loss of USD49.9 million in the previous corresponding period.
Kenya's Group Finance Director, Alex Mbugua, attributed the carrier's return to profitability to stable foreign exchange and the steady recovery in the aviation industry. CEO, Titus Naikuni, added that the carrier plans to employ a number of cost-control measures, particularly in the area of labour costs.
Kenya Airways' Stock Market Performance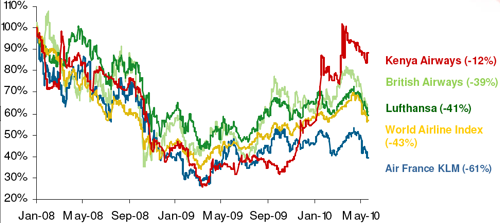 Meanwhile, the carrier also announced plans to expand its operations to coincide with the emerging global recovery, which the carrier expecting recovery to flow into Africa and Kenya during 2010. Kenya Airways plans to launch nine routes in FY2010/11, including services to Jeddah, Rome, Lome, Luanda and Juba.
In other African trading news, Comair (-2.4%) and 1time (-0.9%) also dropped while Lonrho's (2.2%) shares marginally increased.
Air Arabia's shares also dropped after announcing plans to launch a Sharjah-Najaf service on 08-Jun-2010. Meanwhile, Jazeera Airways (-1.5%), Royal Jordanian Airlines (-1.2%) and Kuwait National Airways' (-1%) shares continued a downward trend.
See related CAPA Profiles on:
Selected African and Middle Eastern airlines share price movements (% change): 04-Jun-2010