June Wrap: Aviation's winners and losers
June was the month when economic green shoots failed to bloom, swine flu didn't stop spreading, IATA doubled its net loss forecast, the World Bank almost doubled the size of the expected fall in global GDP this year, the B787 failed to fly, the Paris air show was a non-event apart from a few notable engine orders by Middle East airlines, and there were two major air crashes, involving an Air France A330 and a Yemenia Airways A310.
The world is getting smaller
June could prove to be the month when recognition set in that this global economic malady is not going to go away with injections of a mere few trillions of dollars and a lot of positive thinking. If your leg is broken, positive thinking is not the remedy. It requires diagnosis and real remedial treatment. For the aviation industry, it is reality time.
In the past 50 years, global economic output has increased sixfold and international trade flows have increased 22-fold. Airlines have had a key hand in this impressive growth, but also suffer most when times are hardest. The present economic crisis has witnessed a 15% fall in global trade, and there are few signs of any recovery – other than that things seem to have stopped getting worse.
The World Bank's latest research contains some extremely gloomy predictions. Global GDP is now predicted to contract by 2.9% in 2009 and world trade by nearly 10%. On 31-Mar-2009, the World Bank had predicted 1.7% and 6.1% falls in 2009, respectively. And in further bad news for the aviation sector, the World Bank has also revised upwards its oil price prediction for 2009 by 18% in just three months, from USD47 per barrel to USD55.5 per barrel.
IATA is now forecasting airline revenues will shrink 15% in 2009 and losses will balloon to USD9 billion – almost double its previous forecast of a USD4.7 billion loss. But that is unlikely to be the end of story. Full-year airline passenger yields are tipped to fall 7% and cargo yields by 11%, according to the latest IATA industry forecast.
Officially, IATA stated industry capacity levels are being "resized" in response to the slump in demand. Excess capacity is rife, prompting airlines to cut fares to generational lows – and, where they can, consider consolidation.
Europe's shrinking airline map, Atlantic hurdles
Lufthansa has had its fingers in numerous pies and came up with some jam in June, receiving the blessing from the European Commission for its purchase of Brussels Airlines. It also resolved a long-standing dispute with Sir Michael Bishop over the purchase of his stake in bmi. These can be added to the recent launch of Lufthansa Italia as well, and the probable approval of Lufthansa's takeover of Austrian by the end of July.
But ratings agencies are already alerted to the pressures on Lufthansa's own bottom line. The German carrier will require careful supervision by management as the downturn wears on, let alone its menagerie of loss-making acquisitions.
Elsewhere, alliance moves are facing more hurdles. The US Department of Justice's opposition to Continental Airlines' request for blanket antitrust immunity to cooperate with United Airlines and other carriers in the Star Alliance could throw a spanner into planned rationalisation efforts across the Atlantic involving Star and oneworld carriers. There are also concerns the next round of EU-US open skies talks could also be disrupted.
Boeing fumbles the ball again
Boeing had a terrible month, starting with the downward revision of its 20-Year Current Market Outlook aircraft sales forecast by 400 units – or 1.4% to 29,000 new commercial and freighter aircraft by 2028. It then went on to pick up a grand total of just two new orders at the Paris Air Show.
But the biggest headache was the first flight of the new carbon-fibre jet, Boeing's first new aircraft since the B777. After repeated assurances at Paris the B787 was ready to fly, Boeing was forced into another damaging delay - for an unspecified period – of the first flight, so it can complete more work on the aircraft's structure. The two-year delays to the B787 has proved costly for Boeing, but a silver lining for most customers facing a liquidity crunch.
The B787 programme received another blow when the largest airline customer for the aircraft. Qantas Group, cancelled orders for 15 B787-9s and deferred the delivery of 15 B787-8s, reducing its orders to 35 B787-9s and 15 B787-8s. The cancellation defers the Group's first B787 deliveries to 2013. The implications for the Qantas Group - which is increasingly confronted on international routes to Europe by the expansion of the Gulf carriers (with Qatar Airways soon to join Emirates and Etihad in operating to Australia) - are that new expansion plans will almost certainly have to involve other airlines.
Jun-2009 saw the release of May-2009 traffic data highlighting the ascent of Dubai Airport. It has taken over Changi Airport (which is being corporatized on 01-Jul-2009) in the traffic stakes and has its eyes set on Hong Kong International Airport, which, like Changi, is experiencing a deep downturn in demand.
Outlook: Who to believe?
Some industry bodies believe recovery may be close by, with ACI stating that though it is "too early" to call a recovery in traffic, airports "may be near a turnaround point". IATA believes traffic will start to recover in 2010 in the Asia Pacific region, followed by the US and North American markets, with Europe to recover the slowest.
Carriers in the US have also begun to increase their fares again for their Summer schedules, suggesting an expected improvement in traffic – or at least that their deep capacity cuts are finally having the desired effect.
Overall, schedules posted by airlines to OAG point to a rise in industry capacity levels from Sep-2009. But, like every forecast in these difficult times, this is subject to change.
Most people would however agree that the near term outlook for the global airline is extremely challenging. For example, the key points of IATA's 'Financial Health Monitor' for May/June reads like a horror story:
Net losses exceeded USD3 billion in 1Q2009, consistent with our forecast for 2009 total net losses of $9 billion.
Oil and jet fuel prices rose over 30% or USD20 a barrel since early May, squeezing airline cash flows.
Air travel volumes seemed to hit a floor in April and May, while air freight rose moderately in May.
The industry continues to resize with further capacity cuts in May, but lagging demand slump.
Excess capacity rising as result, forcing both transport prices and yields down at faster pace.
New aircraft deliveries slowed a little to 96 in May, but few retirements so fleet continues to expand.
Airline stock prices fall 2% in June as equity markets now worried about cash squeeze on sector.
But some airline, airport and supplier stocks soared last month, as we turn our attention to June's Winners and Losers.
Investors are treating United Airlines with considerable caution, as airlines across North America struggle with deteriorating cash reserves. United Airlines' USD175 million in debt issued last week was its most costly in at least nine years, according to Bloomberg, yielding 17% - or around 6% more than its peers in recent transactions.
United's stock fell almost 36% last month, double the nearest fall by US Airways (-17.6%). American (-15%), WestJet (-13.7%), JetBlue (-12.1%), Continental (-11.8%) and Delta (-10%) all fell by double-digits, while Southwest was only 2.2% lower across June.
Republic Airways jumped 10% in a month that saw it snap up Frontier and Midwest for bargain basement prices, with the prospect of more acquisitions to come, according to the Financial Times.
Brazilian carriers Tam (+16.3%) and Gol (+26%) rode the Brazilian stock market higher, but have also shown signs they have put the worst behind them.
North & South America selected airlines daily share price movements (% change): Jun-09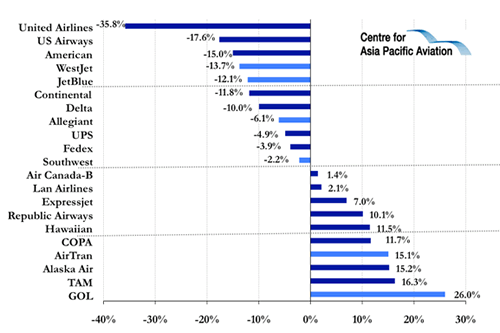 Europe – Not much joy in June
European airline shares suffered as yields slumped and cost-cutting efforts stalled on union concerns.
Aer Lingus was the biggest loser, falling almost 30% last month as the prospect for a turnaround dimmed and Ryanair (shares down 9.6%) continued to attack.
Norwegian, SAS and Finnair struggled in the weak Scandinavian market, with their shares dropping 22.4%, 18.6% and 17.7%, respectively, while British Airways lost more than one fifth of its capitalisation last month as an increasingly concerned CEO, Willie Walsh, pleaded with the airline's unions for deep cuts.
BA's on-again-off-again merger partner, Iberia, suffered (only) a 7.4% fall on the stock market, while other take-over targets, Austrian (sought by Lufthansa) rose 2.9% and Vueling (merged with clickair) soared 31.4%.
Shares in Turkish Airlines, which appears untouched by the crisis, rose 26.5% last month.
Europe selected airlines daily share price movements (% change): Jun-2009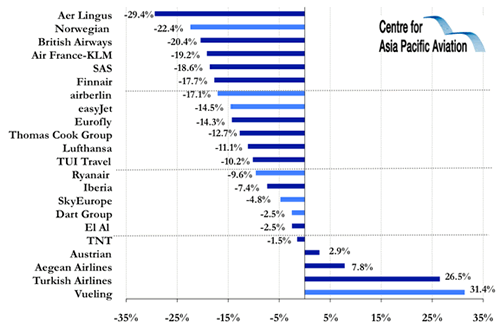 Asia Pacific – Indian carriers take a beating
The beleaguered Asia Pacific airline sector suffered further deep stock market losses last month, none more so than India's Jet Airways, Kingfisher and SpiceJet, which fell 28.9%, 19.8% and 17.9%, respectively.
AirAsia dropped back 17.8%, despite a stellar first quarter earnings report, as investors fret about rising fuel prices and its long aircraft order book that will require considerable finance.
Virgin Blue performed best last month, gaining 10.3% on recovering load factors and moves by V Australia to sign-up interline partners, while Singapore Airlines' investors shrugged off extremely weak traffic reports to send the carrier's shares up 5.2% over the month.
Asia Pacific selected airlines daily share price movements (% change): Jun-09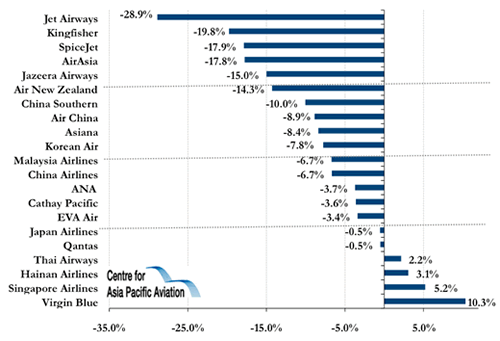 Airport shares mixed
Global airport shares were mixed last month, with the Mexican airport operators bouncing back after steep falls in May associated with the swine flu outbreak.
Beijing Airport was the biggest loser, dropping 12.7%, while Australian Infrastructure Fund dropped as it recapitalised.
Selected airports daily share price movements (% change): Jun-2009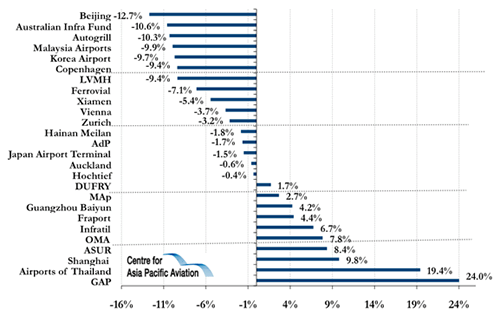 Airframe manufacturers hurt
Shares in Embraer and Boeing fell 17.2% and 10.9% last month as both companies' order woes continued. Airbus parent EADS was more resilient, dropping only 1.9%, while Rolls-Royce had a good month, gaining 9% on the back of some healthy engine orders at the Paris Air Show.
Selected Aviation suppliers daily share price movements (% change): Jun-2009