JetBlue's unit revenue icestorm, Southwest's PRASM tailspin
Long gone are the days of double-digit growth in passenger revenue per ASM (PRASM) at JetBlue. Dave Barger and his team have done well since JetBlue's Valentine's Day ice-storm debacle in 2007, but they face an even deeper freeze amid the global economic winter, confronting steep yield declines and falling load factors. Southwest Airlines is experiencing the same nasty combination.
JetBlue and Southwest feature prominently in The Centre's forthcoming Global LCC Outlook 2009 report.
JetBlue - PRASM slumps 10% in May-2009
JetBlue's preliminary PRASM last month declined 10% year-on-year, despite a 1.1% decrease in capacity. Load factors also fell, by 1.8 ppts to 77.4%. It is a common experience, which suggests that the deep discounting that is occurring in the market is failing to achieve the kind of loads necessary to tip the airlines back to a position of pricing power. Industry capacity levels will probably need to fall further, unless a major uptick in bookings for the upcoming Summer peak starts to materialise.
JetBlue had some big months in 2008, in terms of PRASM, and would have felt cautiously optimistic amid the US recession. That is until Feb-2009, when the wheels started to fall off.
JetBlue PRASM* growth (% change year-on-year) and 12 month moving average: May-08 to May-09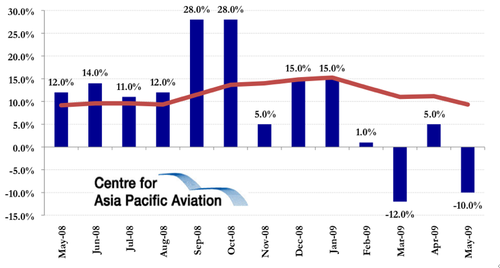 Southwest's unit revenues in a spin
Southwest Airlines has experienced a similar PRASM profile to JetBlue this year, with a weak February, terrible March (absent the Easter boost) a neutral April (bolstered by Easter) and a very soft May, in which it estimates PRASM declined "in the nine percent range as compared to May 2008".
Southwest Airlines PRASM growth (% change year-on-year): Jan-09 to May-09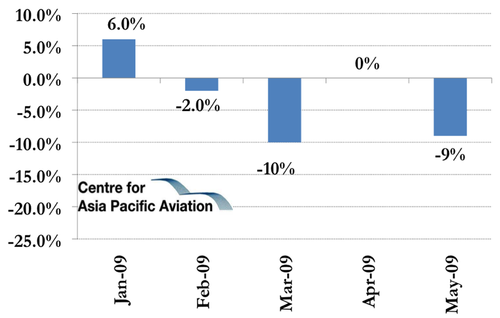 Southwest's load factors are also deteriorating, down 0.3 ppts to 74.6%, as passenger numbers slumped 6.7% to 8.7 million (or slightly under five times as many passengers as JetBlue).
Deeper 2Q2009 PRASM declines than expected
This time last month, Southwest stated revenue and booking trends "continue to be adversely impacted by the weak economic environment and now also by concerns over the recent H1N1 Swine Flu outbreak. Therefore, the Company currently expects the year-over-year decline in second quarter 2009 PRASM to exceed first quarter 2009's decline of 2.8%".
To simply match the first quarter's 2.8% decline, Southwest would need a 16% increase in PRASM this month. That clearly is not going to happen.