JetBlue, US Airways, Air Canada, Continental, American and United lead large falls - Stock Wrap
Analysis
JetBlue (-9.9%), lost nearly a tenth of its market capitalisation yesterday, ahead of tomorrow's shareholders' meeting, with most airline stocks falling in a softer overall market.
US Airways shares (-9.1%) also suffered from the further effects of dilution as underwriters took up full rights to the recently announced issue, which will raise USD234 million for the now familiar "general corporate purposes", as companies strengthen their balance sheets.
Air Canada (-8.3%) lost ground as its Frequent Flyer Plan operator, Aeroplan, announced a reduced 1Q2009 result and stated that the 2009 outlook remained uncertain, as consumer demand continues to be weak. Aeroplan's CEO, Rupert Duchesne speculated on providing some further support to Air Canada if such action would help the carrier, but it was clear that he did not see the two companies being joined at the hip.
Air Canada last week reported a 1Q2009 operating loss of CAD188 million compared to an operating loss of CAD12 million in the first quarter of 2008. Passenger revenues fell 13%, traffic was down 10.9% and yields decreased 2.3%, as unit costs rose 5% - not a happy picture.
For daily updates on American aviation stock prices and a complete wrap of the day's breaking news, sign up now for a complimentary subscription to America Airline Daily.

North & South America selected airlines daily share price movements (% change): 12-May-09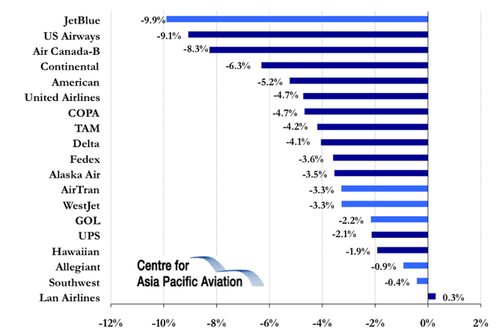 JetBlue
JetBlue reported last week on traffic; April revenue passenger miles decreased 2.7% from April 2008, on a capacity decrease of 4.0%. The result was an increase of 1.1 ppts, as load factor improved to 80.6%.
But the market may be concerned about the carrier's yields, as the airline for example prepares to go head-to-head with Southwest and AirTran on the recently announced Baltimore-Boston route in 3Q2009 – the first time such a full-on LCC head to head has occurred on US domestic routes.
US Airways announced yesterday that its underwriters of its recently announced offering have exercised "in full" their options to purchase additional securities "to cover over-allotments", as a result causing a further dilution of the stock.
Extracts from US Airways' media release, 12-May-09
"US Airways Group, Inc. Announces Exercise of Common Stock and Convertible Note Over-Allotment Options; Total Net Offering Proceeds Increased to $234 Million.
"US Airways Group, Inc. announced today that the underwriters of its previously announced common stock and convertible note offerings have exercised in full their options to purchase additional securities to cover over-allotments in respect of those offerings. As a result, at the closings for the offerings US Airways expects to receive approximately $234 million of aggregate combined net proceeds, after underwriting discounts and estimated offering expenses. US Airways will issue a total of 17,480,000 shares of its common stock (including 2,280,000 additional shares issued pursuant to the option exercise) and a total of $172,500,000 aggregate principal amount of its new 7.25% convertible senior notes due 2014 (including $22,500,000 in aggregate principal amount of additional notes issued pursuant to the option exercise).
"US Airways expects the closings of both offerings, which are subject to customary conditions, to occur on May 13, 2009. US Airways intends to use the proceeds from the offerings for general corporate purposes."