JetBlue, Continental, Hawaiian and LCCs lead the market up. Americas airline share prices.
Analysis
JetBlue (+19.5%) led the charge upwards yesterday. Continental and Hawaiian (both +12.7%) were strong gainers too, with the leading LCCs also up. Even Air Canada regained some ground as the panic about its possible bankruptcy temporarily subsided.
Airline shares benefited from the stronger overall market. For the first day in recent memory, all airlines in the Americas made gains on share markets on 2-Apr-09.
But life - especially in the airline industry - can be a very confusing place. In investors' enthusiasm to chase the market up, this uptick overlooks the basics of the airline industry.
Certainly, airline stocks have been hammered over recent months. But that is hardly a reason why they must now be good investments. Drowning men aren't always still breathing when they resurface.
North & South America airlines daily share price movements (% change): 02-Apr-09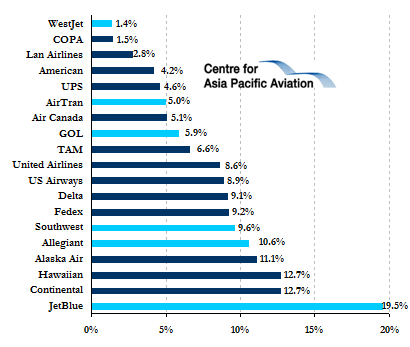 First of all, oil prices are heading up again; secondly, the indications are that yields and traffic are still declining.
Even though - eventually - demand will recover and there are now signs that the economy may be bottoming out, the airline fundamentals remain very shaky.
First of all, oil prices shot up. The price is now higher than when airlines rushed to impose fuel surcharges three years ago. There won't be any net increases in fares just now though in this soft market (even if anyone does attempt to impose a fuel surcharge for technical reasons).
And, paradoxically, Continental (+12.7%) for example showed one of the biggest rises on the day. The carrier reported this week that its March traffic was down 9.7% year on year, ahead of its capacity reduction, for a 2.7ppt fall in load factor, to 79.9%.
And worse still, yield fell a scary 19% for the month, compared with Mar-2008. This was considerably worse than Continental's yield decline in February, a "mere" 11.5%.
Even adjusting for a different month because of a March Easter last year, this is hardly good news.
JetBlue surfing the wave of enthusiasm
JetBlue has done well as the market really progressed over the last three weeks of Feb-09. As a rare example of a US airline with foreign investment, JetBlue is an interesting creature in today's increasingly protectionist marketplace.
Lufthansa holds 19%, of JetBlue, which it bought off-market in Dec-2007, at USD7.27 a share. The decline in value of JetBlue stock since then is not as stark as it looks at first sight, because Lufthansa was buying at a time when the USD was much weaker. There has been no clear statement from either airline about how valuable, or not, the relationship has been. But it does certainly add a touch of difference to the upmarket LCC, which can interest investors from time to time.
JetBlue share price: 02-Jan-09 to 02-Apr-09