Jazeera's profits down 53% in 3Q2009, JetBlue only US carrier to add employees
Analysis
Jazeera Airways' shares slipped 4.5% yesterday, under performing Kuwait's main index, KWSE, which closed 0.7%, ahead of the carrier reporting a 53% reduction in net profit to USD2.7 million in the three months to Sep-2009.
This reduction occurred despite a 4% increase in revenues to USD56 million and a 65% increase in passenger numbers to 582,000. CEO, Stefan Pichler, commented that the carrier's performance is "picking up again" following its restructure from a dual hub to a single hub operation.
Selected LCCs daily share price movements (% change): 12-Nov-09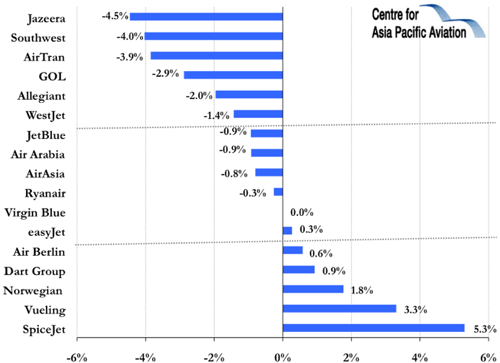 SpiceJet increases market share in Oct-2009
On the other end of the spectrum, SpiceJet's shares gained 5.3% yesterday, as the Indian Ministry of Civil Aviation announced that SpiceJet's domestic passenger numbers were up 65% in Oct-2009, exceeding a 27% increase in total domestic passenger numbers. The LCC's load factor was 74.7% in the month.
AirTran and JetBlue only US carriers to add employees on a year-on-year basis in Sep-2009
In the US, the US Department of Transportation reported that JetBlue Airways and AirTran Airways (shares down 0.9% and 3.9%, respectively) were the only two airlines to add employees on a year-on-year basis in Sep-2009, with employment numbers up 5.8% and 4.2%, respectively.
Comparatively, US airlines' as a group reported a 14th consecutive month of employment reductions in the month.