Jazeera Airways reports another record quarterly profit with yields up 45%
Jazeera Airways, Kuwait's privately owned low-cost carrier, has reported another record quarterly profit for the three months to 30-Sep-2011. The airline reported an operating profit of KWD7.5 million and a net profit of KWD6.1 million, its fifth consecutive profitable quarterly result since it launched its turn-around programme. The third quarter is the airline's peak period for business, where it usually records the majority of its profits.
The airline handled 337,629 passengers over the three-month period, generating KWD19.3 million in operating revenues, up 38% year-on-year. Load factors were "just over" 70%, stronger than other quarters but slightly lower than other LCCs in the region such as Air Arabia and flydubai.
Yields rose to a record 52.3 fils, the third consecutive quarter of increasing yields. Yields were up 42% over 3Q2010 and 91% above 3Q2009 levels. Capacity management and network nimbleness and a very short booking cycle have contributed to positive yield performance. The carrier's improved service offering, including improved baggage allowances and free on-board meals have also enhanced yields.
Jazeera Airways yield (KWD fils): 1Q2009 to 3Q2011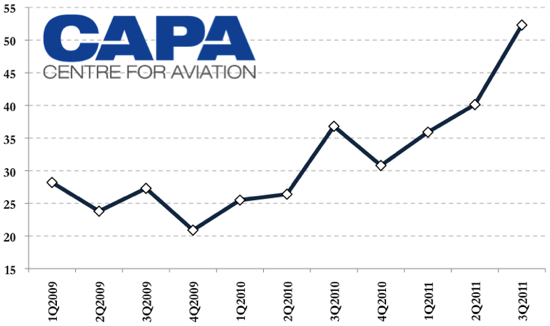 The yield improvement has been driven by the airline resizing capacity to ensure it operates profitably for every month of the year. The smaller fleet ensures capacity is operated year-round rather than adjusting capacity to accommodate peak-periods.
A network retiming has also enhanced the airlines' attractiveness to business passengers, although at the cost of some operational efficiency. The addition of Cairo to the airline's network has also had a net positive affect on yields. Jazeera is also building on its distribution network and enhancing its revenue management skills to ensure continued yield enhancement.
Operating expenses climbed 11%, to KWD11.8 million. However, both unit and total costs are still significantly lower than in 3Q2009, indicating the success of the carrier's turnaround programme and right-sizing its fleet to the scale of its operations at Kuwait.
The carrier's average fuel cost in 3Q2011 was USD125 per barrel, compared to USD87 per barrel in 3Q2010. Fuel costs are typically 38-40% of Jazeera's total costs, depending on the quarter and price of oil. The increase in crude oil prices added KWD1.3 million to the airline's fuel bill. Jazeera Airways does not hedge its fuel purchasing, instead opting to pass higher oil prices directly onto its passengers via higher fuel costs, which has been supported by its short booking cycle.
The higher US Dollar exchange rate also increased the carrier's costs, having a negative impact on the carrier's net profit by around KWD100,000.
The airline's business has been relatively unaffected by the regional turmoil. In markets like Syria, it reduced capacity and introduced triangular routings, using the spare capacity for other routes such as Dubai and Cairo. The airline is still looking at fine-tuning and optimising its network and having more cost control across its fleet, improving aircraft and crew utilisation and staying flexible to respond to changing market conditions.
For the first nine months of 2011, revenue at Jazeera Airways is up 40%, despite the fact that the airline has reduced capacity by 27% and passenger numbers by 14%. Yields for the nine months are up 45%, while load factors have grown to 67% up 15 percentage points from 2010. With less capacity and less passengers, the airline has still managed to generate more revenue. Jazeera believes that profits are not only sustainable, but have scope to be improved in the future.
Jazeera Airways revenue and net profit (KWD millions): 1Q2010 to 3Q2011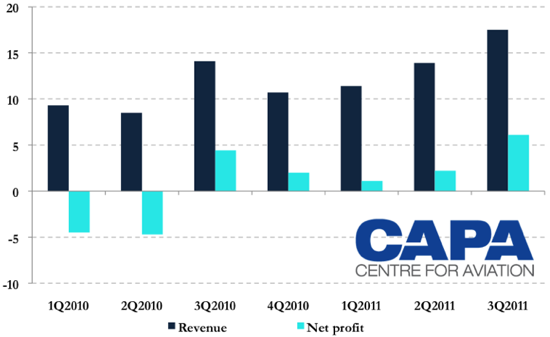 The end of TAP and the roll-out of STAMP
In 2009, Jazeera Airways faced the shock of being forced to abandon its hub at Dubai and concentrate all its operations at Kuwait. The forced relocation resulted in a situation where the carrier had excess capacity for its single hub.
As a result, the airline experienced three consecutive quarterly losses and was faced with a glut of capacity in the Kuwaiti market, made worse by the launch of Wataniya Airways in early 2009. In reaction, the airline launched its Turn Around Plan (TAP) in May-2010. Under TAP, it cut its fleet from 11 to five aircraft and redeployed the excess aircraft into its Sahaab leasing operation where they could be transformed into consistently profitable assets, leased to carriers such as Virgin America and SriLankan Airlines.
Hand-in-hand with this, the airline slashed its workforce by 30% and introduced a rigorous cost containment programme, focusing on profitability rather than growth. Loss-making routes were dropped and the network was reorganised to focus on short-haul flights of around two hours.
With TAP now resulting in consistent profitability, the airline has announced the launch of a new business programme, known as the Strategic Master Plan (STAMP). This three-year plan is designed to ensure the airline's profitability in the long-term.
STAMP is based around four pillars of maintaining the existing network, increasing load factors, enhancing yields and leading market share with the same fleet capacity.
STAMP projection: 2011 to 2014
| | 2011 | 2012 | 2013 | 2014 |
| --- | --- | --- | --- | --- |
| Leasing fleet | 6 | 6 | 7 | 8 |
| Airline fleet | 5 | 6 | 7 | 7 |
| Total fleet | 11 | 12 | 14 | 15 |
| Destinations | 18 | 18 | 18 | 18 |
| Passengers (millions) | 1.2 | 1.6 | 1.8 | 1.9 |
| Load factor | 71.30% | 72.50% | 73% | 73.50% |
Jazeera Airways operates to 18 destinations across the Middle East, North Africa and Southern Europe. The carrier will be maintaining the same 18 destinations for the next three years under STAMP, with moderate increases beyond that.
Yield enhancement through revenue management and improving products will be pursued. The carrier plans a slow enhancement of load factors, aimed at improving passenger loads from 71.3% this year, to 72.5% in 2012 and then to 73.5% by 2013/14.
The carrier will add one new aircraft from Feb-2012 and another in 2013, increasing the total fleet to seven. Jazeera will use the aircraft to enhance connectivity and market share on the routes it operates.
The leasing fleet will be kept static at six aircraft in 2012, increasing to seven in 2013 and eight in 2014.
Outlook strong for full-year and beyond
Jazeera Airways Chairman Marwan Boodai started the company's 3Q2011 earnings by addressing the "doom and gloom" facing the airline industry. In addition to the basic structural problems the industry faces at the moment – including high fixed costs and capital requirements and a restricted regulatory environment – aviation is confronting the global issues of high fuel cost volatility, the euro zone financial crisis and a related drying up of sources of finance as well as the possibility of a double-dip recession in the world's largest and most developed economies.
But, Jazeera Airways, along with a number of other Middle Eastern airlines, is revelling in the challenging environment. With higher oil prices, the petro-economies in the Middle East are experiencing strong budget surpluses and regional growth continues apace. Jazeera Airways defines its home market of Kuwait as one of continuous growth.
Sahaab has diversified the Jazeera Group's operation, providing steady revenues from three continents and different markets, balancing out the seasonality that the airline business typically experiences. The company's leasing business also has the advantage of long-term visibility with highly mobile assets that can easily be redeployed between markets.
With TAP now behind it and a solid 15 months of profits under its belt, Jazeera Airways has now joined the ranks of airlines in the Middle East that can boast sustained profitability. From here, Jazeera Airways has established a solid platform to return to growth in the next few years, as it launches STAMP at the beginning of 2012.