Japanese aviation market may not fully recover from earthquake until 2012
Analysis
Expectations for a full recovery of the Japanese market in 2H2011 appear increasingly less likely as inbound leisure demand remains extremely soft.
IATA chief economist Brian Pearce last month predicted a full recovery for the Japanese market by the end of 2011. But airlines continue to see weak demand on routes to Japan, particularly in economy class.
While several carriers have already restored capacity or are planning to return to full schedules on their Japanese routes from the start of the IATA northern hemisphere winter schedule at the end of Oct-2011, other carriers are taking a much more cautious approach. For example, Delta Air Lines is suspending its Detroit-Haneda flight from Sep-2011 to Apr-2012 and American Airlines earlier this week asked the US DOT for permission to suspend its New York JFK-Haneda route from Sep-2011 to mid-2012.
American, which only resumed service on the JFK-Haneda route at the beginning of this month after a three-month suspension, and other US carriers have reported continued weak demand on its Japanese flights. "American plans to suspend its service to Haneda beginning in early September in an effort to help it offer service more in line with market demand, as Japan continues to recover from March's earthquake and tsunami," the carrier said.
The decision by two major US carriers to suspend their Haneda flights illustrates the continued weakness in forward origin and destination bookings for the US-Japan market. For their Tokyo Narita flights, American and Delta can offset low demand for Japan o&d bookings by focusing more on transfers to the rest of Asia (Delta has its own Asian hub at Narita while American has an extensive codeshare partnership with Japan Airlines). But for Haneda international connection opportunities are limited, forcing the US carriers to drop their flights until local demand recovers.
While the outbound Japanese market is recovering nicely, international tourists are still avoiding Japan. New figures from the Japan's National Tourism Organisation (JNTO) show visitor traffic to Japan was down 50% in May-2011 and 32% through the first five months of the year. Japanese overseas traffic, however, was down only 8% in May-2011.
Japan visitor arrivals by country, May-2011 vs May-2010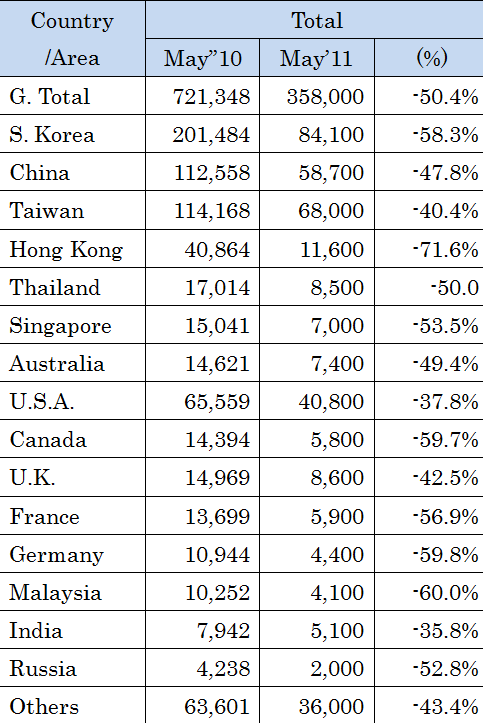 Visitors from South Korea, which is by far the largest source of tourists for Japan, was down 58% in May-2011. Asiana senior VP international and regulatory affairs Nam Soo Kim told CAPA earlier this month that while the Japan-to-Korea market has already recovered the Korea-to-Japan market is still "recovering".
Japan is a huge market for Asiana, accounting for about one quarter of the Korean carrier's total traffic. Asiana is the third largest foreign carrier in Japan after Delta and Korean Air.
Japan capacity (seats per week) by carrier, 18-Jul-2011 to 24-Jul-2011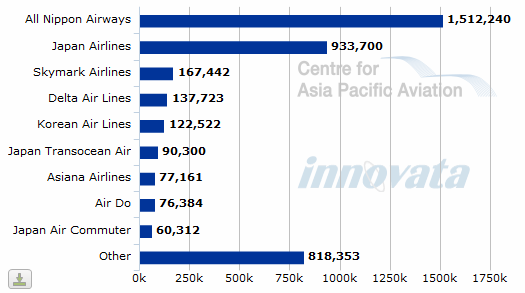 Several other Asian carriers have reported that premium traffic on their Japanese routes has recovered but economy-class load factors remain low. For example, Cathay Pacific's load factor on North Asia routes was down 10.4 ppts in Jun-2011 to 74.7%.
Singapore Airlines (SIA) also recorded an 8.6 ppt drop in load factor for Jun-2011 on its East Asia routes to 76.1%. This was driven by continued low loads on SIA's Japanese flights. For now SIA plans to resume its full schedule to Tokyo on 30-Oct-2011, when its second daily frequency to Haneda is set to resume after multiple suspensions.
Continued weak load factors for ANA and JAL
The Japanese carriers also continue to report relatively weak load factors although compared to foreign carriers they generally rely more on the Japanese outbound market, which is nearly fully recovered.
Japan Airlines (JAL) recently reported traffic for May-2011 including an average systemwide load factor of only 60.9%. This represented an improvement compared with the 57.3% load factor JAL recorded in Apr-2011 but still is nearly 10 ppts below the 70.8% load factor from May-2010.
JAL's load factor was particularly weak on routes to South East and Oceania, where in May-2011 it was just 50% and 43%, respectively. On domestic routes JAL's load factor was 57.9%, an improvement over the 47.3% recorded in April.
JAL has said Japanese outbound tourism demand and domestic demand are now more or less where they were expected to be. The major setback is inbound traffic from overseas, which is proving to remain slow, especially from China, Korea, Europe and the US. There is growing concern in Japan that the continuing woes linked to the nuclear power station accident will continue to have a significant impact on inbound demand, especially tourism.
Hawaiian Airlines also has reported that outbound tourism demand has fully recovered. Hawaiian last week launched services to Osaka, which became the carrier's second Japanese destination after Haneda. Unlike the other US two carriers which gained access to Haneda last year (American and Delta), Hawaiian has no intention of suspending its Haneda service. But Hawaiian is in a far different predicament as it does not serve Narita and unlike the Japan-mainland US market, the Japan-Hawaii market consists primarily of holiday-bound Japanese tourists.
All Nippon Airways (ANA) also recently reported traffic figures for Jun-2011, including an international load factor of 73.4% and a domestic load factor of 56.6%. The international load factor represents an improvement compared to the 68.6% reported for May-2011 and 55.1% reported for April-2011 but still was well below the 80.8% load factor from Jun-2010. ANA's domestic load factor for Jun-2011 represented a slight improvement over the 56.2% from May-2011 but a decrease compared to the 62% recorded in Jun-2011.
ANA international passenger load factor, Jan-2009 to May-2011

ANA domestic passenger load factor, Jan-2009 to Jun-2011

ANA and JAL are able to offset some of the decreased demand for inbound leisure travel by focusing more on transit traffic, in particular on their US routes -which connect well with their Asian networks. But there are less connection opportunities for their European routes and overall it can be difficult to completely offset the reduction in the inbound leisure market, resulting in the drop in economy class load factors.
Smaller Japanese carriers such as Air Do, however, have already seen their traffic fully recover. Air Do recorded a 72.8% load factor for Jun-2011, compared with 72.9% for Jun-2010. Air Do saw both its traffic and capacity increase by 2% compared with Jun-2010.
The full recovery at Air Do further illustrates the return of local domestic demand. ANA and JAL rely more on demand from overseas travellers, including to some extent on their domestic routes.
2012 will usher in a new era of traffic growth for Japan
While 2H2011 looks bleaker than expected, 2012 should be a year of huge growth for Japan. Inbound tourism traffic from overseas will likely recover sometime in 2012 and, perhaps more importantly, local demand will grow as an influx of new low-cost carriers drives down fares. Three major low-cost carriers are expected to launch services in 2012 - AirAsia Japan, Peach and Jetstar Japan (ANA owns stakes in the first two while JAL is believed to be close to inking a joint venture with Qantas subsidiary Jetstar for the third).
The new low-cost carriers, which will operate domestically and some international routes routes within North Asia, will cater mainly to the local Japanese market and result in a further increase in the propensity to travel among Japanese. While a relatively mature market, Japan now has some of the lowest LCC penetration rates in the world and rapid expansion of LCCs in the Japanese market over the next few years should drive a new era of growth.