Japan Airlines' shares surge on increased optimism of government restructure support
Analysis
Japan Airlines' shares surged the most in a year (+11.9%) in Tokyo trading yesterday, on optimism it would secure investment and government support, enabling it to avoid collapse.
However, the current share price is still less than half its Oct-2008 value and significantly below its value at the start of last week, before increased selling activity pushed the carrier's share price to historic lows.
JAL's share price fell 26% last week, the largest one-week reduction on record, and has fallen by more than 40% since the new government took office last month.
Japan Airlines share price growth: Jan-2009 to Oct-2009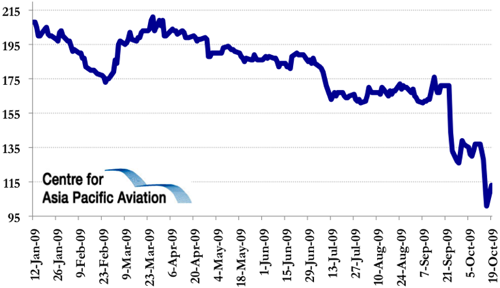 Thai Airways expects improved revenues in 2010 following a reduction in 2009
Thai Airways' shares gained 1.9% yesterday, as the carrier stated that improved passenger demand should increase revenue to USD5.6 billion in 2010. However, the carrier still expects revenue to fall by a very worrying 21% year-on-year in 2009 to USD4.7 billion.
The carrier plans to launch a share issue in 2010, to raise capital to repay short-term debt and to reduce its debt-to-equity ratio from over three to two times. The carrier is also planning to convert some of its short-term debts into longer maturities of six years.
Elsewhere, Korean Air's shares dipped 3.2% and Air New Zealand shed 2.3% after releasing its Sep-2009 traffic results and announcing plans to slash its domestic fares.
Asia Pacific selected airlines daily share price movements (% change): 19-Oct-09