Japan Airlines back in the black in 1QFY2011; hoping to exceed FY2011 net profit target
Japan Airlines Corp (JAL) reported a net profit of JPY12.76 billion (USD165 million) for the three months to Jun-2011 (1QFY2011) despite a reduction in demand related to the 11-Mar-2011 earthquake and tsunami. The results were an encouraging sign for the remainder of year and came amid an intensified focus on improving cost efficiency and an aggressive scaling down of operations as part of JAL's rigorous restructuring efforts.
JAL Chairman Kazuo Inamori noted that the carrier's efforts are paying off, stating: "We're seeing good results." He stated the airline has a good chance of achieving its goal of booking an operating profit of JPY75.7 billion (USD954 million) in the full year (12 months to Mar-2012) as it aims to relist its shares in FY2012.
"Looking at the figures of the first quarter, we have a good chance of surpassing the target," Mr Inamori said. "We're going to work hard to exceed the target … Our priority is to enhance our corporate value and win back market confidence. We are putting all our energy into changing our profit structure as much as possible and will aim for a relisting in FY2012."
JAL achieved an operating profit of JPY188 billion (USD2.3 billion) for its 2010 fiscal year. The airline is pinning its hopes on short-haul international flights between Japan and destinations such as South Korea and Taiwan during the forthcoming summer vacation period, Mr Onishi previously said. He added that the airline will focus on regaining its financial health and so has no expansion plans at the moment.
Restructuring measures reaping rewards
JAL has been striving to improve profitability through a number of restructuring measures. They included downsizing its fleet to smaller, more fuel-efficient aircraft, implementing measures to stimulate travel demand, job reductions and more flexibly and swiftly matching demand with supply so as to strengthen its resilience in an ever-volatile operating environment.
Emerging from bankruptcy protection in Mar-2011, Japan Airlines had raised USD3 billion in fresh funding from financial institutions, shed one-third of its staff, grounded more than 100 aircraft and closed 49 loss-making routes. Last year, the carrier withdrew operations from 11 unprofitable international and eight domestic destinations, and decommissioned large-sized aircraft from its fleet that collectively led to a significant reduction in operating expenses. Through scaling down the size of its operations, JAL lowered various fixed cost liabilities, and further raised its efficiency through the institution of a system that analysed profits by department.
The carrier operates a fleet of 111 aircraft at present, with 24 aircraft in storage and 46 aircraft on order, including 35 B787-8s according to Ascend. 83% of the current fleet are wide-body aircraft, with 87% of on-order aircraft being widebodies. 72% of the in service fleet is owned by JAL, according to Ascend.
JAL still plans to relist its shares by Jan-2013, although the carrier acknowledged that the target date has been made tougher to reach by the earthquake. "The listing of JAL's shares is extremely important," Mr Inamori previously said.
Operating profit of USD22m; net profit of USD165m in 1QFY2011
As a results of its focused restructuring efforts, JAL posted an operating profit of JPY17.17 billion (USD22 million) in the quarter, down from around JPY18 billion in the previous corresponding period, equating to around 23% of its targeted operating profit of JPY75.7 billion for FY2012 (fiscal year ending Mar-2012). The carrier reported a net profit of JPY12.7 billion (USD165 million) on revenues of JPY254.9 billion (USD3310 million).
JAL Group reports (03-Aug-2011) the following financial highlights for the 3 months ended Jun-2011:
Operating revenue: USD3309.6 million;

International passenger: USD1,023.1 million;
Domestic passenger: USD1303.6 million;
International cargo: USD179.2 million;

Operating costs: USD3086.3 million;
Operating income: USD222 million;
Net income: USD164.9 million;
Passenger traffic (RPKs):

International: -40.2%;
Domestic: -29%.
JAL did not provide comparable figures for the same three-month period last year, when it was still under bankruptcy protection. JAL excited bankruptcy protection in late Mar-2010. JAL filed for bankruptcy protection in Jan-2010 under the Corporate Rehabilitation Law, marking one of the largest corporate failures in Japanese history.
Demand not fully recovery fully after Mar-2011 earthquake
Mr Onishi stated travel demand has not recovered fully after the earthquake, noting in particular the lower number of overseas passengers from Southeast Asia. "We are far from seeing the impact of the earthquake and the nuclear accident subside, and understand that we cannot yet be optimistic about the situation," Mr Onishi stated.
In the quarter, the number of internationally passengers declined 42% while domestic passenger levels declined 28% year-on-year. JAL stated domestic passenger demand has "stopped falling and is gradually rising from around the end of March".
The carrier is also monitoring the strength of the yen and fuel prices. Although the stronger yen is positive for JAL when importing fuel, the stronger yen will likely hurt demand among Japanese business travelers.
'Harsh situation' for international services
In Jun-2011, Mr Onishi, on the sidelines of the IATA AGM, stated the carrier expects its capacity levels to be fully restored in Jul-2011 to levels prior to the 11-Mar-2011 earthquake and tsunami. ''We are confident of returning the capacity to full level on July 1 … confident it will be reflected on our profits,'' Mr Onishi said at the time.
Releasing its financial results on 03-Aug-2011, JAL labelled the recovery from the Mar-2011 earthquake as a ''harsh situation'', stating it would counter the situation by maintaining capacity reductions on some routes. The carrier noted that internationally leisure traffic was particularly impacted by the earthquake and the number of group tours and inbound visitors fell sharply.
Although outbound business traffic from Japan was affected to a lesser degree and rebounded more swiftly than the leisure sector, the overall travel demand (RPKs) in the three-month period declined by 40.2% year-on-year, on a 29.4% reduction in capacity (ASKs). Consequently, the load factor declined 11.0 ppts to 61.1%.
Japan Airlines Revenue Passenger Kilometres (International) (2009 to 2011)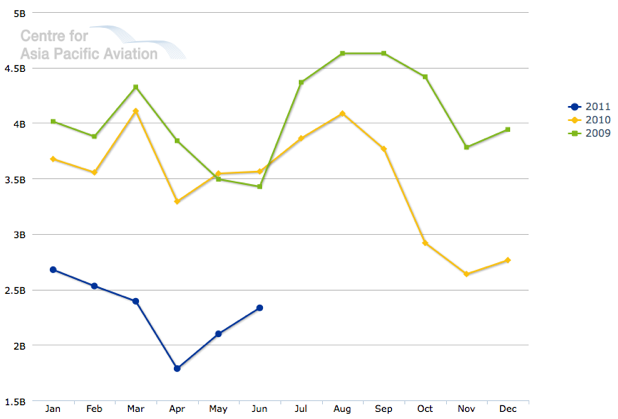 Japan Airlines Available Seat Kilometres (International) (2009 to 2011)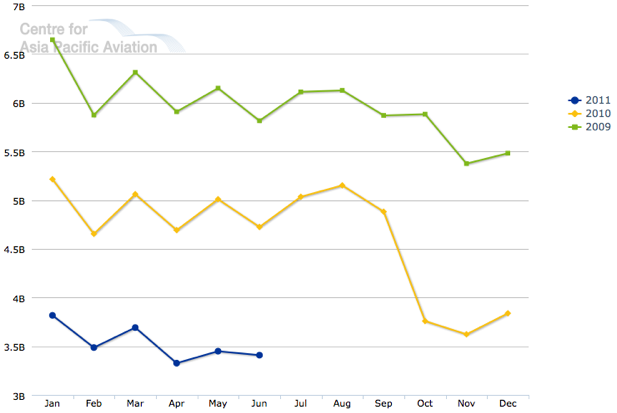 In the months after the earthquake, JAL temporarily reduced flight frequencies on select routes and switched to smaller aircraft in response to the decline in traffic demand during that period. The carrier also enacted a series of route suspensions carried out from 2HFY2010, with the retirement of all B747-400 equipment from the airline's fleet at the beginning of Mar-2011 also reducing the supply of capacity.
In other international news, JAL, like ANA, is starting to benefit from the effects of their alliance partnership ATI. JAL stated it has benefited from the commencement of the joint business agreement over the Pacific with oneworld alliance partner American Airlines (American) on 01-Apr-2011. JAL also started to strongly promote outbound leisure travel as longer, and more staggered vacation periods are encouraged and implemented in Japan to conserve energy this summer.
Operating revenue from the international passenger segment for 1QFY2011 is JPY78.8 billion (USD993 million), representing 30.9% of total operating revenues.
Also downsizing domestically
JAL retired its B747-400s at the end of FY2010, and its fleet of A300-600R aircraft from domestic operations at the end of May-2011. To minimise operating expenses, the airline also reduced frequencies of scheduled flights temporarily after the Great East Japan Earthquake considerably affected travel demand.
On the other hand, JAL pooled its existing resources to operate extra flights to airports north of Japan, in Yamagata, Hanamaki, Akita and Sendai between Mar-2011 and Jun-2011. Additionally, larger aircraft were used on several scheduled flights between Tokyo, Haneda and Aomori and Akita. The effect on capacity (ASKs) was a 26.6% year-on-year contraction.
JAL has also been boosting demand through various efforts such as enhancing in-flight services with new F&B and in-flight products through cooperation with various vendors, improving the booking process, extending special discount fares for select regions to encourage weekend getaways, and by extending advance booking requirements for certain fares
These activities have contributed to JPY100.4 billion (USD1.3 billion) in operating revenues from the domestic passenger segment, which represents 39.4% of overall operating revenue. Traffic (RPKs) declined 29% year-on-year, close to the degree of change in capacity. Load factors declined 1.9 ppts to 56.1%
Japan Airlines Revenue Passenger Kilometres (Domestic) (2009 to 2011)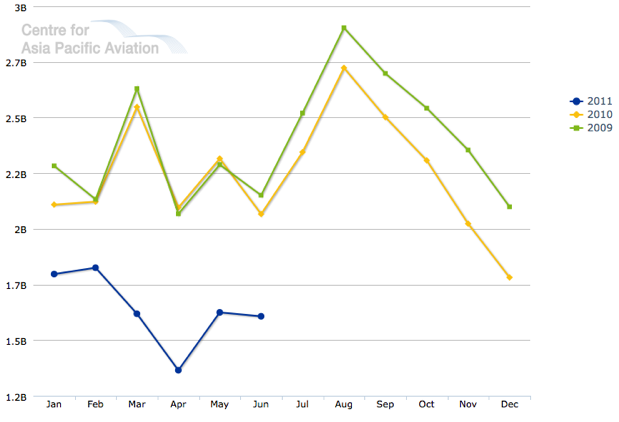 Reduction in cargo capacity
JAL stated it has been focusing on expanding high-value cargo services, in particular the transportation of temperature-sensitive freight with special temperature-controlled containers, and leveraging the internationalisation of Tokyo Haneda to promote the connections between international and domestic flights and boost air cargo transportation to and from local regions.
JAL reported a rise in transportation needs for emergency relief items such as batteries, water, as well as automotive parts and tobacco after the earthquakes and tsunami, amidst generally lower air freight demand.
Cargo capacity on JAL has been decreasing since last year and consequently reducing the volume carried. In terms of revenue cargo ton-kilometer (RCTK), demand has weakened by 53.9%, and operating revenues stood at JPY13.8 billion (USD174 million).
Japan Airlines Cargo Volume (International) (2009 to 2011)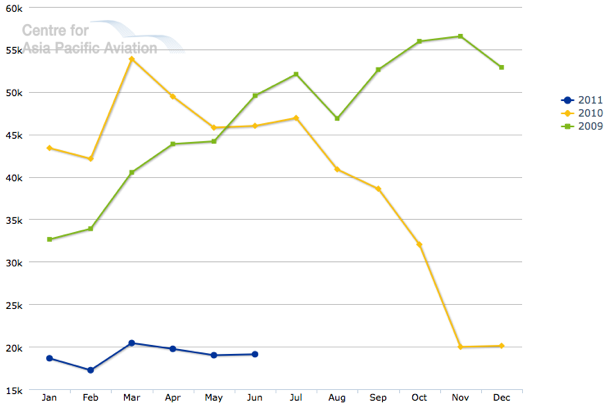 JAL to enter LCC market through JV with Jetstar in 2012: reports
Meanwhile, reports have been circulating that JAL plans to enter the LCC market through a JV with Qantas' Jetstar subsidiary with plans to launch domestic services in 2012. Jetstar Airways reportedly stated that "JAL jumped at this opportunity" to be involved in the carrier's expansion of its Asia Pacific operations through the JV structure. ANA's plans to enter the LCC market with not one but two LCCs is likely to create greater urgency for JAL to respond.
The venture will reportedly be capitalised at between JPY10 billion and JPY20 billion (USD124 million and USD248 million), with JAL and Jetstar each holding a 30% stake. A decision on which company will have management control will be taken later, according to the reports. Mitsubishi Corp and Toyota Tsusho Corp have reportedly been invited to invest in the deal, which JAL and Jetstar aim to finalise next month.
Despite the devastating earthquake and tsunami in Japan in Mar-2011, described by Prime Minister Naoto Kan as the country's "worst disaster since World War II", JAL is finally being restructured in a meaningful way, with positive signs emerging. The carrier is hoping to achieving or exceedings its operating profit of JPY75.7 billion (USD954 million) in the full year (12 months to Mar-2012) and aims to relist its shares in FY2012. However, the carrier needs to remain its competitiveness in a rapidly-changing Japanese aviation market in order to compete with an influx of LCC competitors and All Nippon Airways, now the nation's largest carrier.
APPENDIX: JAL Group financial results
JAL Group consolidated results: Three months to 30-Jun-2011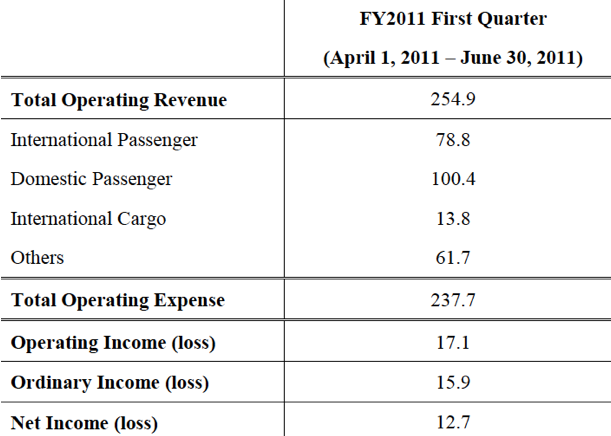 JAL Group consolidated financial condition