JAL's shares touches lowest level since listing, ANA downgraded
Japan Airlines' shares tumbled 3.9% to JPY98 in Tokyo, the lowest close since they were listed in Oct-2002.
The slump occurred following reports that Japan's Transport Minister, Seiji Maehara, stated he would not rule out bankruptcy for the carrier. Mr Maehara reportedly told a Diet committee that he never said he would not let the Tokyo-based carrier fail, according to the report.
The share price slump occurred despite Delta Air Lines and American Airlines, as their respective airline alliances (oneworld and SkyTeam) both pitching themselves as the better partner for the struggling Japanese carrier.
JAL's share price reduction, combined with investor caution ahead of the release of the nation's bank earnings reports, resulted in the Nikkei closing at its lowest level in six weeks yesterday, dragged down by JAL and investors' caution ahead of bank earnings reports
ANA downgraded to junk territory by Moody's
Also in Japan, ANA shares remained stable on Wednesday (18-Nov-2009) despite Moody's downgrading ANA from 'Baa3' to 'Ba2', or by two notches, to junk terriority, citing deteriorating earnings and increasing uncertainty on the extent and timing of Government support to the airline industry, given the recent experience of JAL. The outlook remains 'stable'.
Australian domestic passenger levels and load factors up in Sep-2009
Elsewhere, Australia's Bureau of Infrastructure, Transport and Regional Economics (BITRE) reported that Australia's domestic airlines transported 4.4 million passengers in Sep-2009, a 2.3% year-on-year improvement, with load factors also up, by 3.2 ppts to 82.3%.
Domestic passenger numbers (moving annual total)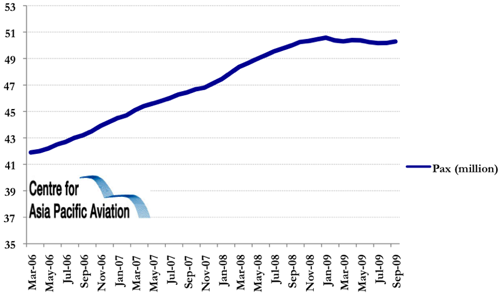 Also in the region, Jazeera Airways' shares slumped 6.6%, while on the other end of the spectrum,, SpiceJet's shares gained 3.0% yesterday.
Asia Pacific selected airlines daily share price movements (% change): 18-Nov-09