JAL, emerged from bankruptcy, takes more bullish profit outlook than ANA
Analysis
Japan Airlines Corp (JAL) generated a solid profit results in the six months ended 30-Sep-2011 (1HFY2011) with an operating profit of JPY106.1 billion (USD1.4 billion) and a net profit of USD1.3 billion (JPY97.4 billion) on revenues of USD7.7 billion (JPY599.8 billion). The results were an encouraging sign for the carrier amid an intensified focus on improving cost efficiency and an aggressive scaling down of operations as part of its rigorous restructuring efforts.
JAL also upgraded its full year forecast to an operating profit of USD1.8 billion (JPY140 billion) which would mark the carrier's largest full-year operating profit in nearly a decade (since FY2003). The carrier is anticipating a net profit result of USD1.5 billion (JPY120 billion), considerably higher than its earlier forecast of JPY75.7 billion, as its restructuring efforts begin to yield results. While the carrier did not provide comparison to the previous years, the interim result accounted for around 76% of its targeted operating profit and 81% of the airline's targeted net profit.
Japan Airlines Group (JAL) financial highlights for six months ended 30-Sep-2011 (1HFY2011):
Total operating revenue: USD7717 million, n/a year-on-year;Total operating costs: USD6351 million;

International passenger: USD2455.0 million;
Domestic passengers: USD3130.5 million;
International and domestic cargo: USD594.4 million;
Other: USD1626.4 million;

Operating profit: USD1365 million;
Net profit: USD1253 million;
Capacity (ASKs):
Passenger traffic (RPKs):
Load factor:Total assets: USD15,825 million, +1.9% when compared to period ended 31-Mar-2011;

Domestic: 62.5%, +0.2 ppt;
International: 68.0%, -7.0 ppts;

Net assets: USD3977 million, +41.7% when compared to period ended 31-Mar-2011;
FY2011 forecast:

Operating revenue: USD14,797 million;
Operating profit: USD1801 million;
Net profit: USD1544 million.
JAL profit outlook stronger than ANA
The past few years have been tumultuous for the former national flag carrier, which has lost its position as the nation's largest carrier to All Nippon Airways (ANA) in FY2010. However, things are looking up, with JAL's profit outlook more positive than ANA's. While ANA's revenues are forecast to be stronger than JAL's in the full-year, operating profit at JAL is expected to be double ANA levels, with net income six-times ANA levels.
JAL Group consolidation result forecast: FY2011 through 31-Mar-2012 (Yen, billions)

ANA Group consolidated operating results forecast for the financial year ended 31-Mar-2012
Citing concerns about weakness in its own and key global economic markets, stubbornly high oil prices, softening domestic demand and the impact of the strong yen, ANA earlier this month lowered its full-year sales forecast from an earlier estimate of JPY1.41 trillion to JPY1.40 trillion, which would mark a 3.1% year-on-year revenue increase. The airline, however, left its full-year net profit target of JPY20 billion (USD26 million) unchanged, effectively forecasting a loss in the six months to 31-Mar-2012, and marking a 14.2% year-on-year reduction in full-year net profitability. ANA's operating profit is expected to be up 3.2% year-on-year in the full-year to JPY70 billion (USD92 million).
See related article: ANA operating profit weakens in 1HFY2011 with FY2011 revenue outlook downgraded
With positive restructuring, potential relisting
JAL's first half results show how the airline is benefiting from efforts to streamline its operations after it filed for Japan's largest ever non-financial bankruptcy protection in 2010. "The company has strengthened its resilience against risks in the operating environment through measures implemented in the course of its restructuring last year," it said.
JAL has been striving to improve profitability through a number of restructuring measures. They have included downsizing its fleet to smaller, more fuel-efficient aircraft, implementing measures to stimulate travel demand, job reductions and more flexibly and swiftly matching demand with supply so as to strengthen its resilience in an ever-volatile operating environment.
Emerging from bankruptcy protection in Mar-2011, Japan Airlines raised USD3 billion in fresh funding from financial institutions, shed one-third of its staff, grounded more than 100 aircraft and closed 49 loss-making routes. Last year, the carrier withdrew operations from 11 unprofitable international and eight domestic destinations, and decommissioned large-sized aircraft from its fleet that collectively led to a significant reduction in operating expenses. Through scaling down the size of its operations, JAL lowered various fixed cost liabilities, and further raised its efficiency through the institution of a system that analysed profits by department.
The carrier's public financing package cost taxpayers JPY47 billion (USD611.5 million), according to a report released by the Board of Audit. The JPY47 billion was part of a JPY67 billion (USD871.8 million) package extended to JAL in Jun-2009, before the carrier filed for bankruptcy.
Meanwhile, chairman Kazuo Inamori stated the carrier could relist on the Tokyo Stock Exchange before year-end, although the carrier has previously acknowledged that the target date has been made tougher to reach by the earthquake. "The listing of JAL's shares is extremely important," Mr Inamori previously said. Enterprise Turnaround Initiative Corp (ETIC), which is overseeing JAL's rehabilitation, has estimated the company could put in its relisting application in Apr-2012, according to local media reports.
Group revenues of USD7.7 billion
JAL's group revenue from its overall operations totaled USD7.69 billion in the six months to Sep-2011, including USD2.5 billion for international passenger, USD3.1 billion from domestic passenger, USD346.2 million from international cargo and USD155.1 million from domestic cargo operations. JAL did not provide comparable figures for the same three-month period last year, when it was still under bankruptcy protection.
JAL president Masaru Onishi last month also stated that in the highly competitive Asian market, further improvement of business efficiency and cost cutting would be necessary, with the carrier aiming to reduce its current unit costs by 10% to JPY12 (USD 15.61 cents).
Demand picking up from low levels
Both ANA and JAL noted that travel demand is picking up after following slumps in the aftermath of the 11-Mar-2011 earthquake and tsunami.
JAL traffic was however down heavily in the first half, not only due to the substantial effects of the earthquake but as JAL focused on terminating unprofitable routes and reducing the number of aircraft types in its fleet. However the carrier benefited from longer, staggered summer holidays in Japan this year and by the high yen rate that has encouraged more international travel. Robust demand was particularly seen on routes to Hawaii. The carrier also benefited from its joint business agreement with oneworld alliance partner American Airlines.
Overall, international capacity (ASKs) declining 28.2% year-on-year, outpaced by a 34.9% reduction in traffic (RPKs) resulting in a 7.0 ppt international load factor reduction to 68.0%. In the months after the earthquake, JAL temporarily reduced flight frequencies on select routes and switched to smaller aircraft in response to the decline in traffic demand during that period.
Japan Airlines Available Seat Kilometres (International) (2009 to 2011)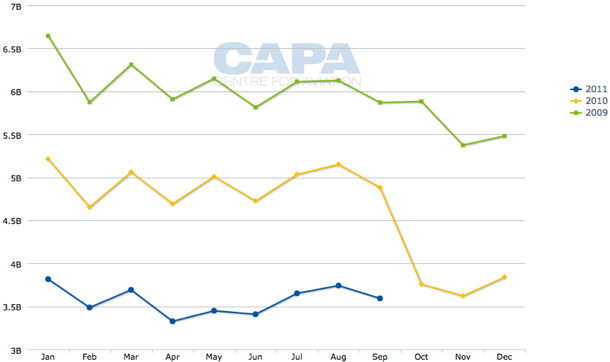 Japan Airlines Passenger Numbers (International) (2009 to 2011)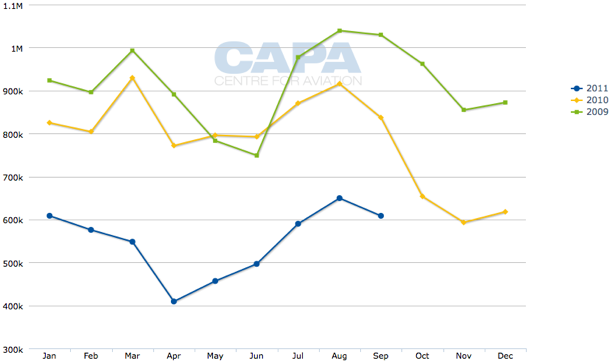 In the domestic market, capacity reductions have occurred amid cessation of underperforming routes and fleet downsizing. However, capacity was added following the 11-Mar-2011 earthquake and tsunami to northeast Japan between Apr-2011 and Jul-2011 to facilitate transportation of goods and people to the affected areas. It also deployed larger aircraft on routes such as between Haneda and Sapporo, Fukuoka and Okinawa, when domestic travel demand recovered to pre-quake levels from Jul-2011.
Overall, domestic capacity (ASKs) was down 23.0% in the first half, slightly exceeding the 22.7% reduction in domestic traffic (RPKs). Load factors, as a result, improved 0.2 ppts to 62.5%. JAL retired its B747-400s at the end of FY2010, and its fleet of A300-600R aircraft from domestic operations at the end of May-2011. To minimise operating expenses, the airline also reduced frequencies of scheduled flights temporarily after the Great East Japan Earthquake considerably affected travel demand.
Japan Airlines Passenger Numbers (Domestic) (2009 to 2011)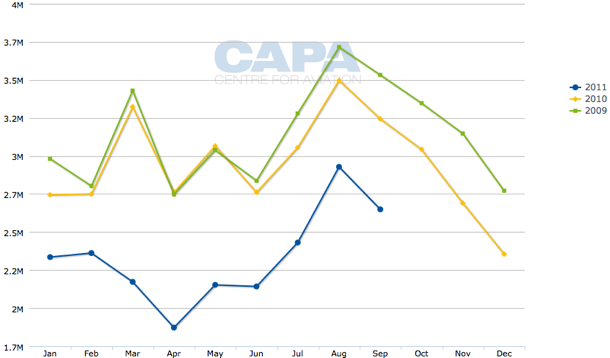 Japan Airlines Available Seat Kilometres (Domestic) (2009 to 2011)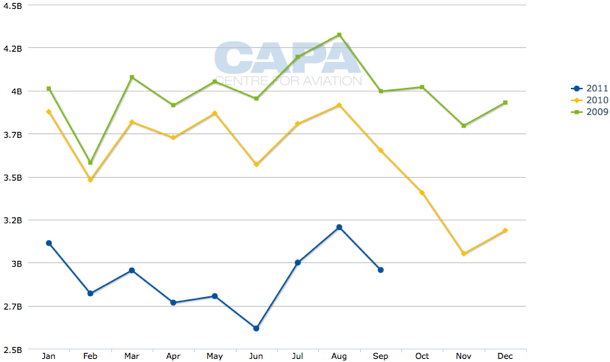 JAL has been boosting demand through various efforts such as enhancing in-flight services with new F&B and in-flight products through cooperation with various vendors, improving the booking process, extending special discount fares for select regions to encourage weekend getaways, and by extending advance booking requirements for certain fares.
In other traffic news, Narita Airport Corporation this month stated ANA Group will operate more services to/from Tokyo Narita Airport as part of the winter 2011/12 schedule. This will mark the first time ANA has a larger presence than JAL Group at the airport. According to Narita Airport Corporation, JAL Group is operating 351 weekly services (passenger and cargo) as part of the winter schedule, compared to 357 weekly services from ANA Group, which marks an increase of 28 weekly services for ANA Group. JAL is still the largest operator of passenger services, while ANA claims the title of more cargo services (if only because JAL disposed of its dedicated freighter fleet). The total number of weekly services at Tokyo Narita in the winter schedule is 1797 services, with JAL and ANA each having around a 20% share.
Reduction in cargo capacity
JAL has been focusing on expanding high-value cargo services, in particular the transportation of temperature-sensitive freight with special temperature-controlled containers, and leveraging the internationalisation of Tokyo Haneda to promote the connections between international and domestic flights and boost air cargo transportation to and from local regions.
Overall, international freight traffic weakened 52.2% in the first half, with domestic capacity lowered by 17.4% after a significant scale-down in its domestic freight operations.
Japan Airlines Cargo Volume (Domestic) (2009 to 2011)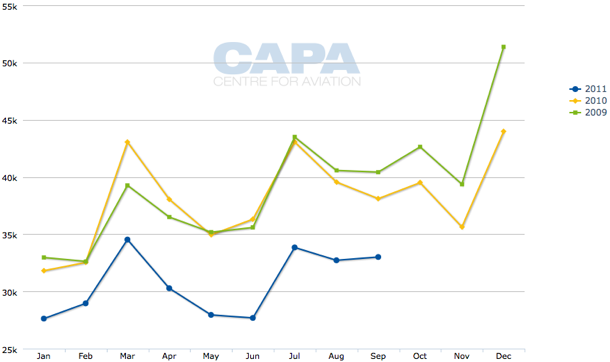 Japan Airlines Cargo Volume (International) (2009 to 2011)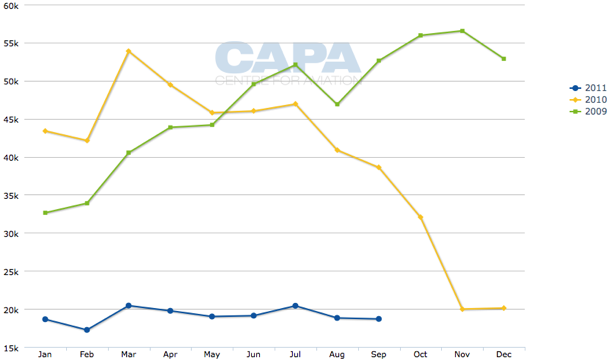 JAL restructure reaping rewards
Despite the devastating earthquake and tsunami in Japan in Mar-2011, JAL is finally being restructured in a meaningful way, with the carrier appearing well on the way to a much more sustainable future. However, the restructure has seen JAL shrink to become only a shadow of its former self, having been overtaken by ANA as the nation's largest carrier in Nov-2010.
See related articles on strategy developments this year:
APPENDIX: JAL GROUP financial results for six months ended 30-Sep-2011
JAL Group consolidation results for 1HFY2011 (01-Apr-2011 to 30-Sep-2011) (Yen, billions)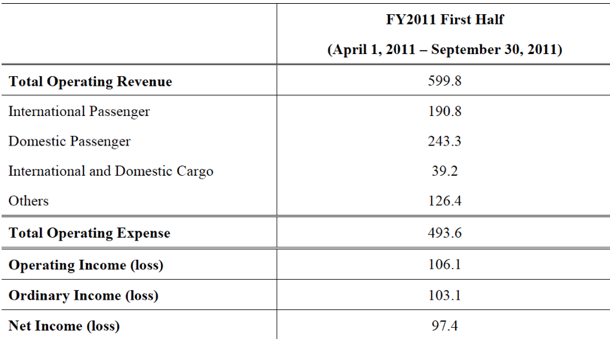 JAL Group consolidated financial condition (JPY bill)