Intra-Europe traffic trends in the right direction, but outlook darkens for Europe's carriers
European airlines continued to report positive passenger traffic results in Aug-2011, the final month of the summer peak travel period, when European airlines make the bulk of their revenue. Almost all of the major airlines reported year-on-year increases in load factor and passenger numbers, despite the increasingly worrying economic backdrop affecting business and consumer confidence across the region. If such uncertainty continues, European carriers may be in for a bumpy end to 2011.
Traffic slowdown looks likely
Intra-European passenger traffic has largely been in positive territory for all of 2011, a trend that continued in the final month of summer despite the increasingly gloomy economic outlook, particularly in Europe, the source of much of the world's renewed fear.
European airlines reported patchy results in 1H2011 (six months to 30-Jun-2011), varying by business model. Most LCCs, with the exception of Air Berlin Plc, reported strong results, while most full-service carriers, most notably Lufthansa Group and Air France-KLM (1Q2011), reported results that missed expectations.
See related articles: Air Berlin to restructure after disappointing result; CEO resigns, Lufthansa enjoys solid 2Q but first half loss widens and Air France-KLM losses increase on Middle East unrest and fuel concerns
The outlook for traffic growth remains weaker in the second half than in the first. The increasingly uncertain economic outlook, falling trade activity and slower spending by businesses and consumers is likely to be reflected in air traffic growth. Germany's two largest airlines, Lufthansa and Air Berlin, which, despite the country's relative economic strength, reported some of Europe's least impressive first-half results, and Lufthansa Group CEO Christoph Franz captured the mood quite accurately: "While the outlook was thoroughly positive for the aviation industry at the beginning of 2011, prospects have become much more differentiated." Air Berlin CEO Joachim Hunold noted that "leading [economic] indicators in Europe are sending clear warning signals", with all signs pointing towards a deterioration in "many countries".
Air France-KLM reported an operating loss of EUR145 million in a single quarter (three months to 30-Jun-2011). The group identified the key headwinds facing European carriers in 2011: "The operating environment remains uncertain due to the situation in Japan, Africa and the Middle East and the euro zone crisis. Moreover, fuel prices are still at high levels and the euro remains volatile." BAA's director of strategy and forecasting Andrew Macmillan has warned of a slowdown in passenger growth entering the winter period, on the back of deteriorating global economic conditions. "We…would always urge some caution. Economic trends do suggest a slower autumn," Mr Macmillan said.
In line with the darker picture painted by European airport and airline leaders, forward fares are also reflecting a difficult period ahead. On many of the region's heaviest routes a clear downward trend in pricing has emerged for the remainder of the year. Below is a snapshot of indicative pricing for the autumn period on some of the popular intra-Europe routes. The fares listed are the 30-day moving average lowest return airfare (three days stay), inclusive of taxes and surcharges. Other fare graphs for major global airports are available on CAPA Airport Profiles. In many cases, prices for travel in the months of September and October are below the same levels in 2010.
Frankfurt-Berlin Tegel lowest return airfare (three days stay), inclusive of taxes and surcharges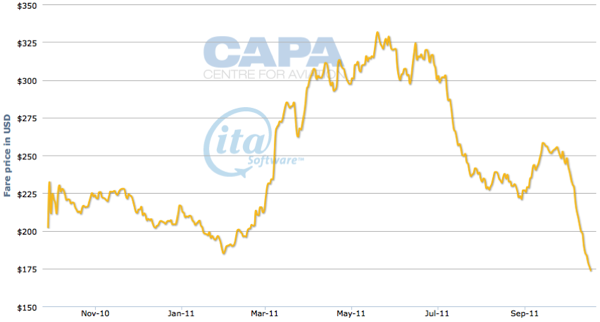 Madrid-Barcelona lowest return airfare (three days stay), inclusive of taxes and surcharges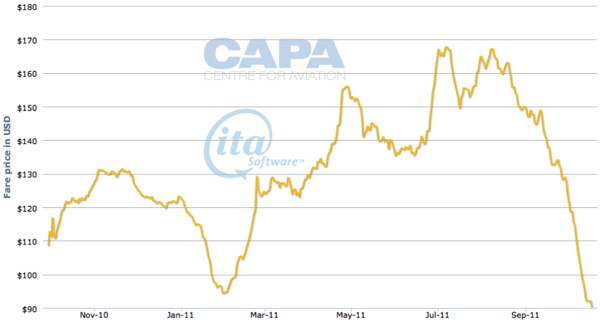 Rome Fiumicino-Amsterdam lowest return airfare (three days stay), inclusive of taxes and surcharges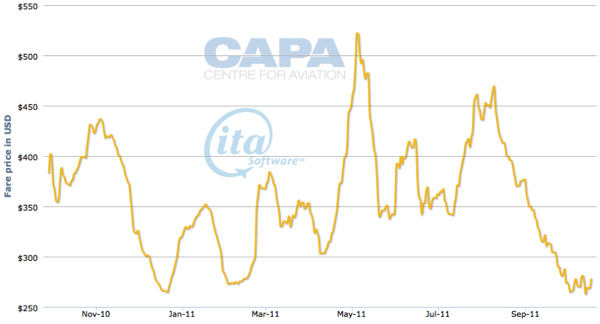 While passenger traffic data continues to show resilience, questions hang over forward yield performance. IATA noted that despite the current economic turmoil in the region, European air travel markets (premium and economy) have been the strongest route area in the world so far in 2011. The intra-Europe economy segments have been the strongest so far, with 12.8% growth in the seven months to Jul-2011.
See related article: Premium demand strengthens in Jul-2011 but short-term outlook "gloomy": IATA
However, those markets linked to the troubled European economies have been showing weakness, the industry body said. During 2Q2011, consumer confidence in Europe has fallen to its weakest point since mid-2009 and business confidence has fallen significantly. "Much of the strength of air travel in the region appears to be due to business travel, but given the weakness of home markets it looks unlikely that this can be sustained," IATA said. Despite strong traffic results, yield performance on intra-Europe routes will be an area to watch in 2H2011.
Lufthansa has joined Air France-KLM in revising down its earnings forecast for the current financial year. The German carrier, who announced the earnings forecast on 20-Sep-2011, expects an operating profit "at the upper end of the three-digit million-euro range". But the Group, looking at evolving economic events across the world, says a target of an increase on the previous year's figure (EUR876 million) "no longer appears to be achievable".
"The adjustment undertaken reflects a weaker than expected monthly result for Aug-2011 reported by the Passenger Airline Group. In view of ongoing economic uncertainties, further booking trend expectations were also adjusted," Lufthansa said. The Group already plans to cut capacity growth for the winter period 6% year-on-year by using smaller planes, deferring new routes launched and closing the loss-marking Lufthansa Italia unit. Bmi, the least profitable part of the family, is widely expected to be put up for sale by the winter.
Load factors trend mostly up in Aug-2011
Load factors on intra-Europe services were marginally stronger year-on-year in Aug-2011, with SAS, Lufthansa Group and Blue1 the only real exceptions. August is typically the strongest month for European load factor performance, which remained the case last month.
easyJet one again most closely matched demand and supply, recording average loads of 92.2%, arguably a world-leading figure. The result is, however, a slight (0.1ppt) year-on-year fall after higher load factors in Jun-2011 and Jul-2011 year-on-year. Ryanair reported the second-strongest result, with average loads of 89%, flat year-on-year. Air Berlin Plc, Aer Lingus and IAG were also strong performers, reporting load factor gains and averages of at least 84%.
Rapidly growing LCC Norwegian Air Shuttle continued to deliver strong operational results. The airline, with its main base at Oslo, recorded the largest load factor increase with a 3ppt increase to 82%. The load factor gain coincided with sharp increase in passenger numbers (see below). Despite the load factor gain, yields fell 2% in the month, suggesting the carrier is more strongly pursuing gains in revenue over yield.
At the other end, Blue1, the loss-making Finnish unit of the SAS Group, reported the least impressive results in Aug-2011. Blue1 reported the lowest loads and largest fall in load factors, which fell 3ppts to 65%. In order to strengthen SAS' long-term position in the Finnish market and improve the profitability in Blue1, the SAS Group has decided to streamline the fleet and refocus on routes within Nordic countries.
Selected European airlines intra-Europe passenger load factor and passenger load factor growth: Aug-2011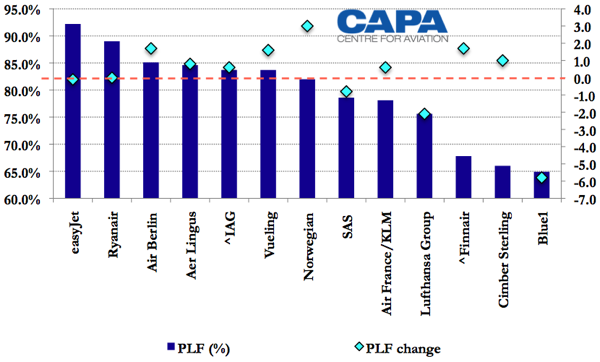 Second-tier LCCs once again lead pax growth
Norwegian and Vueling were once again way out in front of the pack in intra-Europe passenger traffic growth. Interestingly, both LCCs with respect to traffic numbers are the same size and are growing at the same pace. Vueling increased passenger numbers by 18.8% year-on-year to 1.5 million, while Norwegian increased passenger numbers by 18.6% to 1.5 million. Vueling has 48 aircraft in its fleet, while Norwegian has 60.
Vueling continues to benefit from taking over of part of Iberia's short-haul network, most significantly at Madrid. Norwegian's strong growth is due to the LCC's expansion in established markets and the launch of new routes, which gives favourable year-on-year comparisons.
Europe's biggest three airlines by traffic – Ryanair, Lufthansa Group and easyJet – all reported strong passenger traffic gains. Ryanair and the Lufthansa Group jostle for the top positions, but in August, the peak leisure travel period, Ryanair edged out the Lufthansa family in terms of both passenger numbers and traffic growth.
SAS and Cimber Sterling, both Nordic-based carriers, reported the only year-on-year declines in intra-Europe travel. Cimber is suffering as a result of a restructuring that followed a period of heavy losses, while SAS (Scandinavian Airlines) fell only slightly in the month. SAS in recent years has successfully trimmed a large operation in favour of generating profits, effectively "shrinking into profitability". SAS faces intense competition from LCCs and has adjusted its network and product offering accordingly, concentrating on higher-yielding routes better suited to its higher cost structure. SAS has stated that market growth continues to be "good, but unpredictable due to added capacity…risk in the global economy and risk of continued high jet fuel prices". Overcapacity in the Nordic region has been a key theme this year. The market has become a focal point for LCCs, most notably Ryanair, looking for new growth markets.
Selected European carriers intra-Europe passenger numbers and passenger numbers growth: Aug-2011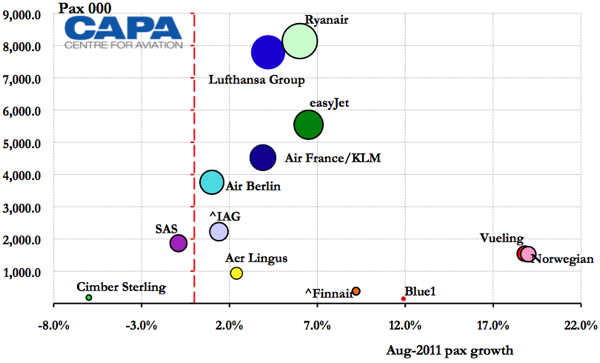 While some of the aforementioned year-on-year percentage changes are impressive, these figures are a reflection of the base from which an airline has grown. Absolute passenger growth figures offer an equally interesting look into the intra-Europe market.
Ryanair recorded the strongest year-on-year increase in absolute passengers numbers, carrying an additional 460,000 passengers in Aug-2011. EasyJet was second with 340,000 and Luthansa third with 315,000. The ongoing structural changes in the intra-Europe travel market are clear, with four of the five largest increases recorded by LCCs. While all airlines should expect traffic to fall in the slower part of the second half, the ability of LCCs to sustain growth higher year-on-year than full-service peers will depend on market demand sensitive to the current economic slowdown, which could also impact corporate travel demand. That could potentially expose all traffic markets to downturn, and re-emphasise the need some airlines had to restructure while causing others to start a restructure. Carriers like easyJet, which cater to corporate and leisure traffic, should emerge from the downturn as the least exposed.
Intra-Europe passenger traffic absolute growth (in thousands): Aug-2011