ICBC Leasing reportedly interested in RBS Aviation Capital
ICBC Leasing, a subsidiary of China's Industrial and Commercial Bank, is reportedly interested in RBS' aircraft leasing wing, RBS Aviation Capital. RBS relaunched the sale process for its aircraft leasing business late last week.
The process, involving an auction to be managed by Goldman Sachs, commenced in 2009, but was put on hold in Apr-2010 due to the fallout from the global financial crisis.
According to Ascend, RBS Aviation Capital has some 234 aircraft in service with 78 airlines worldwide. Its fleet is almost entirely composed of narrowbody aircraft.
RBS Aviation Capital fleet breakdown for aircraft in service (at 06-Jun-2011)
The majority of RBS Aviation Capital's clients are full service airlines.
RBS Aviation Capital customers by business model (at 06-Jun-2011)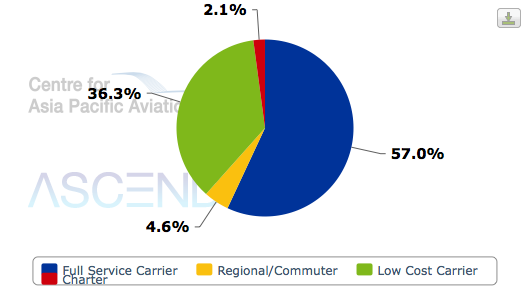 Click here for more information and data on RBS Aviation Capital
Elsewhere, International Lease Finance Corporation (ILFC) announced that on 02-Jun-2011 it exercised its right to accept for payment all of the 4.75% Medium-Term Notes, Series Q, due 13-Jan-2012 and the 5.4% Medium-Term Notes, Series R, due 15-Feb-2012. Barclays Capital Inc and JP Morgan Securities LLC were the Dealer Managers for the tender offers.
Among the listed lessors, AerCap fell 0.8% on Friday, while Aircastle dropped 2.7%.
Selected Lessors daily share price movements (% change): 6-Jun-2011