Iberia's passenger traffic and load factor remain weak, shares gain
Analysis
Shares in Iberia gained 0.5% yesterday, following the release of the carrier's traffic results for Sep-2009. Passenger traffic (RPKs) declined 8.1% year-on-year in the month, attributed mostly to 9.2% and 9.0% reductions in domestic and long-haul traffic, respectively.
Iberia total RPK & ASK growth (% change year-on-year): Sep-2008 to Sep-2009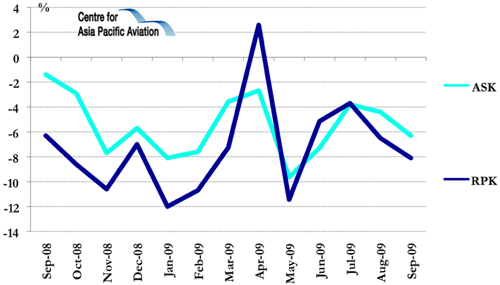 Iberia's load factor weakened further in Sep-2009, losing 1.6 ppts year-on-year, to 79.0% on a 6.3% capacity (ASKs) reduction. The carrier's load factor was also down 3.4 ppts compared to Aug-2009.
Iberia passenger load factor: Sep-2008 to Sep-2009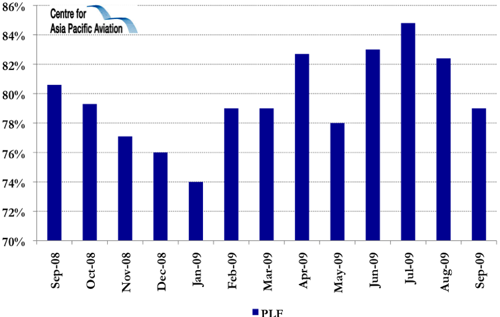 BA pleads for antitrust approval
Meanwhile, British Airways CEO, Willie Walsh, urged US authorities to "strengthen competition" on trans-Atlantic services, calling for "parity" among trans-Atlantic global alliances, by "granting oneworld antitrust immunity that its rival alliances, Star Alliance and SkyTeam, already enjoy" (see below). Mr Walsh also dismissed claims that access for new competitors to London Heathrow was restricted. BA proposes a trans-Atlantic alliance with American Airlines and Iberia.
Shares in British Airways declined 1.8% yesterday, while the London FTSE gained 1.66%.
Elsewhere, share in Lufthansa dipped (-0.3%), Air France-KLM closed lower (-0.8%) and SAS dropped (-4.8%).
Malév passenger traffic up 13% in Sep-2009
In other European carrier traffic news, Malév, the national carrier of Hungary, increased passenger numbers by 13% year-on-year in Sep-2009, with a load factor of 80.0% (no year-on-year change disclosed). The carrier stated traffic growth was significantly higher on flights to Germany, Italy, Scandinavia and the UK. CCO, Karim Makhlouf, added "our new commercial strategy has succeeded in attracting additional passenger segments". He added, "we gained market share nearly all routes we are serving independently of low cost and traditional competition. Due to our new corporate programme we have four times more corporate deals in the Hungarian market than before".
See separate report: Eastern European airlines in fight for survival as LCCs and weak economy hit hard
Europe selected airlines daily share price movements (% change): 15-Oct-09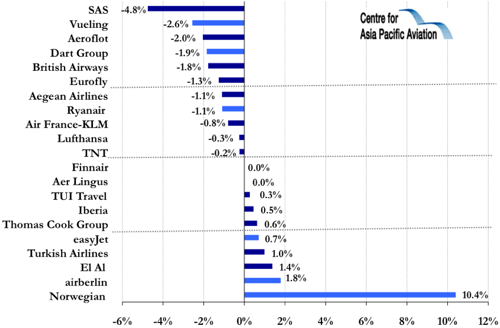 Give consumers choice, urges British Airways Chief – Edited Press Release
A plea to US authorities to strengthen competition on transatlantic flights was made in Washington DC by Willie Walsh, British Airways' CEO.
In a speech to the International Aviation Club, Mr Walsh called for parity among transatlantic global alliances by granting the oneworld alliance the antitrust immunity that its rival alliances, Star and Skyteam, already enjoy.
Mr Walsh stated "if approved, this agreement will bring substantial benefits to US-EU customers by offering an expanded route network, improved schedules and connectivity, greater access to discounted fares, fully reciprocal frequent flyer programmes and integrated corporate deals".
Mr Walsh added, "above all, it will provide customers with choice. The Star and Skyteam alliances already operate across the Atlantic with the benefit of anti-trust immunity. But surely a market of 800 million potential consumers deserves a choice of more than two network providers. If Star and Skyteam remain the only immunised alliances across the Atlantic, we could end up with an untouchable duopoly. I do not believe that customers would want that".
Mr Walsh dismissed claims that access for new competitors to London Heathrow was restricted. He pointed out that the US-EU Open Skies agreement, which came into effect last year, enables any US or EU airline to fly from Heathrow to America – "Some people had argued that it would be impossible for competitors to gain access to Heathrow. They were wrong. The first phase of the US-EU Open Skies deal made Heathrow an open airport. As soon as it came into effect, the number of operators flying between Heathrow and the US more than doubled".
Mr Walsh added that "slots at Heathrow are available - just ask the Star alliance. Star already possesses more than a quarter of Heathrow slots, far more than any other alliance at a competitor's European hub. Yes, Heathrow is busy. But that is a consequence of the fact that it is the most competitive hub in the EU, with more airlines and more flights on transatlantic routes than any other airport".
The US Department of Transportation (DoT) is expected to rule on the oneworld anti trust immunity application by the end of October. DoT approval would enable British Airways and its oneworld partners American Airlines and Iberia to operate a transatlantic joint business, subject to European Union approval.